Halloween is right around the corner… are your halloween nails ready? Nail art and fancy manicures are a fun way to add some Halloween spirit to your everyday look. So today we're sharing 25 of our very favorite spooky nail styles that you're sure to want to recreate.
1. Metallic Halloween Nails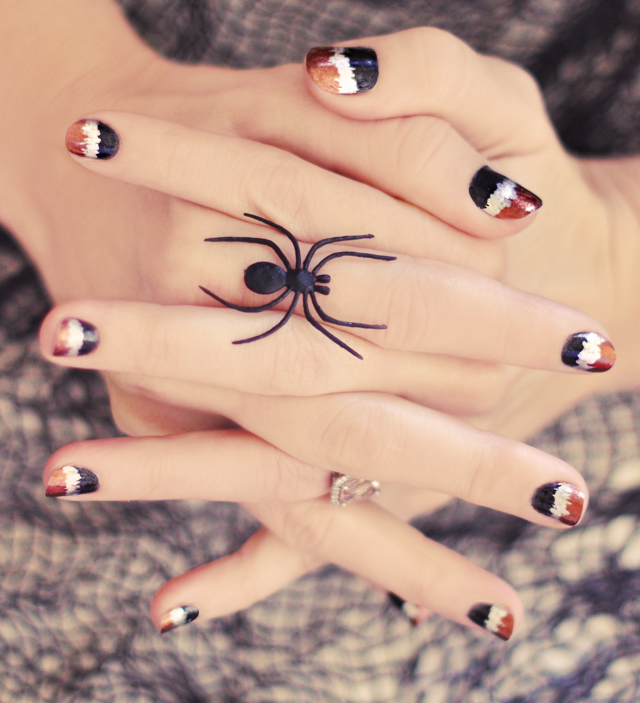 This first halloween nails manicure has a subtle Halloween feel to it, with a dark metallic color scheme and a painterly "scribbled" sort of design. Don't forget to wear a plastic spider ring to complement the look! Head over to Love Maegan to check out the full tutorial and more photos.
2. DIY Candy Corn Nail Manicure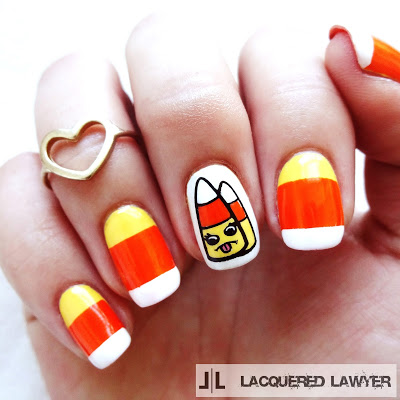 While our first pick was subtly Halloween themed, there's nothing subtle about this one! This brightly colored candy corn manicure is super festive and will surely garner compliments at your next Halloween party. Check out the tutorial over at Lacquered Lawyer.
3. Vampire Halloween Manicure Art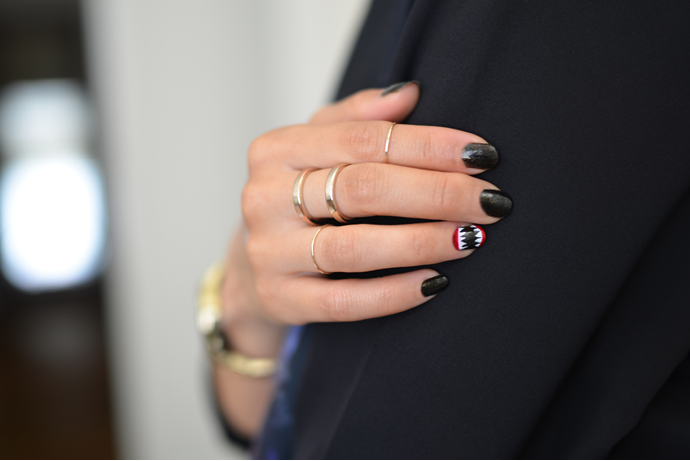 A classic black mani with a ring finger accent is always a good bet. This one has a vampire theme halloween nails, with a set of jaws painted on using white and red on top of the black. Make your way over to Swell Mayde to find out all the details about this fun Halloween nail art.
4. Orange and Black Crackle Halloween Nail Art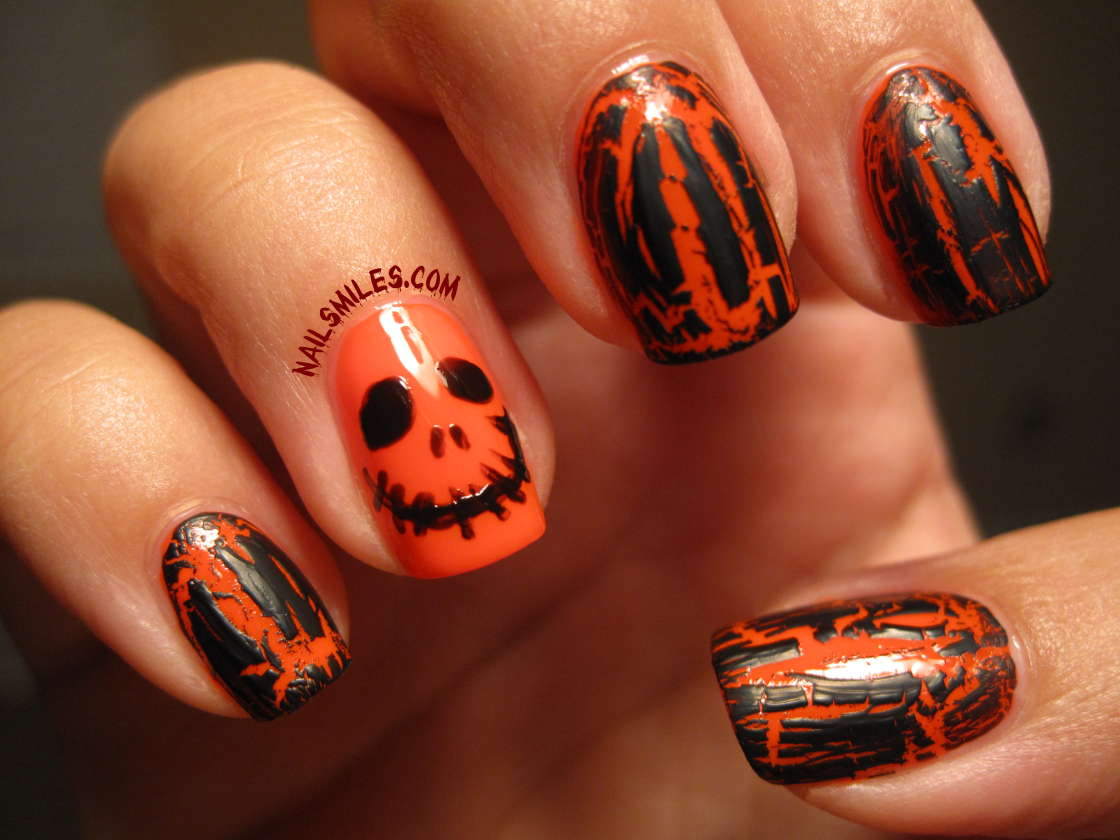 This crackle texture has a wonderfully spooky feel to it, especially in the orange and black color scheme. The ring finger nail has a black skull painted on… and lucky for us, the shakier it looks, the more creepy it seems so we don't have to worry about our drawing skills. Read more here.
5. Mixed Design Halloween Nails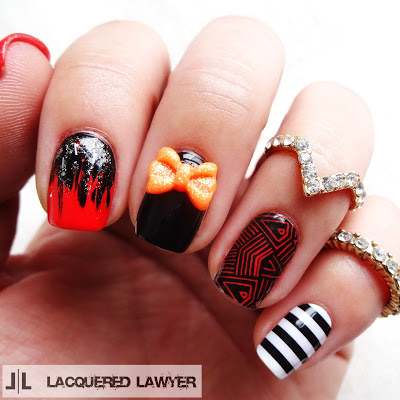 If you're the type who likes to try all the trends at once, give this mixed design mani a try! The common theme is black, white and orange, but each of the patterns vary. Make your way over to Lacquered Lawyer to find out how to recreate this halloween nails look on your own nails.
6. Striped Ghost Manicure Ideas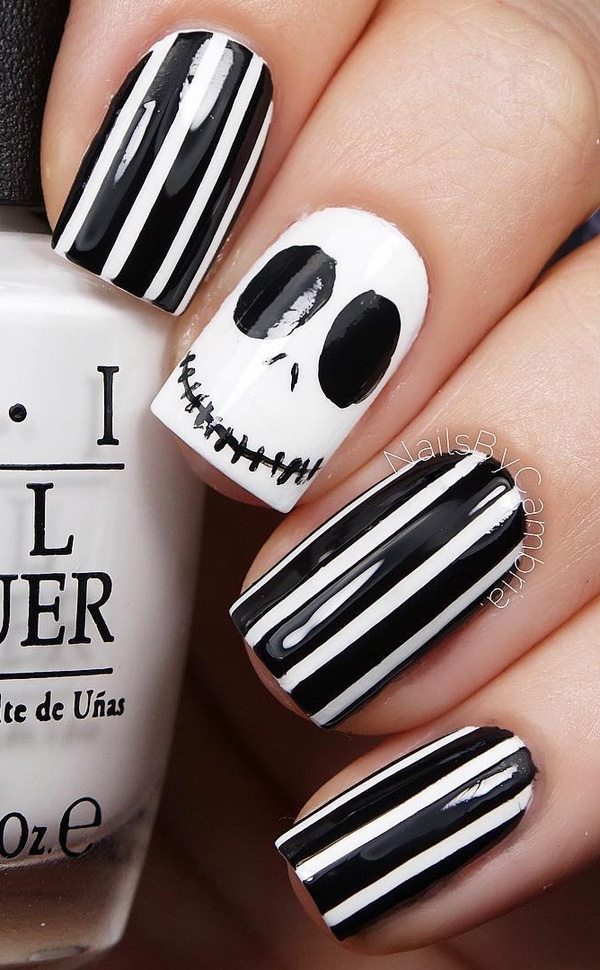 This eye-catching manicure is made with black and white polish, and two different designs… bold stripes, and a skull motif on one nail. So if you're not a fan of traditional orange nails for Halloween, give this a try! Check out this and others over at Nenuno Creative.
7. DIY Red Apple Halloween Nail Designs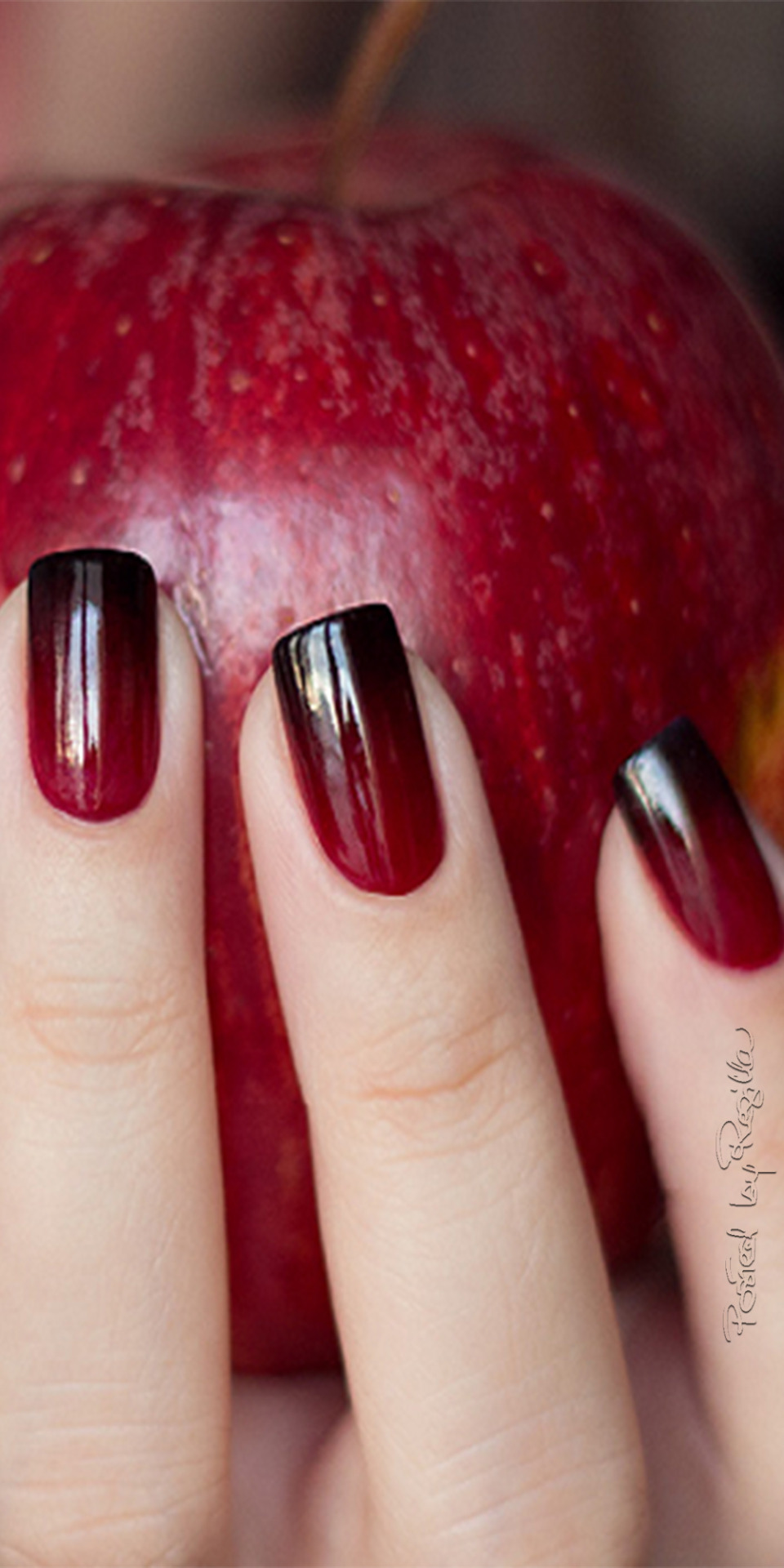 This non-traditional manicure still has a distinctly spooky vibe, without being overtly "Halloween." The ombre design fades from red to black, creating a red apple sort of look which is reminiscent of the Disney classic Snow White. Head over to Regilla on Tumblr to check it out.
8. DIY Designs Eyeball Manicure Halloween Nail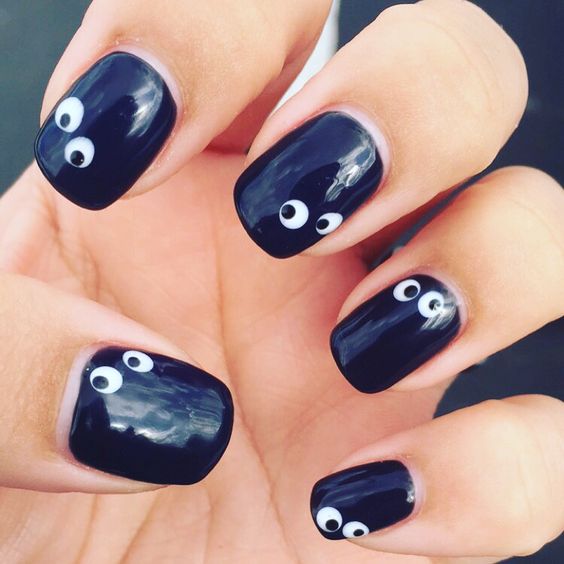 This crazy manicure is perfect for Halloween if you like to indulge your goofy side. Each nail looks like it has a pair of googly eyes on it… and they're made simply by putting tiny dots of black over larger dots of white. Kids will love this one! Found here.
9. Dripping Blood Manicure Ideas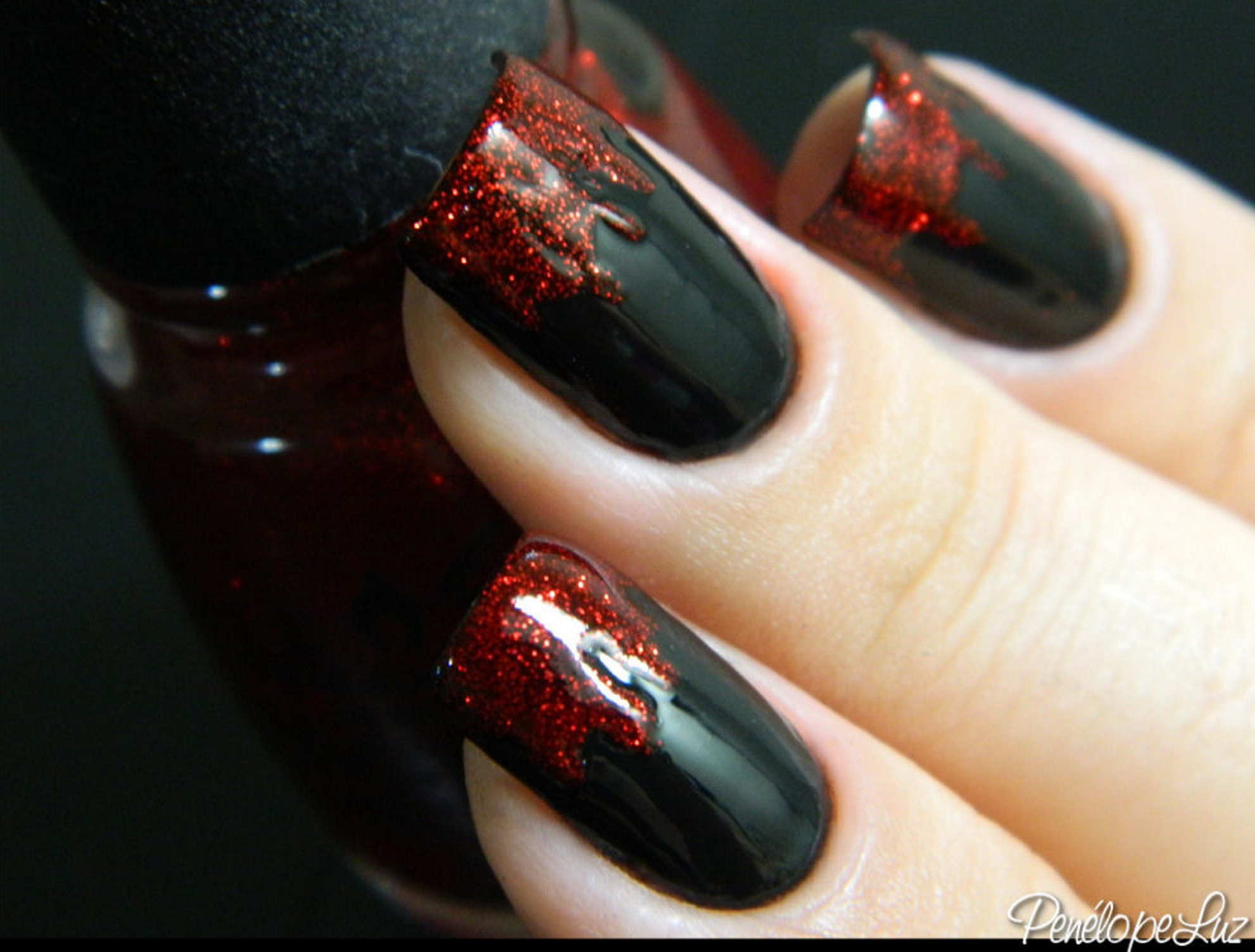 This manicure has a dark, spooky vibe, thanks to a base of black covered with a dripping red polish at the tip of each nail. Glitter in the red polish helps add some serious sparkle to an otherwise terrifyingly bloody look. Found over at Penelope Luz's Flickr page.
10. Spider Web Nails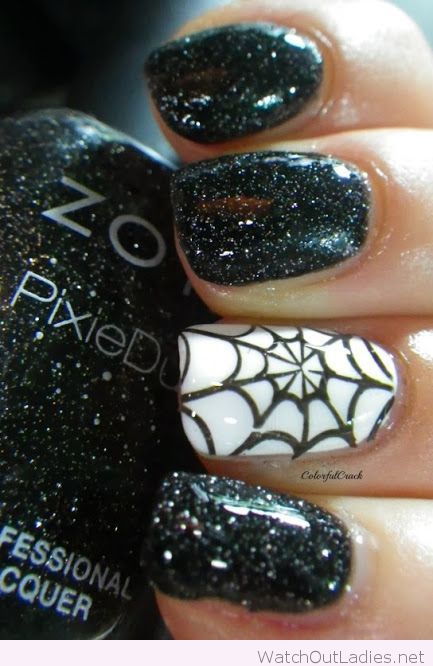 These eye-catching nails are a great choice for Halloween, with their darker colors and spider web detail. The black halloween nails are glammed up with some lighter speckles, giving them a big of a galactic feel. The web is put on a white background to make it stand out. Found here.
11. Zombie Nails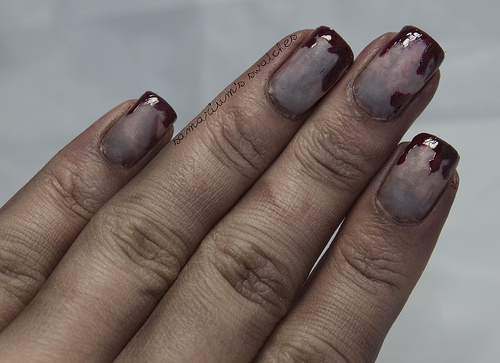 These zombie nails are super creepy, with a layered look that is lighter on the nail bed and dark red on the tip. The red polish is applied haphazardly, creating the visual effect of dripping blood. Make your way over to Samarium's Swatches to read more about it.
12. Easy Striped Halloween Nails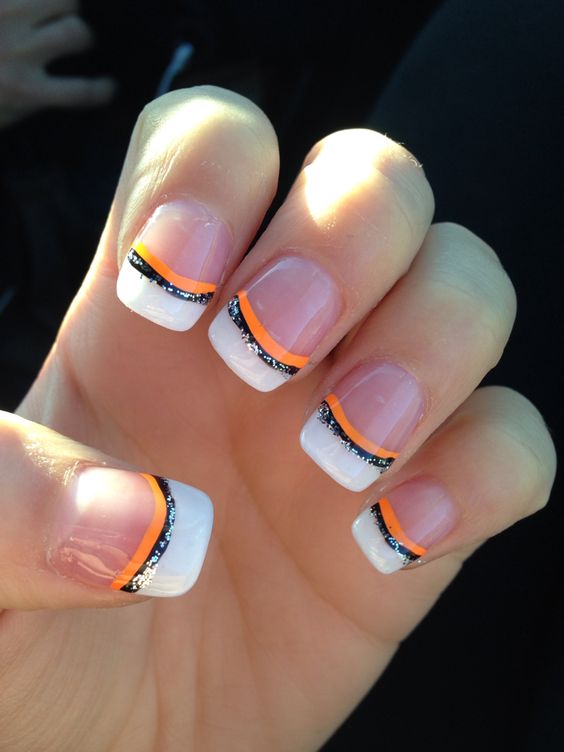 If completely terrifying isn't the look that you're going for, give this more crowd-friendly look a try. It is a play on a classic french manicure, with an orange and black stripe added to each nail. And a bit of glitter on the black stripe adds some sparkle. Found here.
13. Pumpkin Manicure Nail Design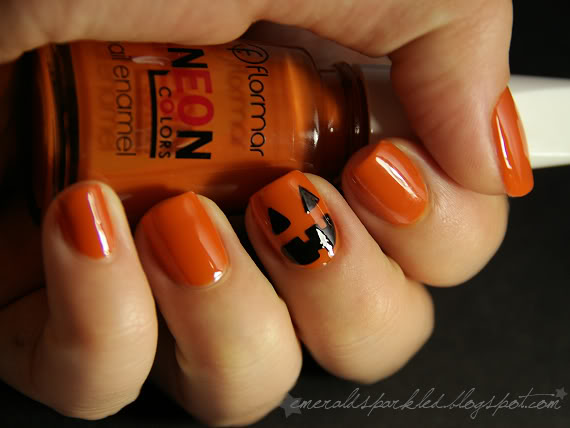 Paint your halloween nails to look like pumpkins with this simple idea. Just paint all of your nails a bold orange color, then add a jack-o-lantern face to one nail using a black polish. So fun, right?! Head over to Emerald Sparkled to learn how to get this look yourself.
14. Claw Manicure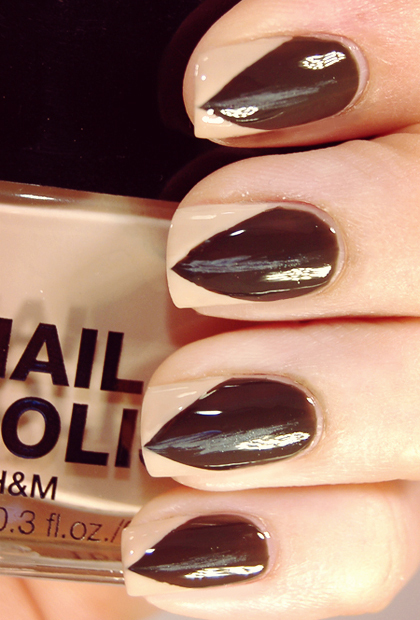 This clever manicure gives the effect of being claws, thanks to the pointy dark shapes that punctuate the center of the nails. The top corners are painted a nude shade so that they blend into your skin. So if you're planning to dress as a black cat for Halloween, try this! Read more here.
15. Skull Manicure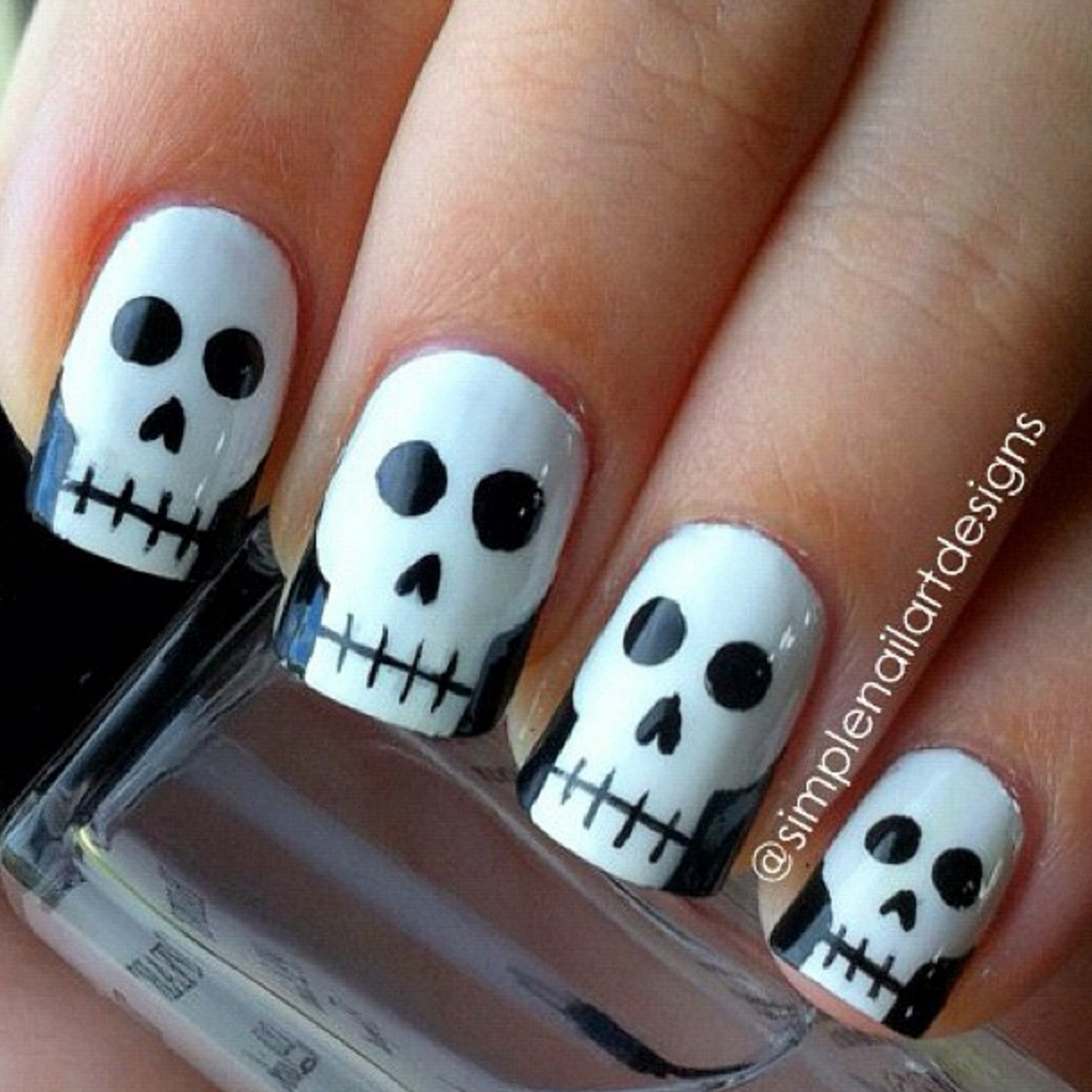 This mani has a series of skulls on each nail, made with black and white polish… giving it a Dia De Los Muertos feel. The shapes would be relatively simple for anyone to DIY, and everyone is sure to be impressed! See the original image here, and find out how to do it yourself here.
16. Crimi-Nails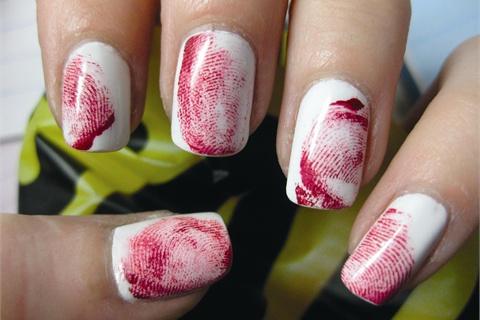 These "crimi-nails" might be the most genius concept of the bunch. Beginning with a white base on the nails, a red fingerprint is added over the top to create the look of bloody fingerprints at a crime scene. Head over to Nails Mag to find out how it was done.
17. Skeleton Manicure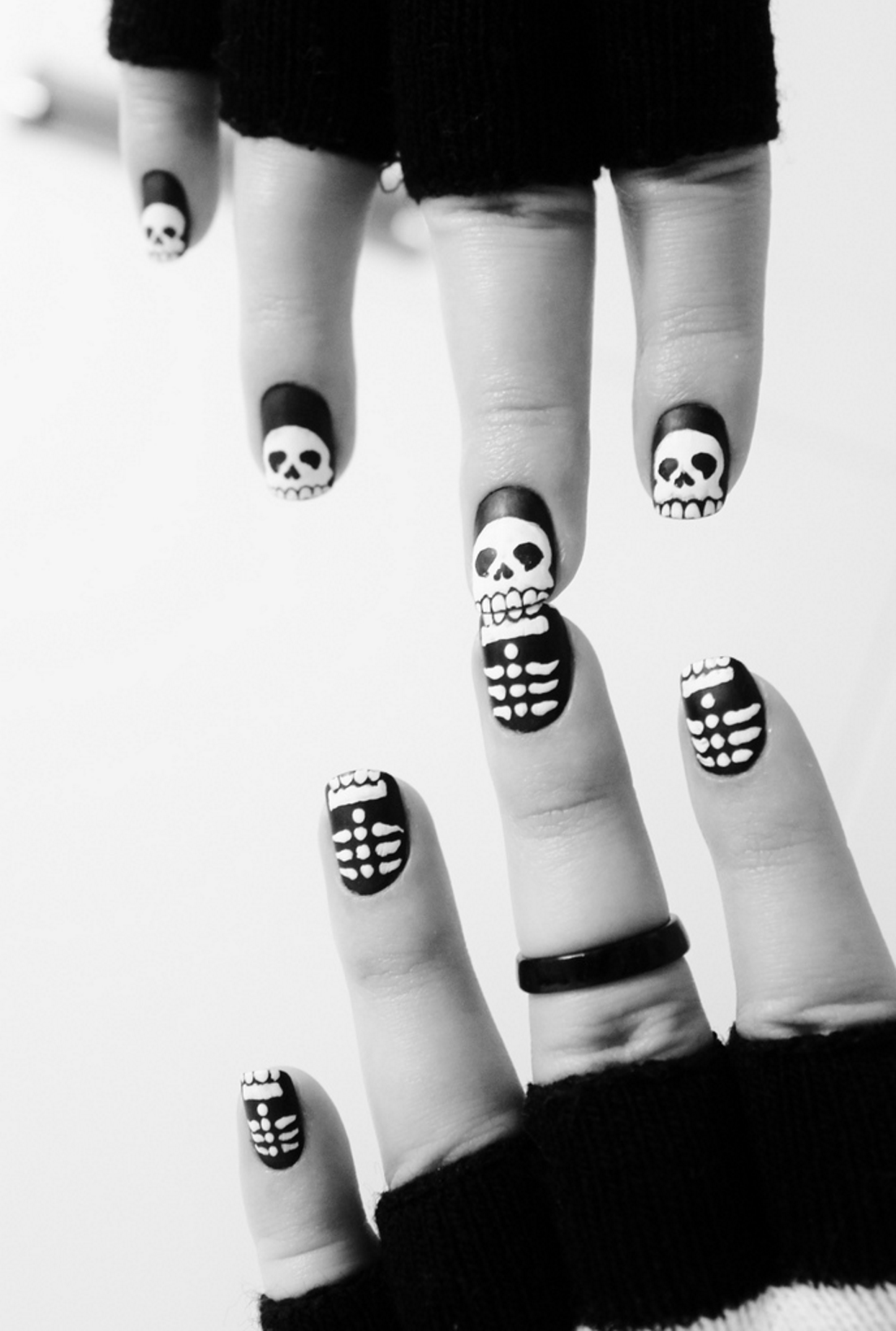 This skeleton nail art is another clever idea… on the right hand is a set of sculls, while on the left hand there is a set of skeletal rib cages so that when you put them together they form half of a skeleton. Head on over to Natsy Alencar's Flickr page to check it out.
18. Black Cat Manicure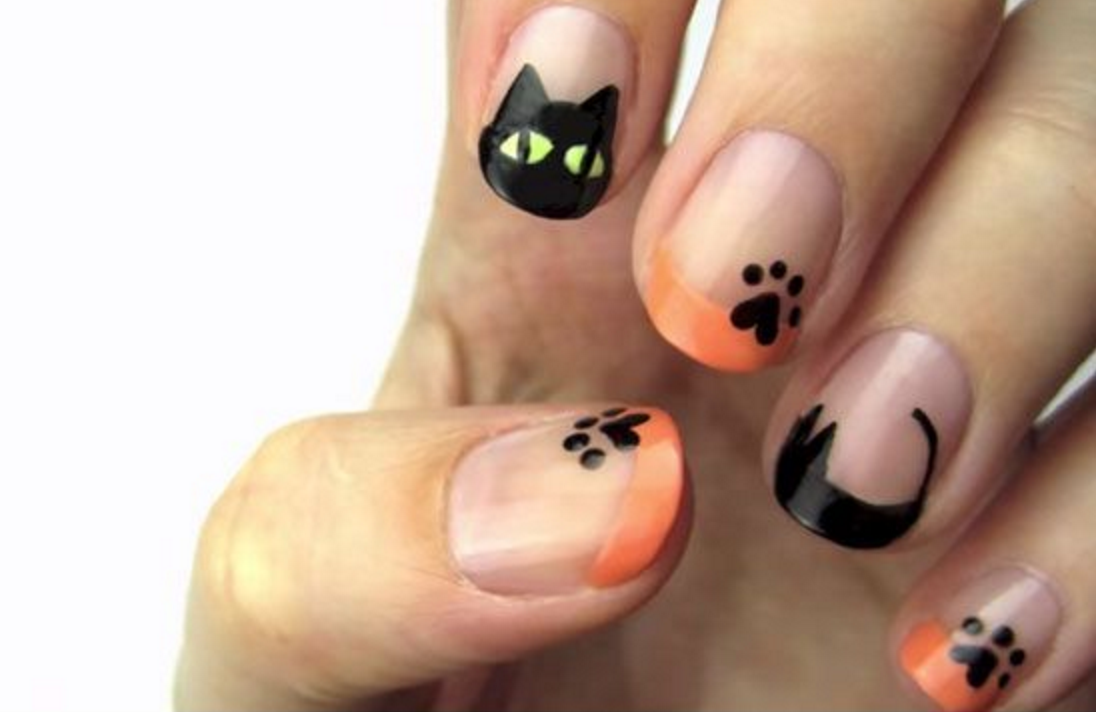 This leans more toward cute than spooky, with a Halloween black cat theme. Three of the nails have cat paw prints, one has the body of a cat and the pointer has the cat's face with bright yellow eyes. Head on over to Popular Ladies to check out the full tutorial.
19. Subtle Black and Gray Manicure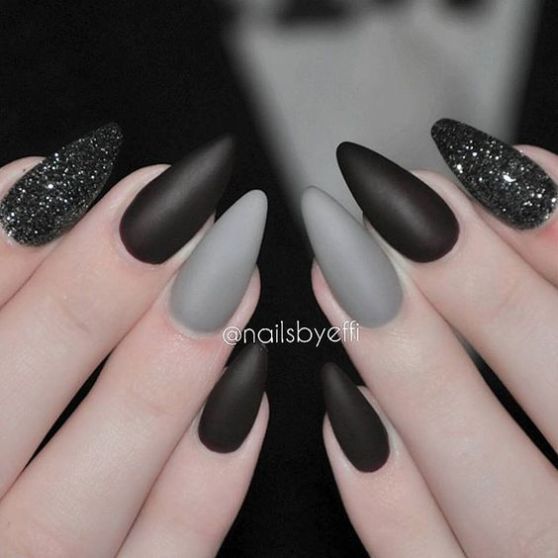 If literal Halloween references aren't your thing, give this more subtle black and gray themed manicure a try. Each nail has a different shade of gray or texture, with a pop of glitter on the pointer fingers. And matte black adds some serious style to the pinkies. Found here.
20. Geometric Halloween Nails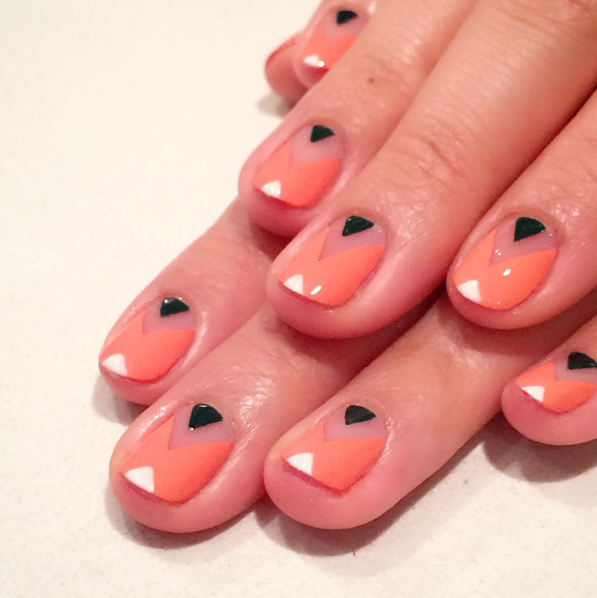 Here's another great way to show off your Halloween spirit without being too literal. This look hits all the trends, with a geometric design and the use of negative space. And those black triangles give it an edgy little twist. Check it out over at Refinery 29.
21. Glossy Black Points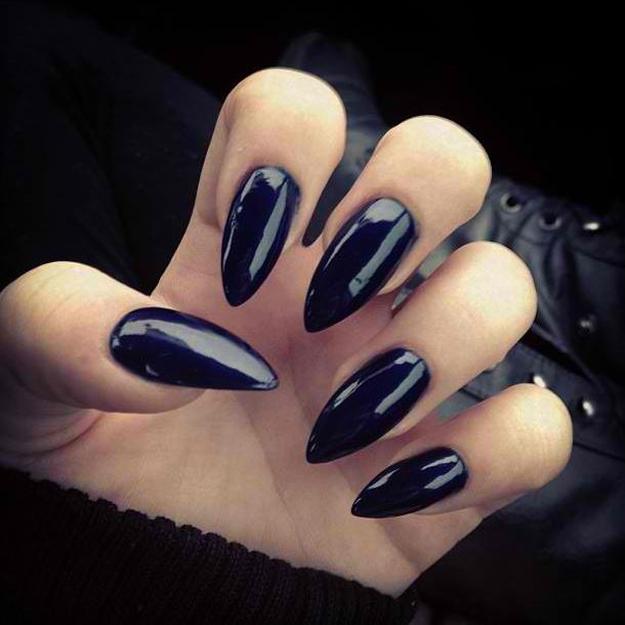 Here's another great way to add some serious Halloween spirit to your hands without painting pumpkins all over them. Grow them out and file them up to a point so that they look almost claw-like, then paint them with a super glossy black polish. Found here.
22. Mummies and Ghosts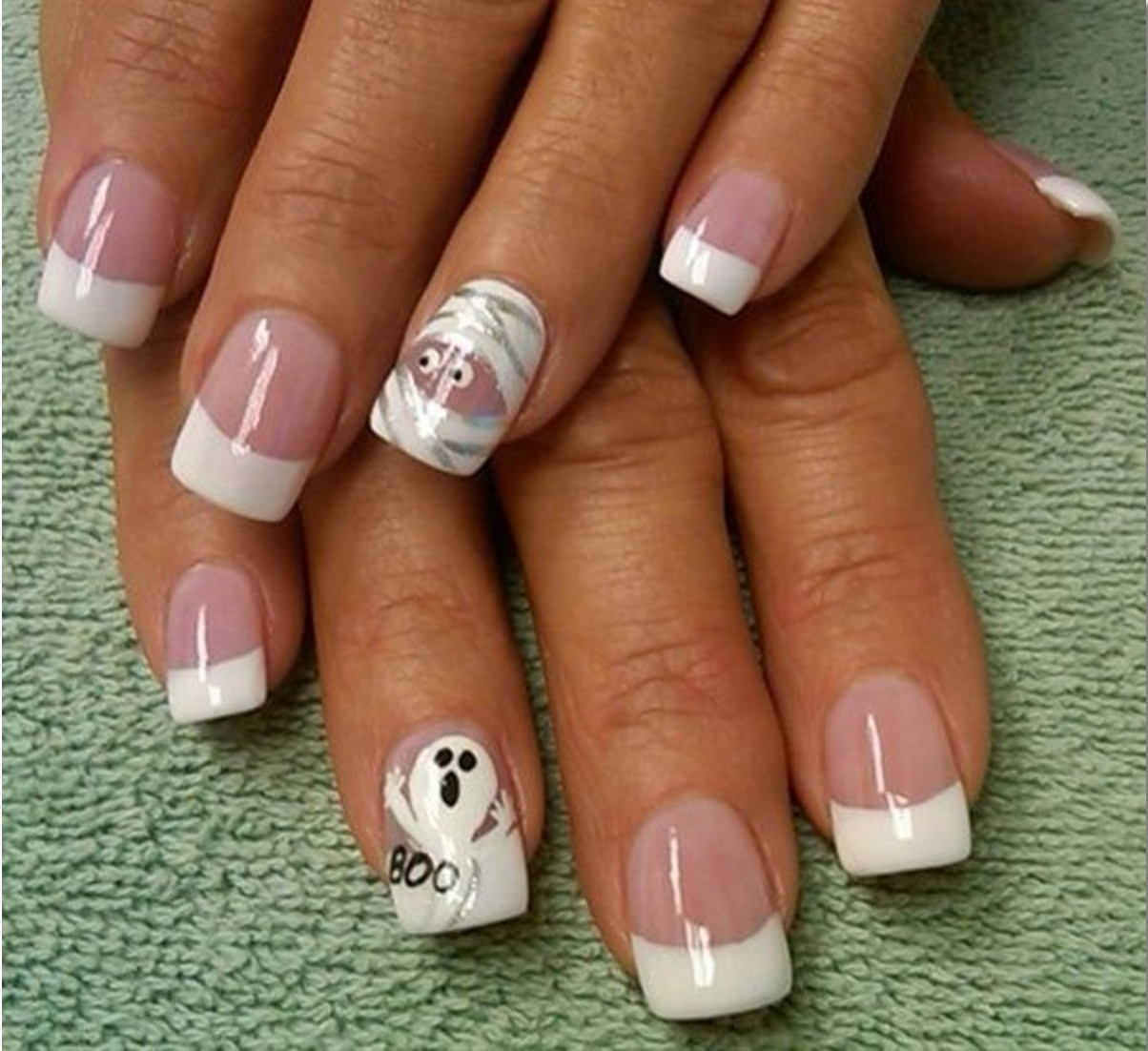 Add a little something to your classic french manicure with these fun nail art images on the ring fingers. One has a pair of eyeballs poking out of mummy wrappings, while the other has a scary little ghost yelling "boo." Check out this and lots of other ideas here.
23. Eyeball Nail Art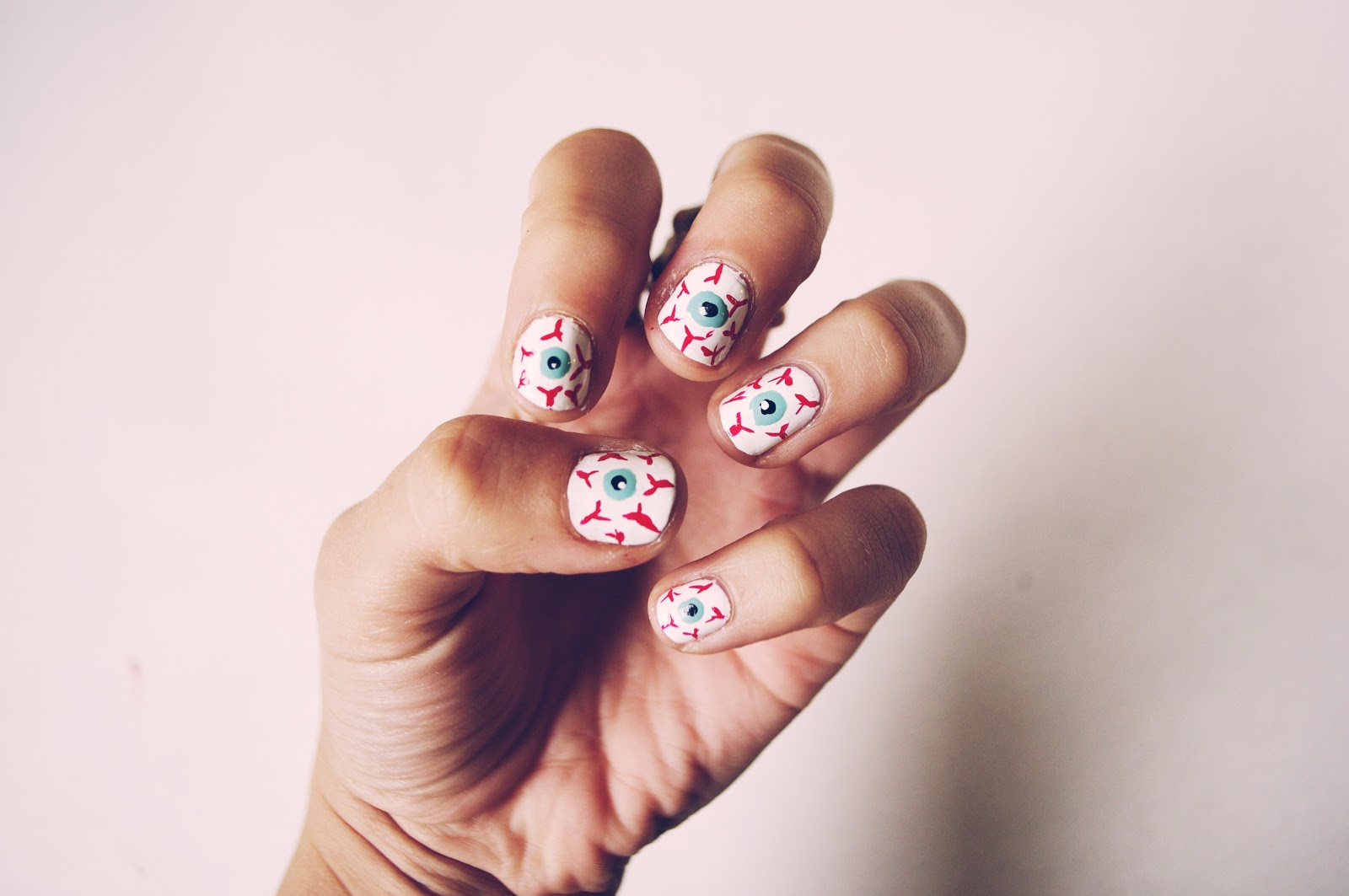 This eye-catching look (pun intended) is a fun one to do yourself, and it's a nice departure from the typical halloween oranges and blacks. Make your way over to Shakeshakee to find out how to recreate this bloodshot eyeball look on your own nails.
24. Witch Symbols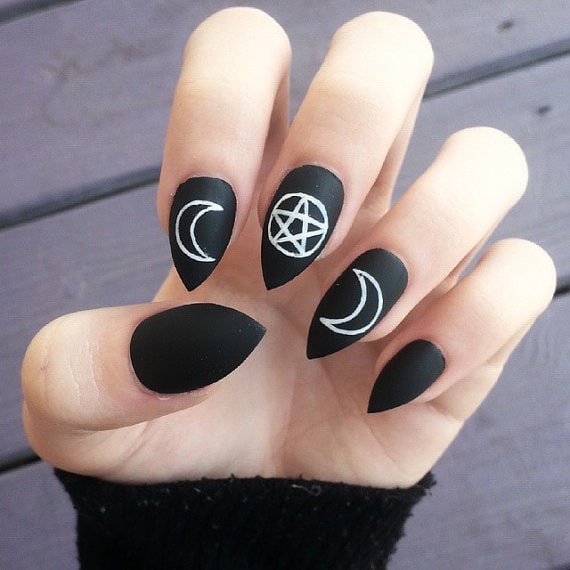 If you prefer witches to ghosts and goblins, then this might be the manicure for you. Begin by painting all of your nails with a smooth matte black polish, then add these witchy nail symbols to the pointer, middle and ring fingers. Head over here to check out this and many others.
25. French Zombie Manicure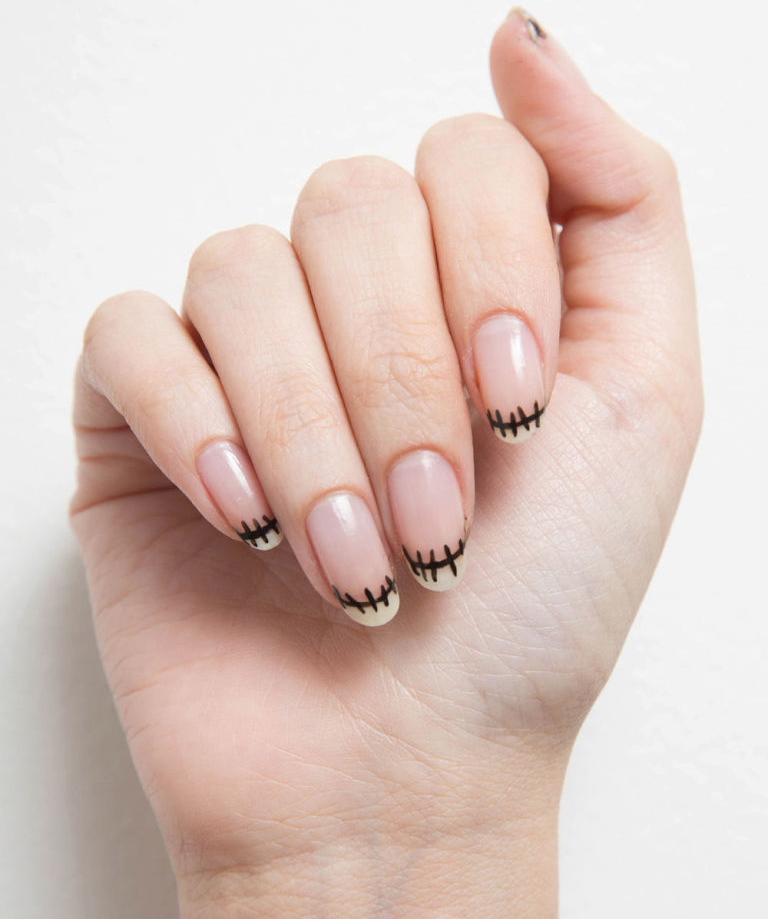 This is a fun play on the traditional french manicure, with an added twist. Simply do your french manicure as usual, then top it with black scar lines like the ones above. And voila, you have a french zombie manicure! Check out the full tutorial over at Cosmopolitan.