1. Matte Olive Nails with Floral Print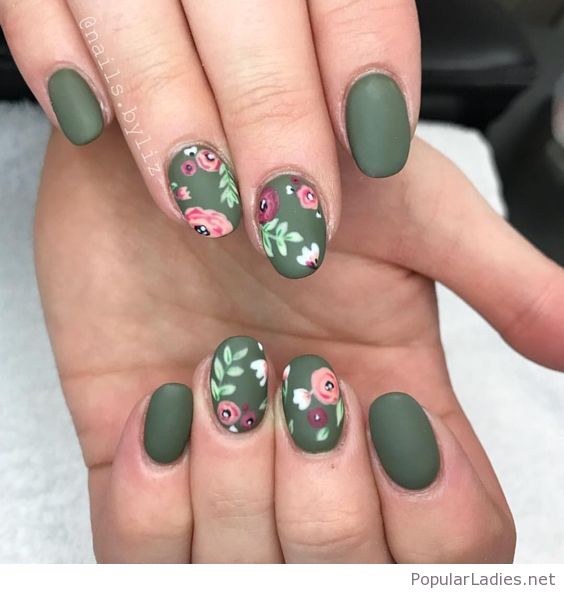 How amazingly summer perfect are those floral pattern tips coated with a lovely shade of olive coming in a nice matte finish! Once you work up a base coat, and add the matte later on each of the tips, it's time to go for the accents. The accents here are pulled off with a thin brush and flaunts pink flowers and green leaves!
2. Rainforest Florals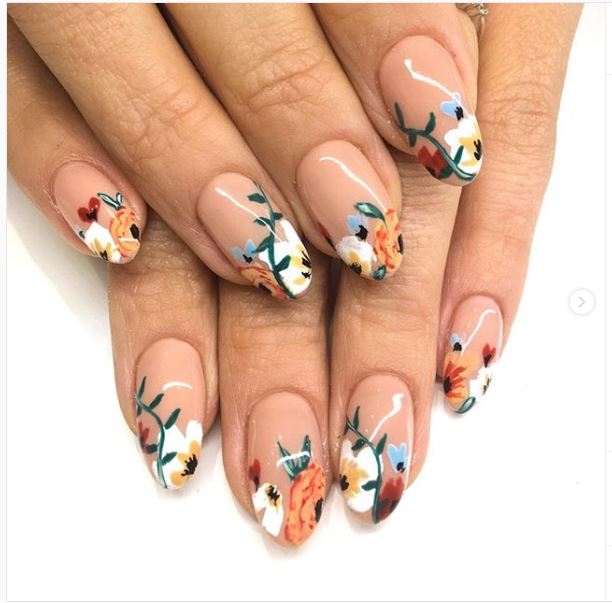 Despite the fact that each of the tips of this Mani look exactly same, it still looks vivid and wonderful, sporting such cute little flowers in bright colours including white, orange, blue and more! The backdrop goes for a coat of nude nail enamel, having the flowers rightly accompanied by pretty green branches. The design is kept mostly limited to the tips of the nails, while combining neutrals and florals amazingly well.
3. Pastel Pink and Florals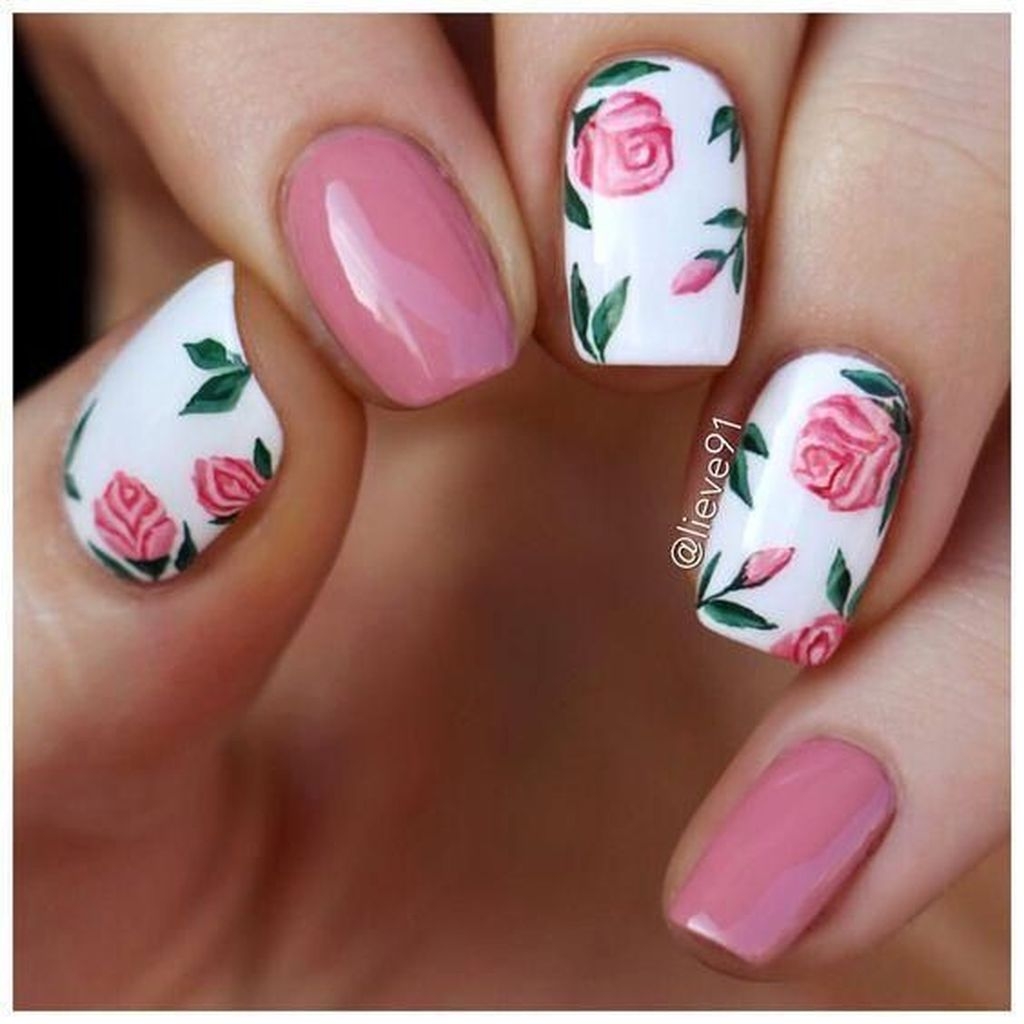 We just can't get enough of this awesome union of floral print and solids put together in one single Mani, that too without going overboard with the design! While two tips are adorned with coats of pastel pink and sealed with a glossy top coat, the other three form the canvas for beautiful flowers. The pink roses have got a lovely white background to make sure t that the mani looks will balanced!
4. White Florals on Sky Blue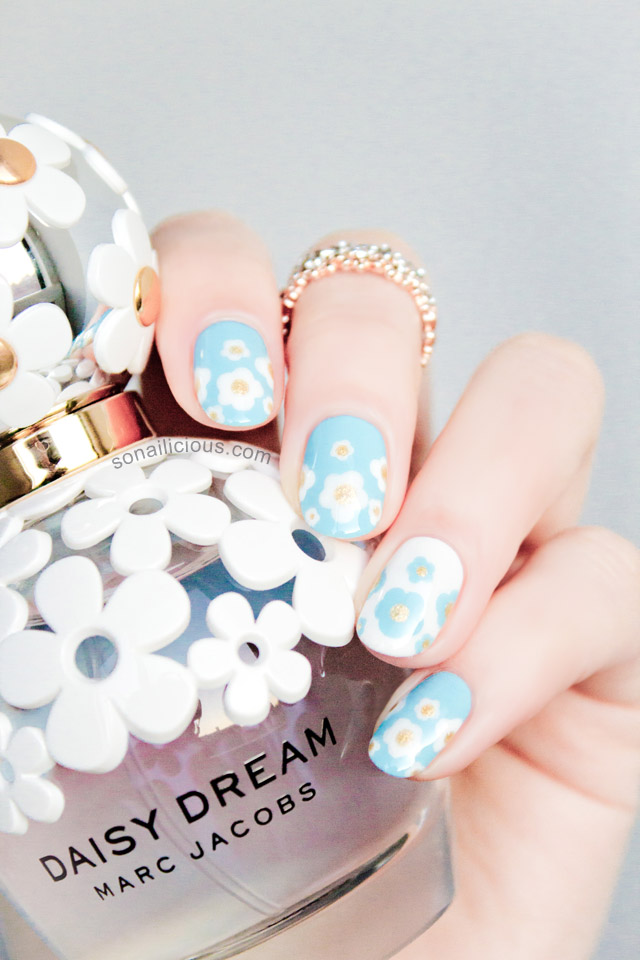 The title itself suggests that this manicure is going to be a treat for the eyes, as white daisy nails atop a lovely sky blue background look absolutely soothing. Once you paint all the fingertips with a base layer of sky blue, you pick up a dotting tool and get started to work up the flowers. Make each of the petals of the same using the dotting tool, spacing the flowers at appropriate distances from each other. Lastly, you add glorious golden centers to each flower for a little dash of glam, and voila!
5. Lavender Blossoms Floral Nail Art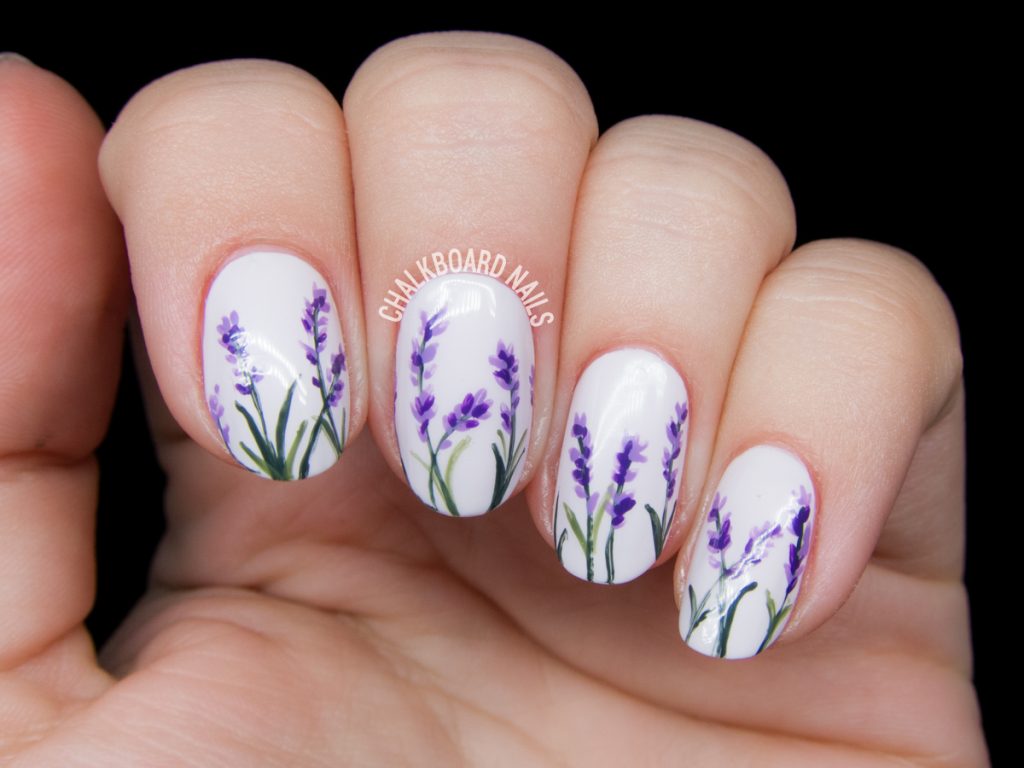 If you have got a super thin nail art brush on hand, along with a nice pale purple and lavender nail enamels, you are all set to get started with this gorgeous, delicate-looking print for your nails. Coat the nails with the light purple, further grabbing the brush and painting the stems using a bottle green, adding a few tiny leaves. Lastly, throw in the lovely blooms, and voila!
6. Delicate Flowers on Nude Nails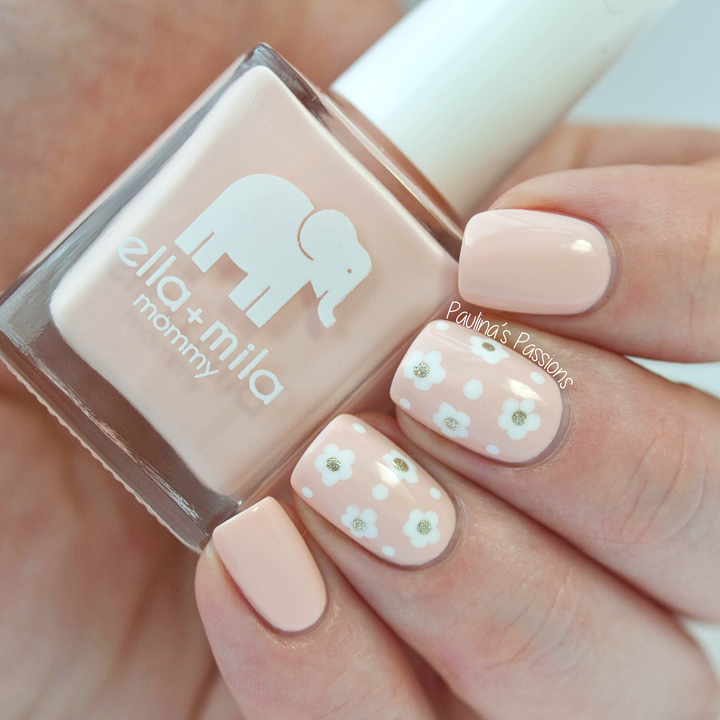 The beauty of nude nail bases is that they make every design pop out at its best. And that's exactly what happens with this beautiful floral design that has got pretty white flowers worked up on a nude glossy base. Make the petals of the flowers using a dotting tool, further adding few random white dots at different spots. Finish the flowers with golden centers.
7. Lovely Fall Inspired Nail Art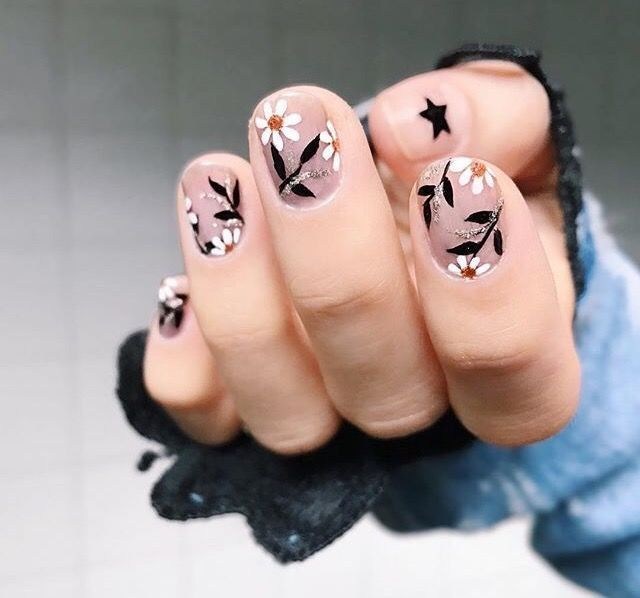 What color comes to the mind when someone mentions leaves? The answer of course, is green! And that's why this manicure is all about the concept of out of the box, as it ditches green for the leaves in the floral pattern, instead gets them done in black. The flowers here look blooming with their lovely white petals and orange dotted centers, while some extra silver stripes make the design more awesome.
8. Dainty Floral Inspired Nail Art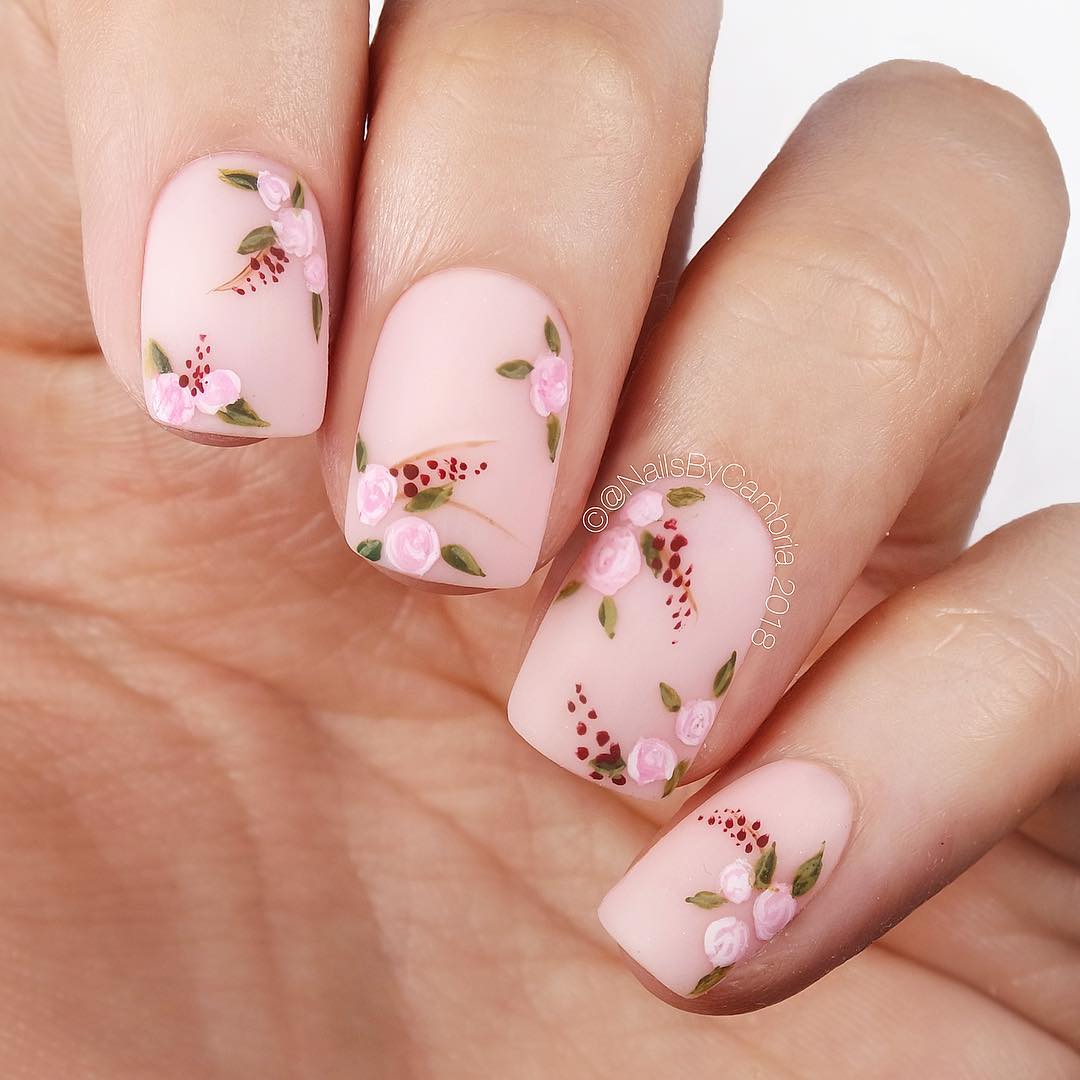 An oh so light peachy background going for these fingertips forms the most amazing base for the intricate floral design that goes for the foreground. The pattern is worked up with a white nail enamel, some baby pink nail polish, a light green paint, and a bright red nail enamel, all transformed into blooming flowers with a thin nail art brush. The white and pink roses look splendid with those berry-like prints on the side, finished up with sleek leaves here and there.
9. Lovely Summer Floral Nail Design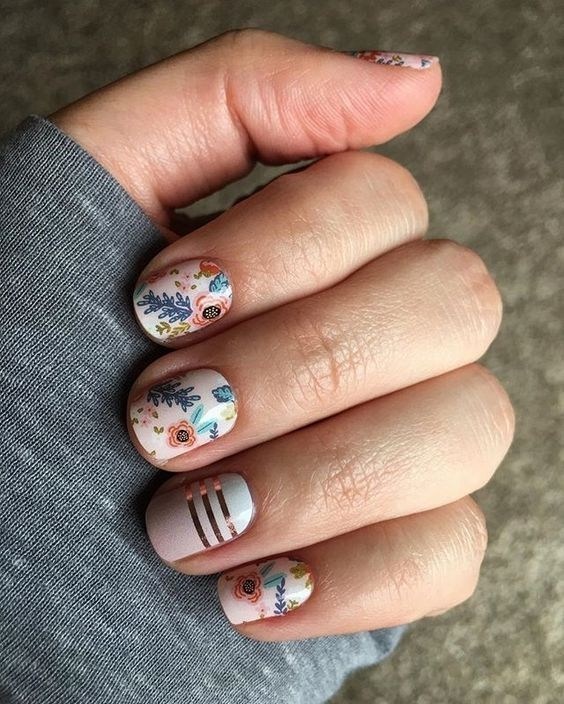 If you are new to working up manicures yet want to flaunt something that looks extraordinarily detailed and intricate this time, printed nail decals can come to your rescue and end up in a lovely summer floral print! What's unusual about this design is that the accent tips here is in fact, the simplest one, flaunting just three simple nail art tape stripes in shiny golden. The remaining flaunt a colorful floral design on a neutral base.
10. Pink Nails with Summer Floral Accents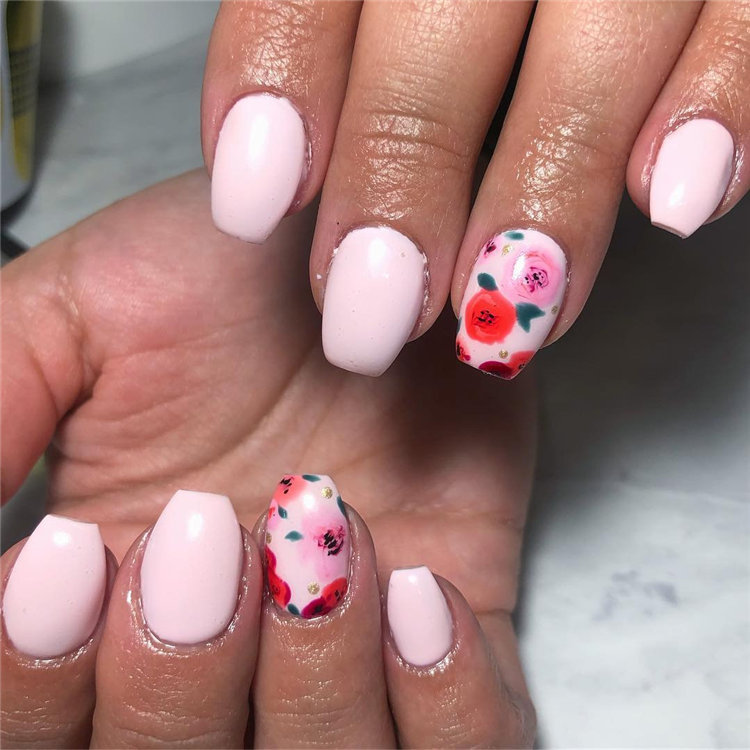 Making plain nails and rich flowers join hands, this manicure is for those who want to keep it subtle yet make heads turn at the same time! Grab a super light shade of pink and add a splash of it on each of the nails, further advancing towards the flowers. Choose an accent tip for each hand and draw pretty blooms in bright red and pink on the backdrop, adding tiny leaves and a few touches of details on the flowers.
11. Rich Flowers and Glossy Tips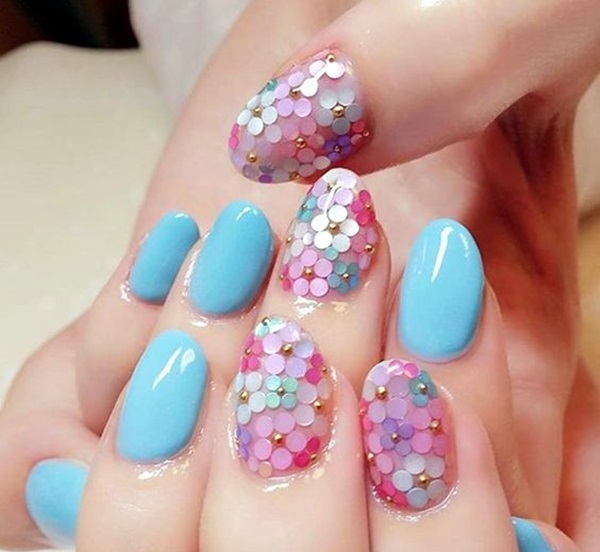 If you are all set to get dramatic and vivid with your nail art, look no further as you have got this super rich pattern on hand. Making each of the flowers pop out with great finesse in terms of their shape and those lovely tiny golden centers, the negative space background on the accent tips couldn't work any better. For the remaining tips, you can go for any pastel color with a rich glossy touch. However, the author here goes for a bright blue to get it all done.
This season, let your fingertips be immersed in the blooming magic of summer. After all, how amazing it is to dress your nails up with the beauty of these floral nail designs and going just in sync with the goodness of true flowers.