1. Unicorn Horn Accent Nail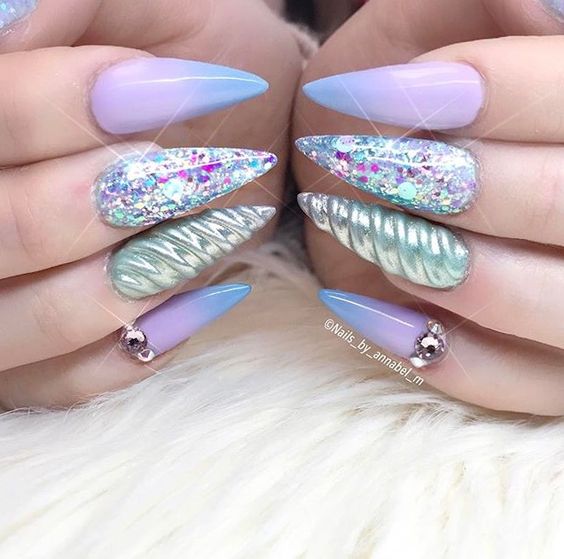 Blend in some on-trend manis together to end up in this glorious unicorn theme nail design. While a subtle ombre of lavender and blue rests on some tips, drama comes into play on the others with a bold glitter on the others in multi-color. The special tips here are the unicorn horns done in bright silver in a 3 dimensional design. Complete the look with glitter stone embellishments.
2. Rainbow Theme Unicorn Nails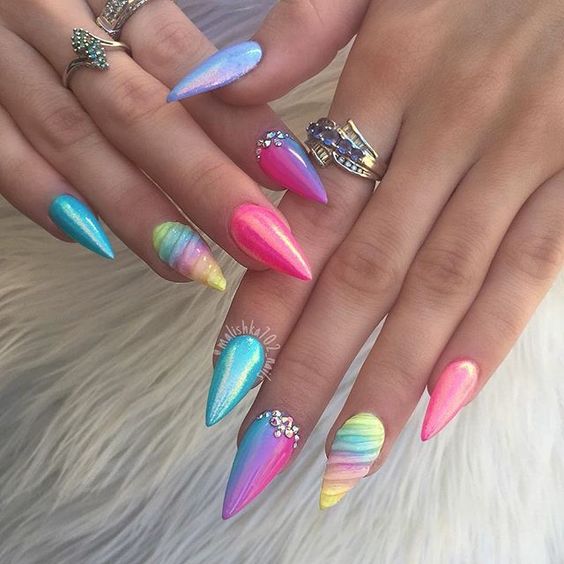 Everything mystical, including a unicorn horn and the colors of rainbow seem to have landed onto these fingertips. Worked up in stiletto shapes, the nails have got eye-catchy neon hues, having some of the tips adorned with jewels around the cuticles. The unicorn horns are sculpted into the tips in a soothing rainbow theme, while the other tips go for metallic pinks and blues.
3. Unicorn Eyes and Horn Nail Design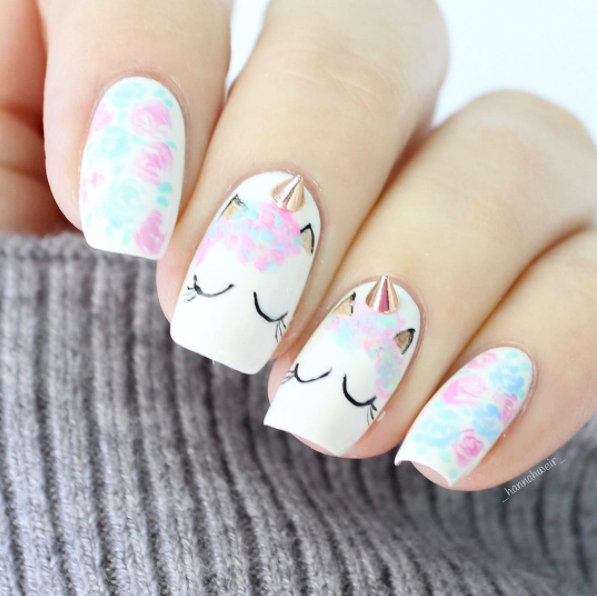 Is there anyone who wouldn't fall for those super cute unicorn eyes with pretty eyelashes worked up on white backdrop nails. The colorful unicorn here painted on the tips, along with a lovely golden horn embellished on the top is simply mesmerising. For the other nails, you can go for pastel color rose flowers using a thin nail art brush sticking to white for the base yet again.
4. Sculpted Horn and Painted Unicorn Face
The fact that these tips glow in the dark is going to make sure you steal all the attention at the party, celebrating unicorns with a dash of glam. A super sparkly one of all unicorn nail designs, this one goes for a lovely base of pink glitter with a partial translucent texture. The accent nail here is decorated with large crystals and stones, while the other is sculpted into a unicorn horn in a rainbow theme. Paint a pretty unicorn face on the thumb and voila!
5. Golden Sculpted Unicorn Horn Design
If you are obsessed with shiny gold nail designs, then this golden unicorn horn worked up on your accent nail is all you need to shine this evening. The special part about this mani is that each of the nails is unique – you have got bold silver metallic paint on one, soft pink and lavender ombre on the other, the same ombre with embellishments on the third, a silver glitter on the middle finger, and a 3D unicorn tip on one.
6. 3 Dimensional Unicorn Face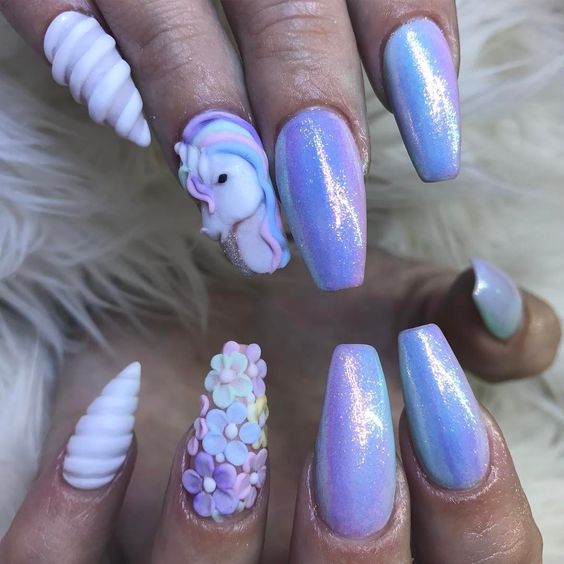 Let your artistic skills flowing atop your fingertips, working up a beautiful unicorn in three dimension on your nail. The colorful hair of the creature are going to steal the show, while the remaining nails does the job of highlighting it just perfect. Most of the tips are coated with a glittery lavender, having one of them sporting pretty sculpted flowers, and two accent nails are turned into unicorn horns yet again.
7. Subtle Painted Unicorn Features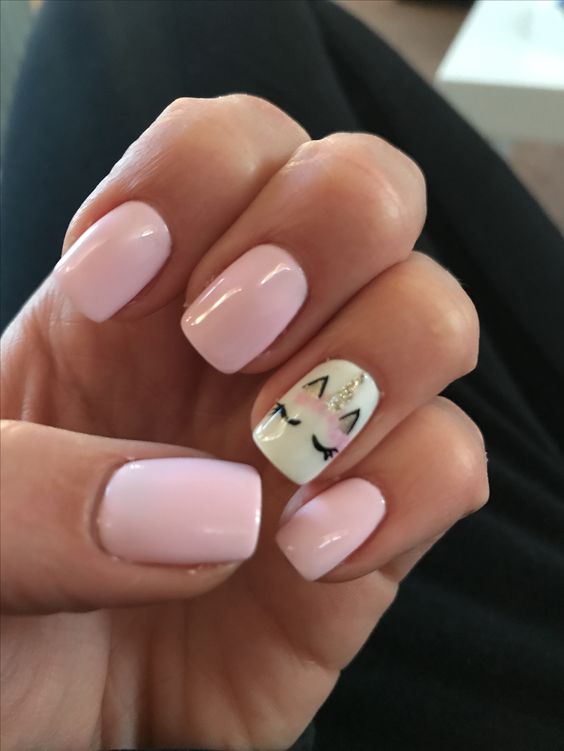 Now here's a mani that's not at all overdone and lets you work up a unicorn design that you can wear to a party, a romantic dinner date, or even a regular day out. Keeping it simple with a pastel pink for all the tips, this design sports adorable unicorn features painted on the accent nail. A thin nail art brush is used to draw closed unicorn eyes and ears, accompanied by a glittery horn.
8. Translucent Unicorn Horn with Glitter Nails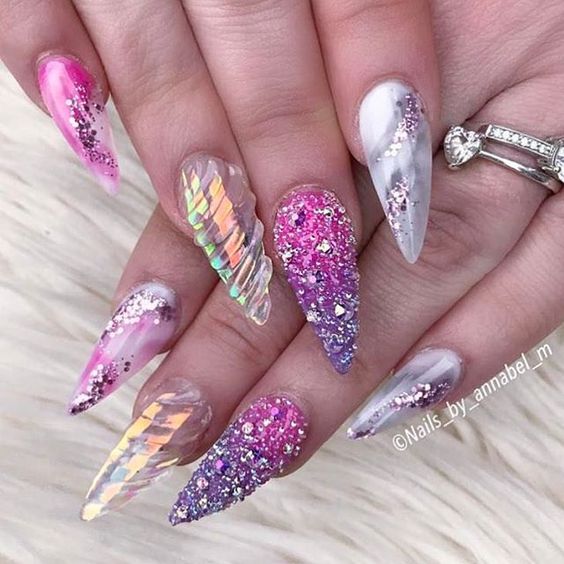 It seems that a fairy has casted a magical spell on these unicorn fingertips. Dominating the design with different hues of bright pink and purple, this one features a heavy dose of sparkle to make the design stand out. While you have also got a marble like design on some tips, the most amazing thing is surely that iridescent swirl working up the sculpted horns on one of the tips. Swirls of silver, loads of jewels and of course, curvy strips painted in glitter are marvellous.
9. Cute Rainbow Unicorn Face Nail Design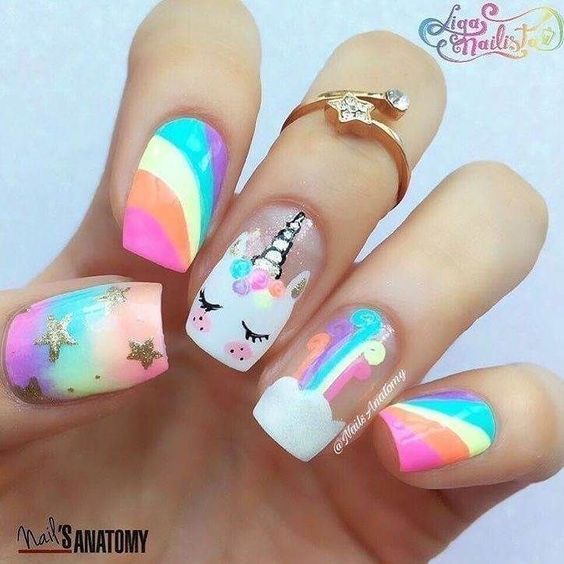 The kiddos are going to fall head over heels in love with this endearing unicorn nail art as everything here seems to ooze rainbows. The thumb has a merging rainbow effect with glittery stars painted on top, while two of the tips feature flowing rainbow effects. A unicorn face with a rainbow horn and pretty pink cheeks is drawn on the middle finger, while the accent nail is totally worthy watching out for.
10. Colorful Sculpted Unicorn Hair Nail Design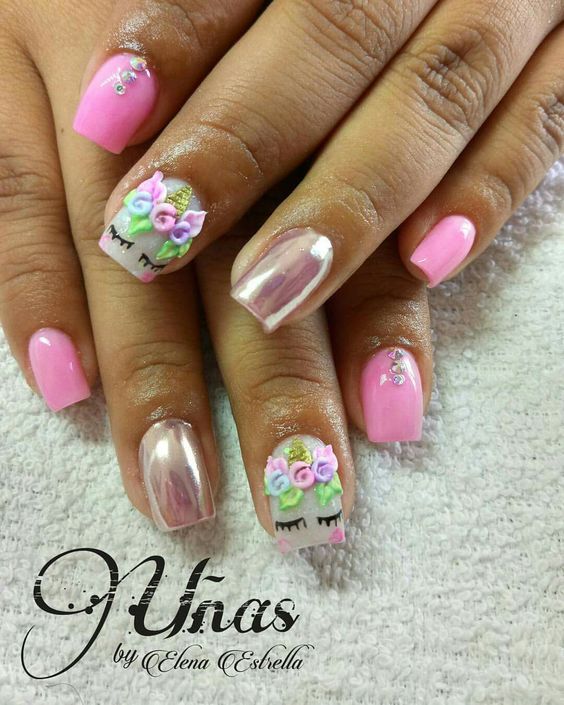 The only element on these nails that goes for a 3 dimensional sculpting is those unicorn hair that look more like florals and colorful leaves than hair to get that fantasy effect on point. The other fingertips are alternated by a solid coat of hot pink and a soothing shiny metallic pink. For a little extra decor, you can always throw in a few stones and embellishments.
11. Kawai Unicorn Face Nail Art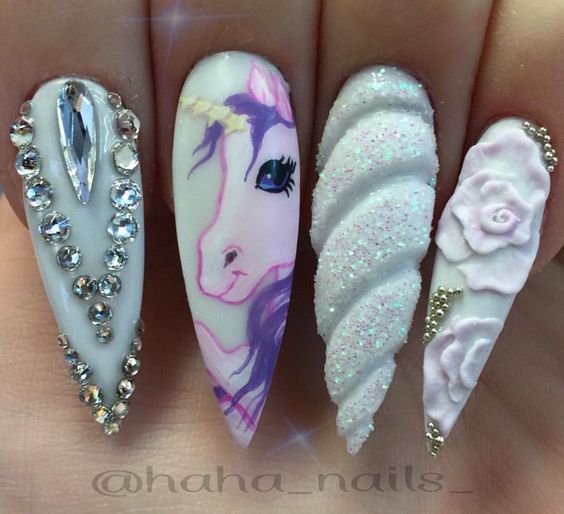 That unicorn tip is no less than a page from a sketchbook – thanks to the fine lines and details sported by the unicorn profile face painted on the tip with purple hair, a golden horn and a lovely soft pink face. Next to it is a 3D unicorn horn that goes for a magical white and a touch of silver glitter. You have also got sculpted flower tips, and a solid milky base tip with silver stones.
12. Cute Japanese Unicorn Nail Design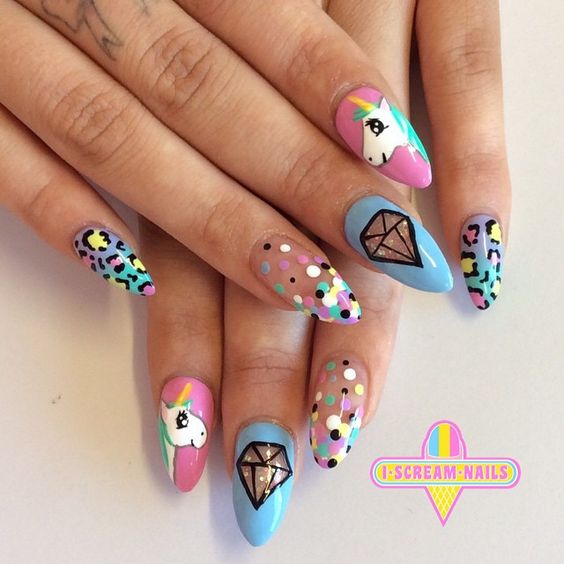 Could leopard and unicorn be combined in one single nail art, yet not make it seem out of place? These super cute nails prove that just right, wherein you have got a lovely colorful leopard print worked up on the pinkies with an ombre background, while adorable unicorns are painted on two of the tips in a pink background. For extra beauty, there's negative space with colorful dots and a diamond done on the others.
13. Glorious Unicorn Silhouette and Horn Mani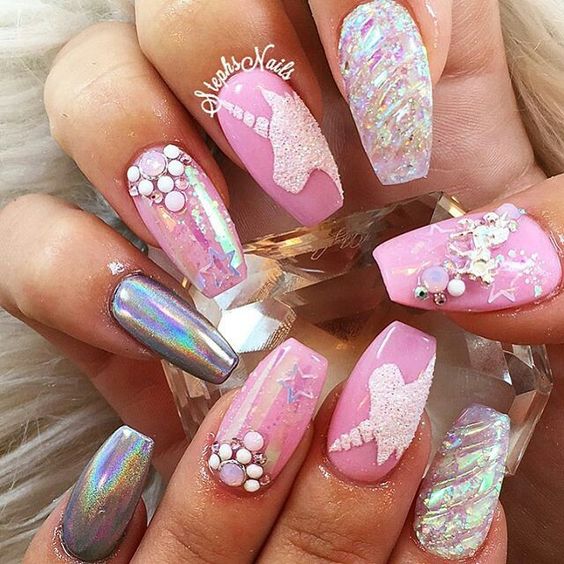 Name just about any glamorous manicure category and you are surely going to spot it on these nails! Those metal silver coated nails go just like magic with the lavishly jeweled pink nails adorned with pretty stars. Oh yes, there's also adorable unicorn silhouettes done in glitter, while the beautifully glittery sculpted unicorn horns take the awesomeness to new heights with their translucent touch.
14. Fairy Dust Unicorn Nail Design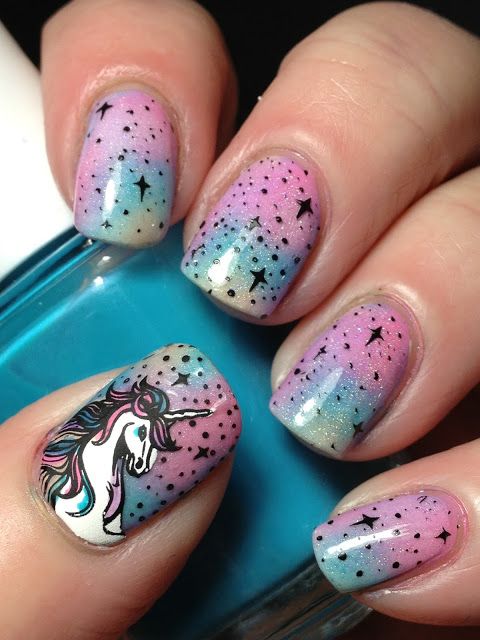 No matter what's the theme, ombre just can't fail you when it comes to taking some breaths away. One of the most subtle yet beautiful unicorn nail designs, this one goes for a pink and blue ombre for the base of the fingertips. All the tips except the thumb are adorned with tiny dots and stars to create a fairy dust effect, while the thumb is charmed up with a super detailed drawing of a unicorn with pink and blue hair.
15. Practical and Subtle Unicorn Mani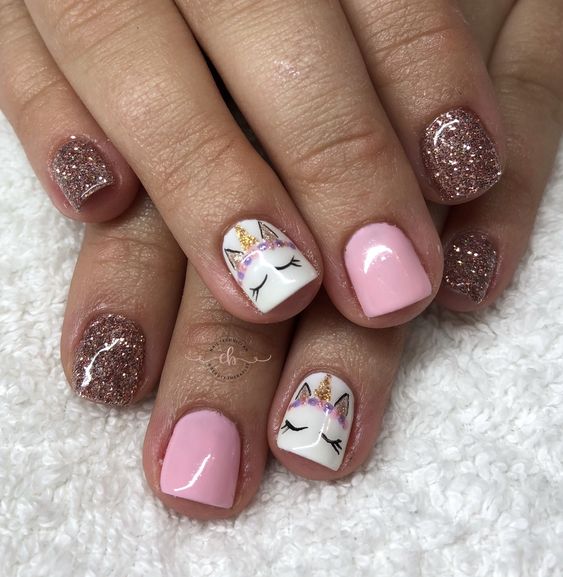 Glossy glitters, solid pastel coats, and pretty yet easy to pull off drawings – this unicorn mani has got you covered. The versatile design begins with a pinkish brown glitter coated with a glossy top coat for some of the tips, while the others stick to a solid pink. The unicorn tip goes for a white base, with closed unicorn eyes, cute ears and a tiny horn.
16. Silver Embellished Unicorn Nail Design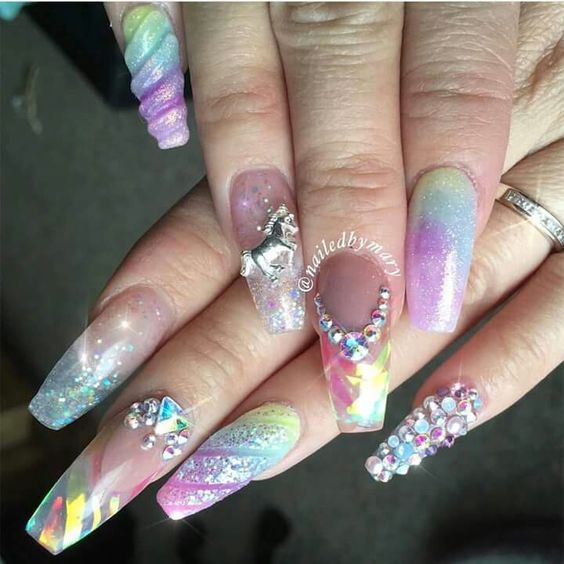 A glorious unicorn that's about to take off and fly is what makes this manicure stand out with utmost prettiness. The best part is that you don't need to draw or sculpt the creature, instead get it done with a unicorn-shaped embellishment in bright silver. The other tips feature a 3D unicorn horn in iridescent rainbow, silver glitter ombre nails, heavily embellished tips, negative space designs and more!
17. Glitter Rainbow Accents and Unicorn Nails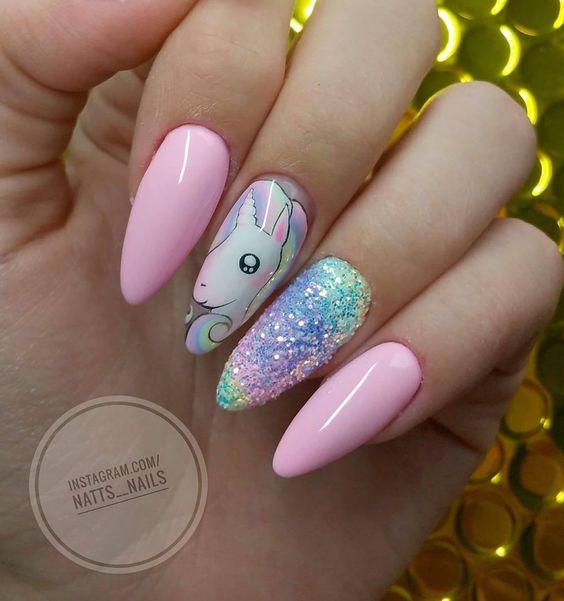 One wouldn't be able to get enough of that luxurious looking accent nail here that has got the whole spectrum of colors coming together in lovely glitter. Make the glitter nail stand out by painting the remaining tips with a solid base of soft pink in a lovely gloss finish, lastly, advancing to the unicorn tip worked up on the middle finger.
18. Rainbows and 3 Dimensional Unicorn Horns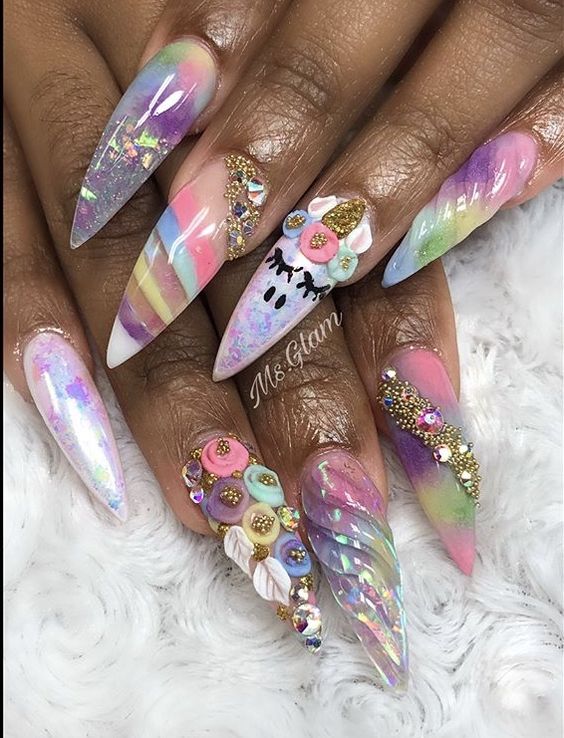 Although, pulling off this intricately done design calls for a great deal of patience and time – the end results are totally worth it all. The pointed unicorn horn is done in an iridescent rainbow with 3 dimensional sculpting, while one of the tips sports just the unicorn eyes with 3d flower-like hair. Glitters and ombre on other tips add variety.
19.Vertical Gel Polish Gradient Unicorn Nails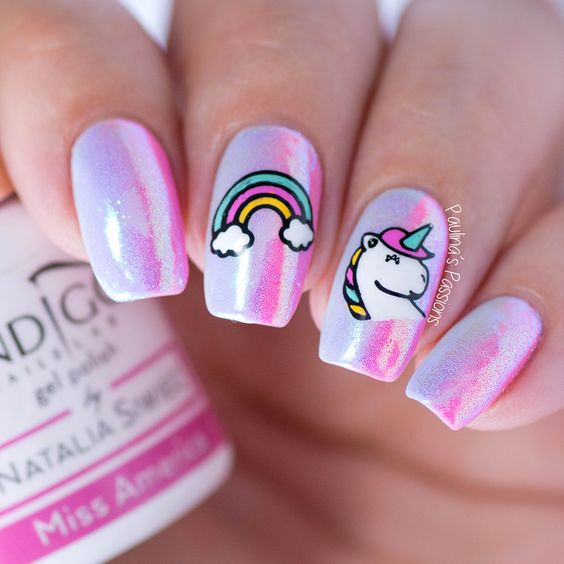 This mani has got gel polish getting it all done, making the unicorn design last for weeks, letting you make the most of it. The ombre here with a lovely glitter is pulled off in a vertical fashion in a color combination of pink and purple. The unicorn is drawn with fine black nail paint, and filled with bright colors just like the rainbow on the other tip.
20. Breathtakingly Beautiful Unicorn Face Mani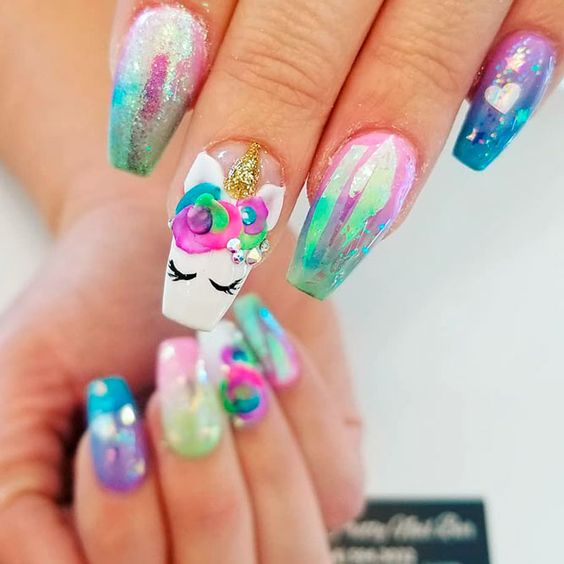 Making everyone skip a heartbeat, this cute unicorn with long eyelashes is what we want to get alive right away. Decorated with ombre sculpted flowers and a sparkling golden horn, the creature is brightened up with silver stone embellishments. The other tips glitter paints, iridescent rainbow effects and more!
21. Black and White Unicorn on Glitter Nails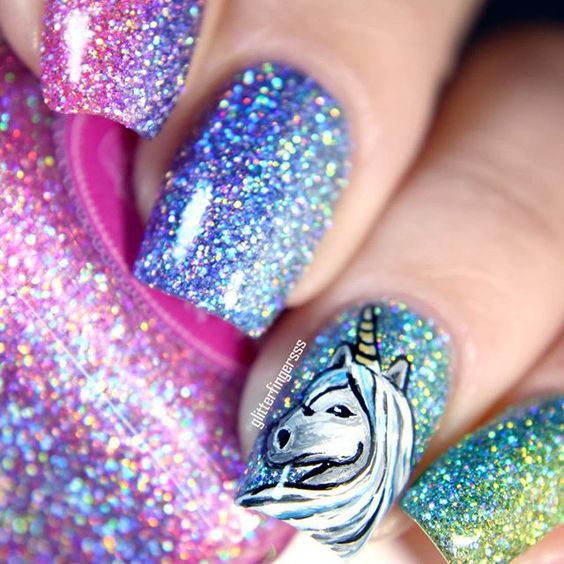 Travel to a mystical land wherein unicorns seem to rush amidst a cloud of colorful glitter with these gorgeous nails. Most of the tips feature a thick glitter ombre in different color combinations, done in a vertical manner. However, the accent nail here is of course, a unicorn that's painted in a classic combination of black and white to stand out against the backdrop.
22. Super Sparkly Unicorn Painted Nails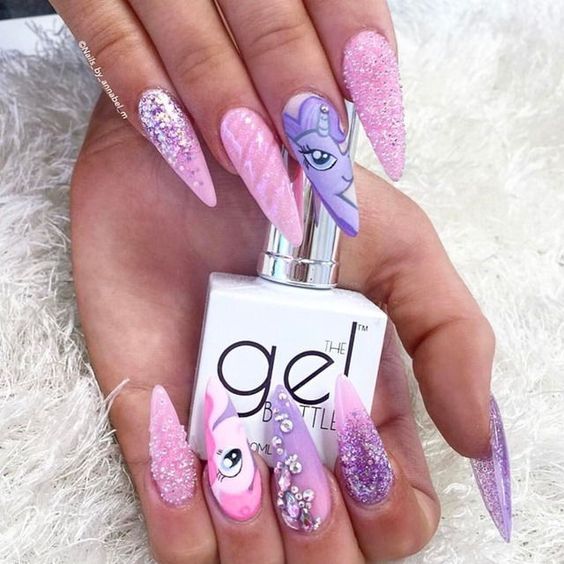 Sparkles are something that can never be enough when you are talking about unicorn nails. And this mani is a perfect example of the same! While one of the hands features a unicorn painted in pink, having the other hand go for a blue unicorn, sparkles and stones are common in both the hands. Light backgrounds, heavy glitters and iridescent sculpted horn comes into magic!
23. Acrylic Unicorn Nail Tutorial

If you want to learn a step by step process to pull off unicorn nails from scratch, this YouTube tutorial is all you need to get it done with the miraculous effects of acrylic nail paints. The horn is worked up in a pastel striped pattern, while a 3D version of it features pretty white grooves. Embellishments are the final icing here.
24. Unicorn Features on White Tips and Glitter Accents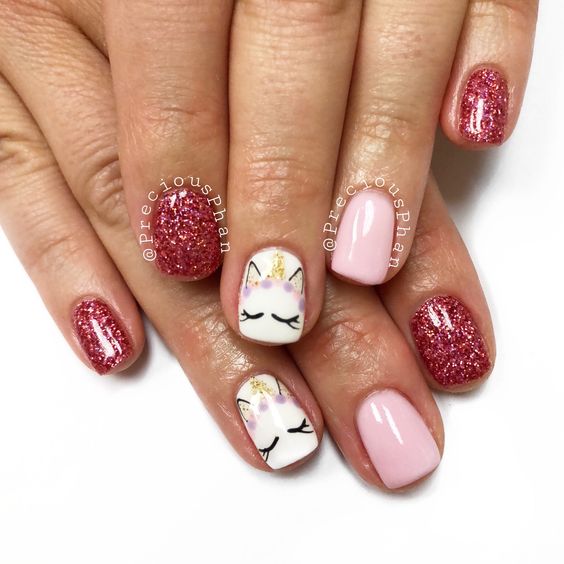 Those eyes closed and a horn in golden is the most easy to work up unicorn nail design idea that you can find on the internet. But how it's accompanied with bright glitter glossy tips alternated with baby pink pastel coats makes it a to-die-for inspiration. The purple and pink dotted flower like hair of the creature are simply endearing.
25. Cartoon Unicorn in Blue
You'll love how few of the tips in the mani create the effect of ice melting inside a frozen cave, rightly done on a neutral theme acrylic background or a pink and purple ombre. The unicorn caricature is adorably detailed with a body hue of blue, large gleamy eyes and rainbow hair, having the other fingertips adorned with embellishments and 3d effects.
Whether you love heavily embellished nails or adore simple yet cute manis, these unicorn nail designs come in all shapes, sizes, colors and genres. In a nutshell, they have got something in store for everyone out there.