Thanksgiving is right around the corner, which means that it's time to switch out that mani to something a bit more suited to Turkey Day. Think dark reds, oranges and golds. Today we're sharing 25 of our very favorite Thanksgiving nail art ideas from around the web. Keep reading to get inspired!
1. Gilt Tip Red Mani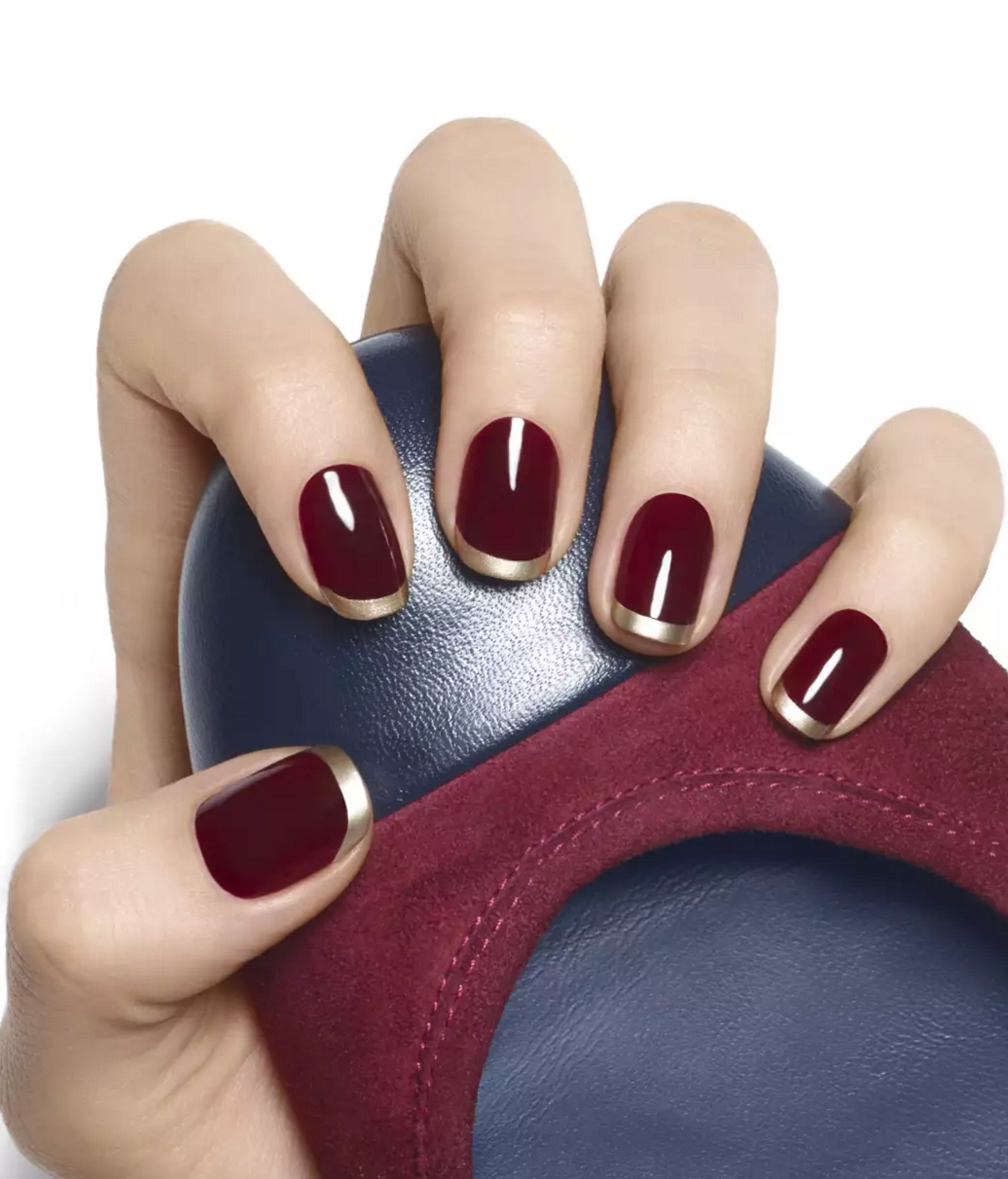 This elegant red manicure is perfect for Thanksgiving, with its dark hues and metallic gold tips. This would be a simple look to recreate, with a steady hand to paint the lines for the tips. Make your way over to Essie's website to check out the easy tutorial.
2. Glittered Brown Nail Art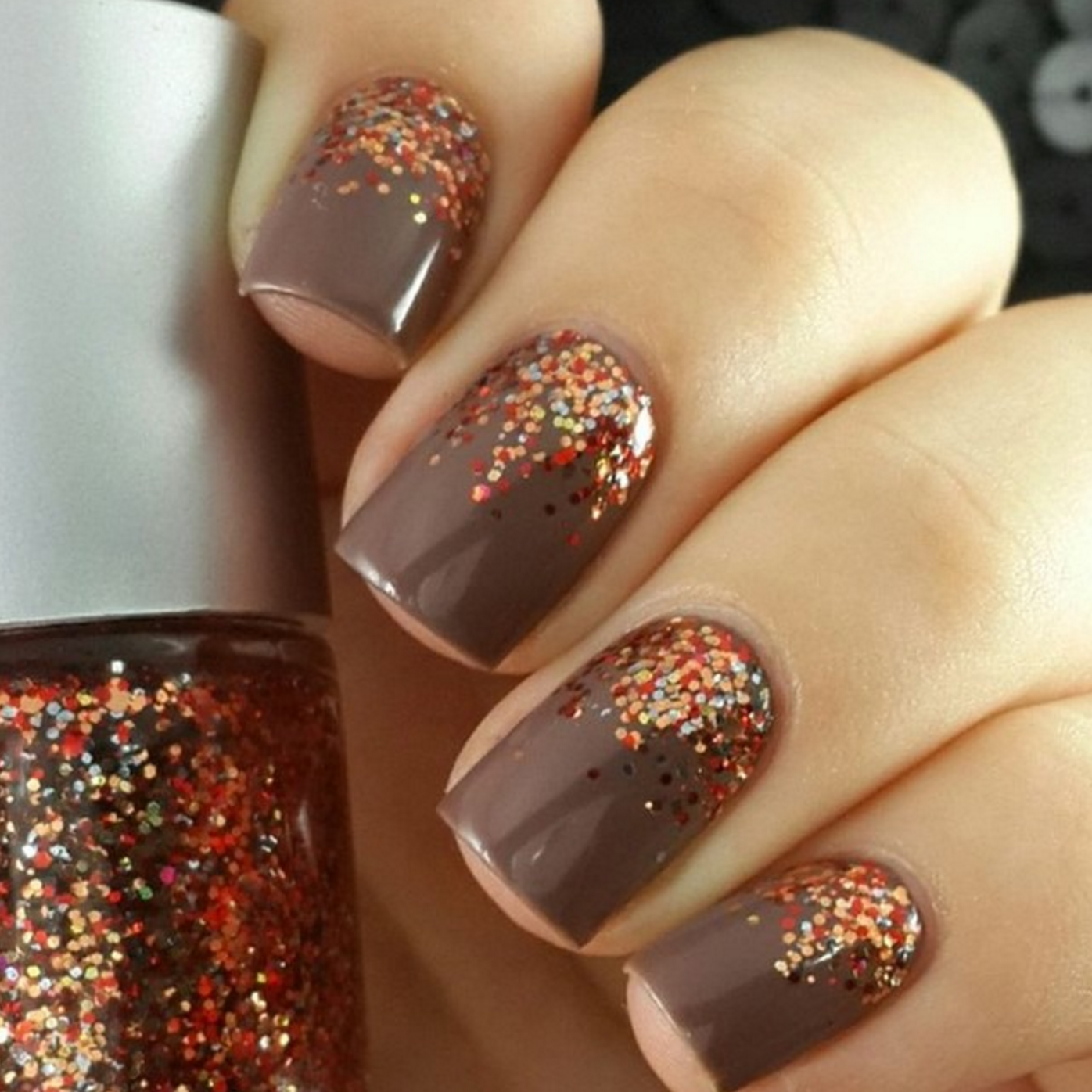 Transform your tips into festive Thanksgiving themed beauties, by painting them with a brown base color and accenting them with colorful glittered polish that looks just like tiny bits of fall foliage. Head over to Amazing Nails 67's Instagram account to check it out.
3. Soft Brown Mani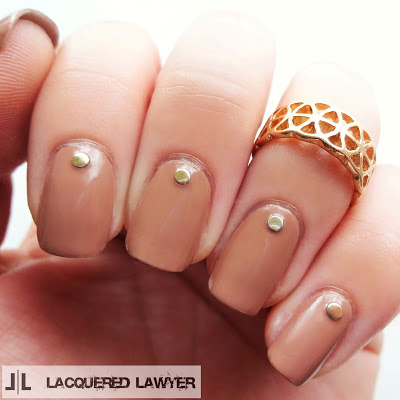 Looking for a subtle style this Thanksgiving? Try this beautiful studded soft brown look. Begin with two coats of light mocha colored polish, and top with small gold studs as an accent. Make your way over to the Lacquered Lawyer's site to read all the details.
4. Burgundy Chevron Nail Art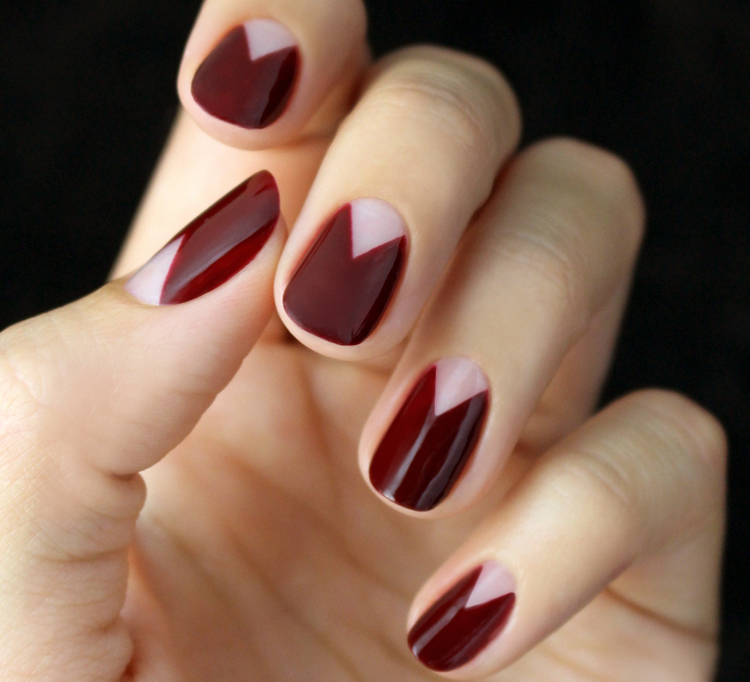 This is another great potential style that you may want to consider for your Thanksgiving manicure. This look is done with a deep burgundy red polish and some striping tape which masks off the chevron shapes. Head on over to Lulu's blog to check out the how-to.
5. Glittery Brown Nail Art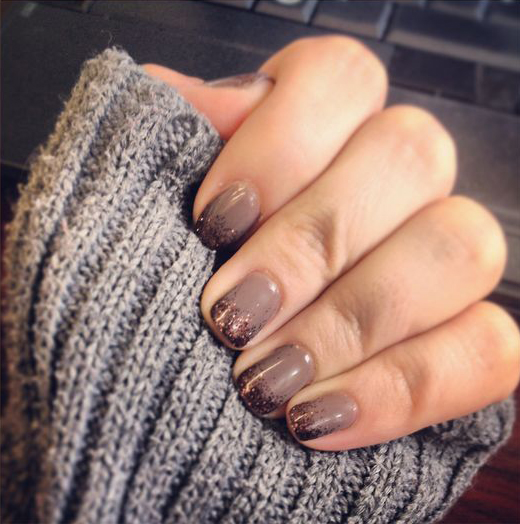 Don your tips with coppery glitter this year for Thanksgiving… your friends are sure to be jealous of your awesome mani! The key is to choose a light brown polish color with purple undertones, so the copper stands out just enough. Found over here.
6. Beige Sequined Nail Art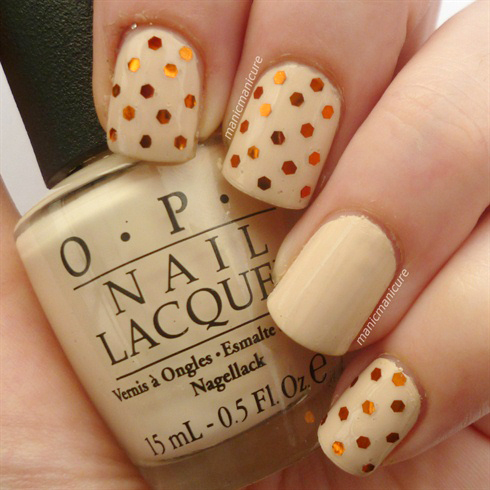 This beautiful manicure is reminiscent of a yummy Thanksgiving dessert… maybe a perfectly baked pie or crême brulée. This nail art look begins with a warm beige polish underneath, and is topped with gold "sequins" on top. Found over at the Nail Art Gallery.
7. Ombré Gradient Nail Art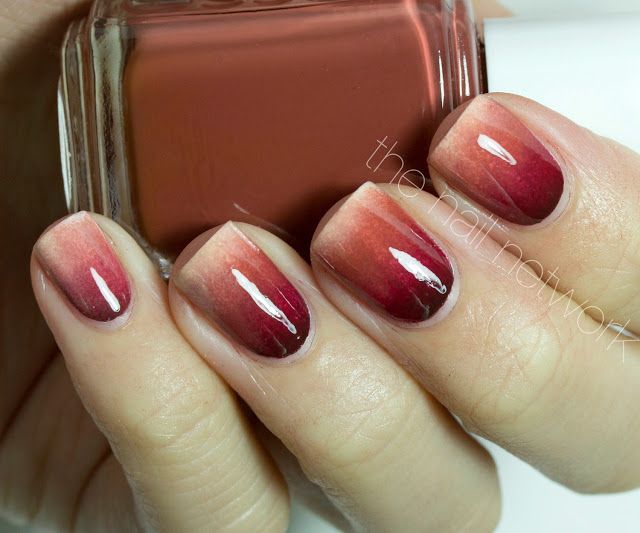 Next up, we have a lovely gradient effect which ranges from a dark cherry red to a light nude shade. The ombré effect is achieved by painting a variety of colors on a sponge and gently laying it onto the surface of the nails. Read more about it at The Nail Network.
8. Plaid Nail Art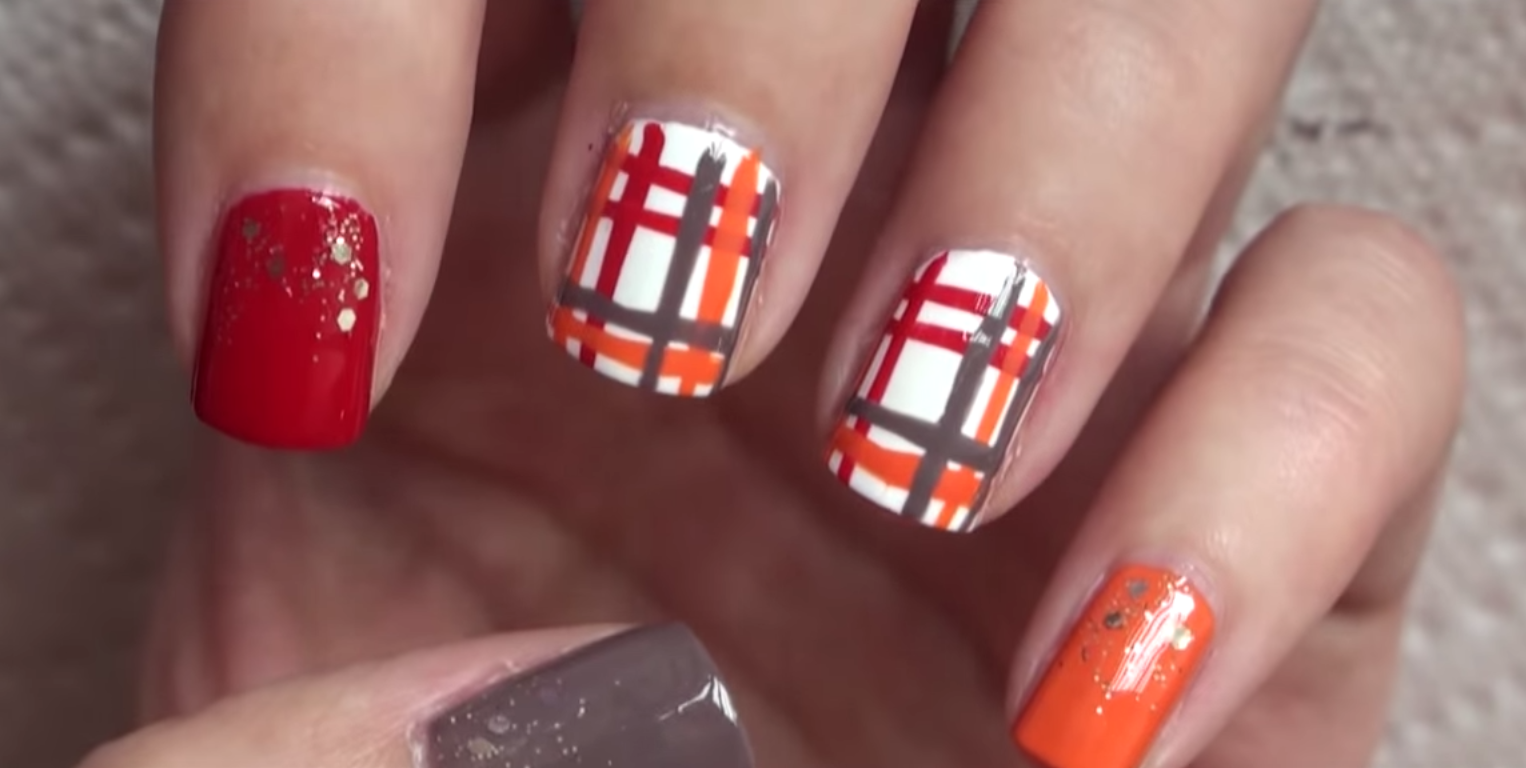 This plaid look is super unique in that it has four different designs on each hand. Red, orange and a grayish brown color are on the thumb, pointer and pinky respectively, while a plaid pattern in the same colors covers the middle and ring fingers. Check out the how-to on YouTube.
9. Criss Cross Nail Art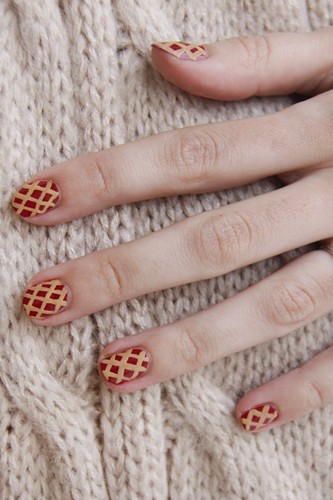 This fun manicure reminds me a bit of a classic Thanksgiving dessert – cherry pie! The background color is red, while the overlapping diagonal grid pattern is a warm beige hue. Make your way over to Refinery 29 to check out this and other Thanksgiving mani ideas.
10. Studded Purple Nail Art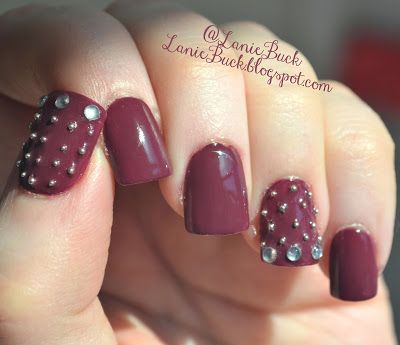 If you prefer embellishments to patterns, give this look a try. The base color is a warm purple with red undertones, which is then accented with different sized studs on the the thumb and ring fingernails. Head on over to Lanie Buck's blog to read all the details.
11. Ombre Leaf Nail Art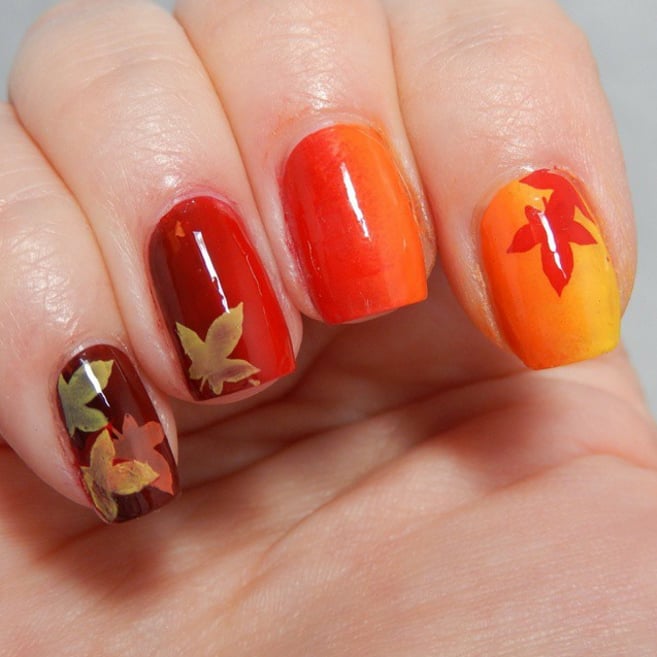 This stunning look has a couple of different effects, including an overall ombré starting at the pinky and moving through the other nails, and also a handful of pretty fall-colored leaves printed on most of the nails. Head on over to PopSugar to see this and many others.
12. Metallic and Matte Combo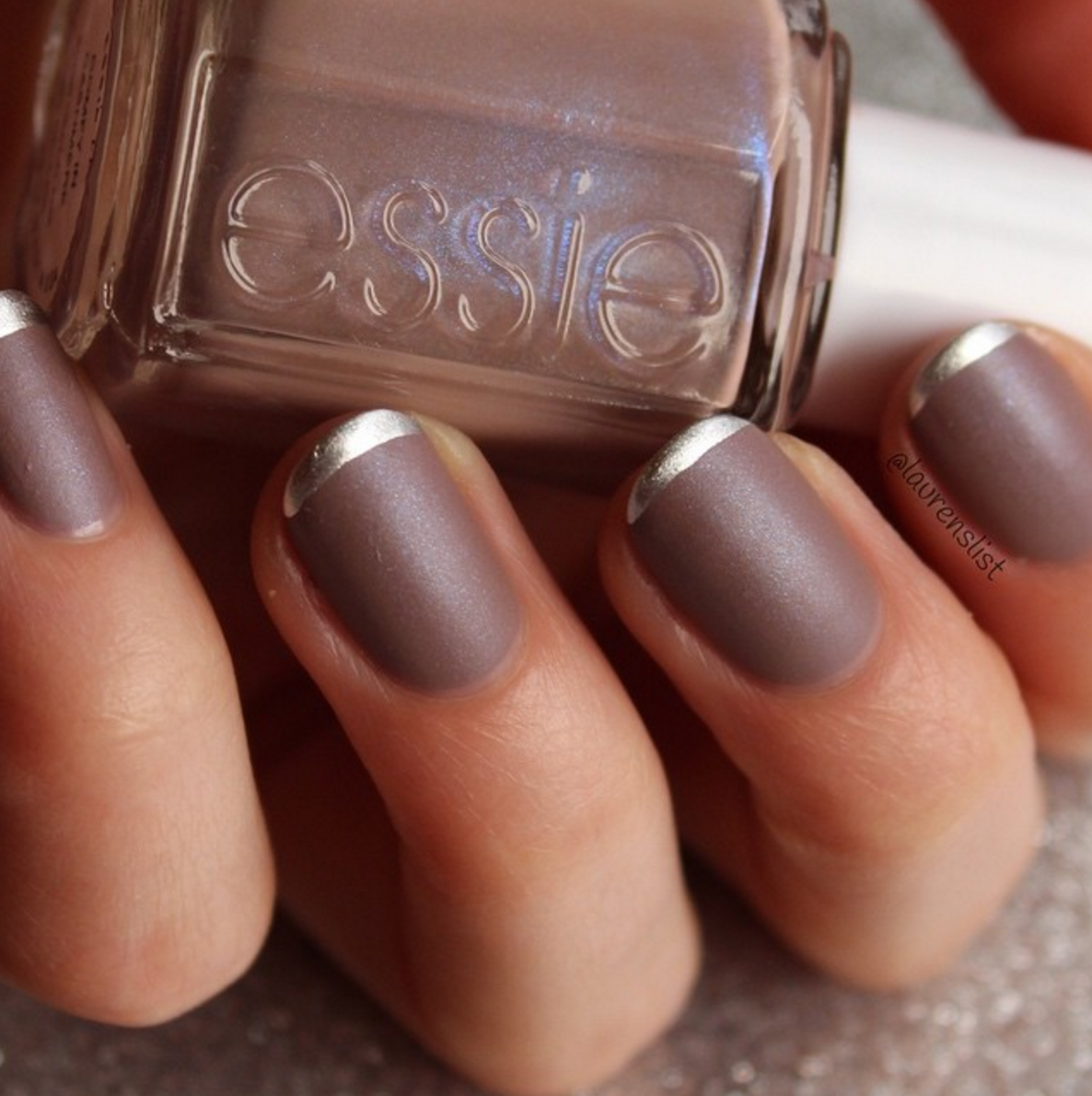 This fresh look has a combination of metallic and matte, giving it a very modern look. The muted purplish brown color would  be perfect for Thanksgiving, while the metallic silver tips with lend a fancy vibe. Found over Lauren's List's Instagram account.
13. Sparkly Fall Leaf Mani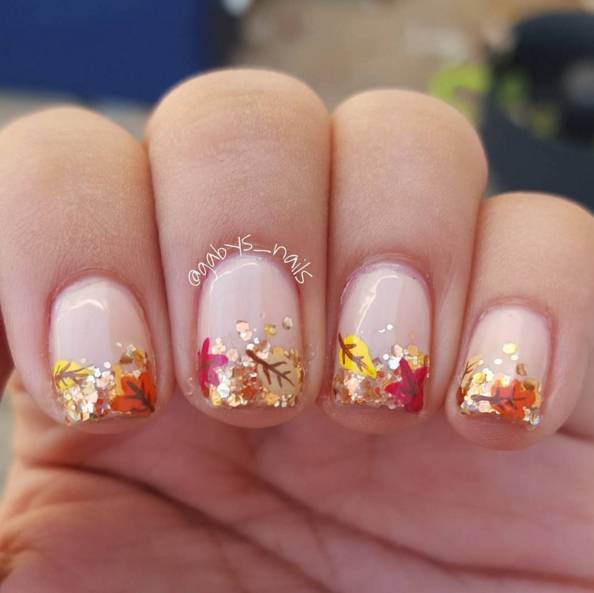 If you prefer brighter, more glitzy style manicures, then this one might be perfect for you. The base color is a simple pale pink, while the tips are embellished with metallic glitter and then topped with leaves in autumnal colors. Found over on Tumblr.
14. Striped Thanksgiving Nail Art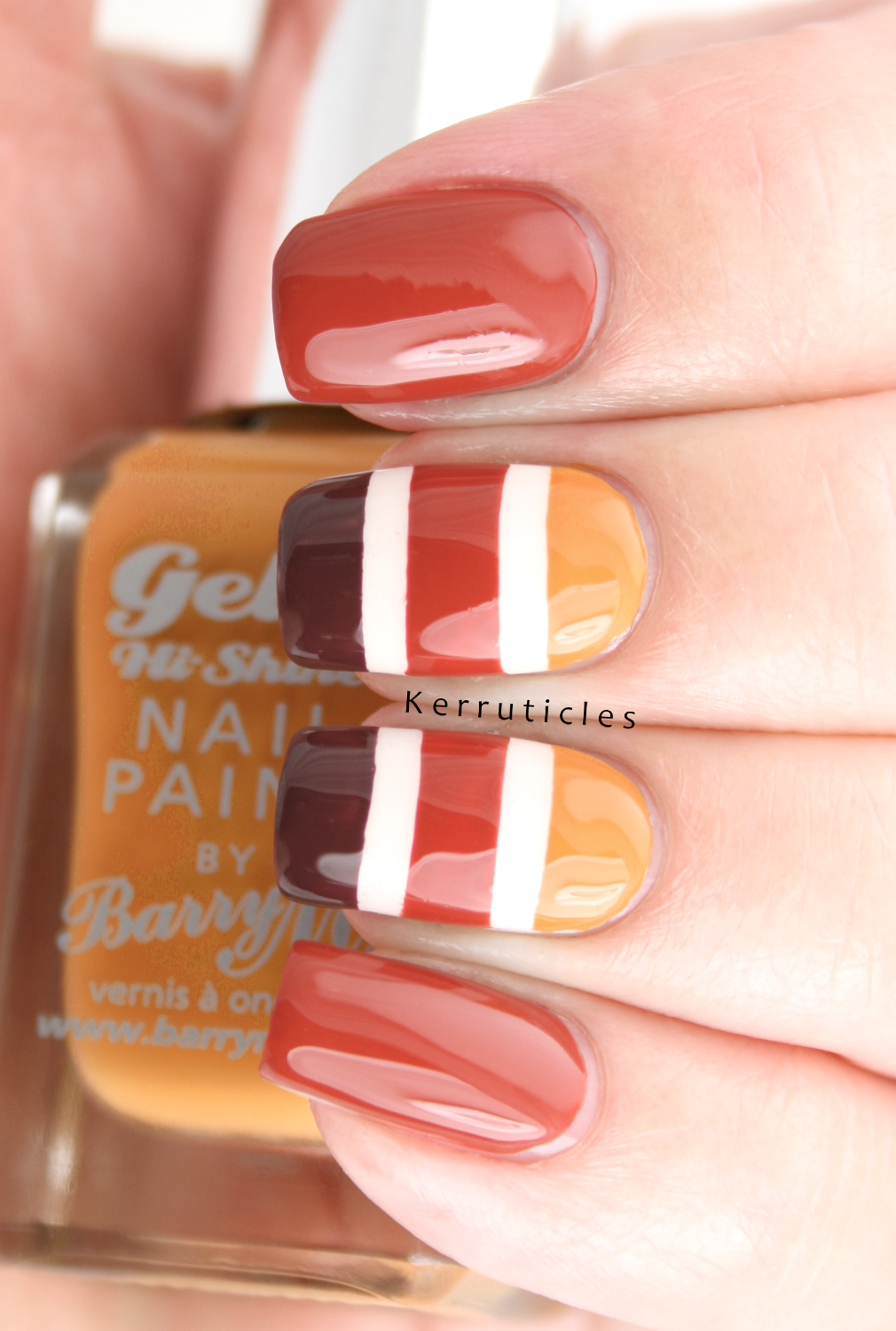 This look is a bit different, with a more uniform design of stripes. The colors would be perfect for Thanksgiving – a dark brown, burnt orange and a warm yellow span a base color of white on the middle and ring finger. Get the tutorial over at Kerruticles.
15. Turkey Day Mani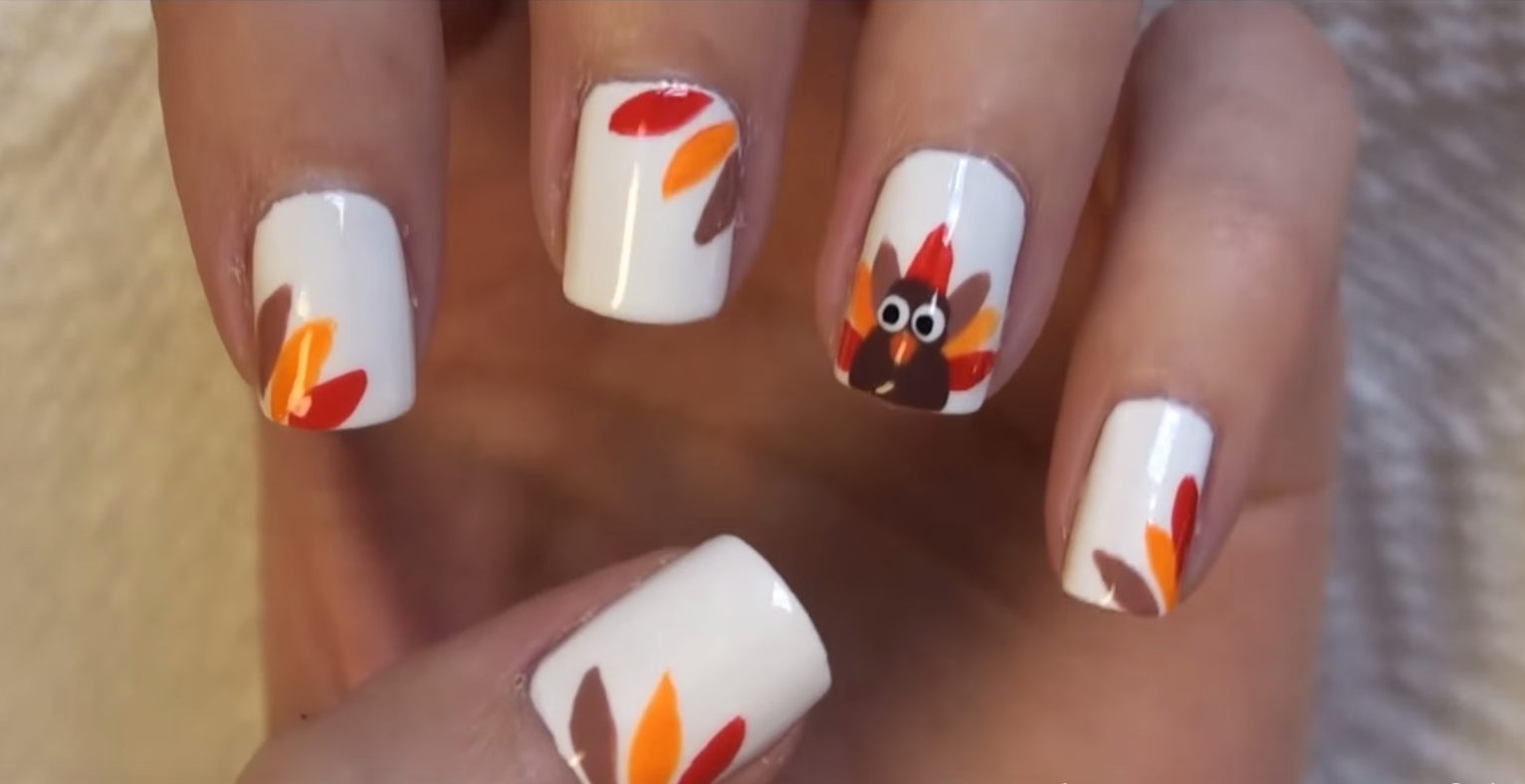 This fun manicure has an adorable little turkey painted on the ring fingernail, while the others have turkey feathers in the corners. The white polish really lets the nail art stand out. Head on over to Jenny Claire Fox's YouTube channel to check out the tutorial.
16. Red and Gold Chevron Mani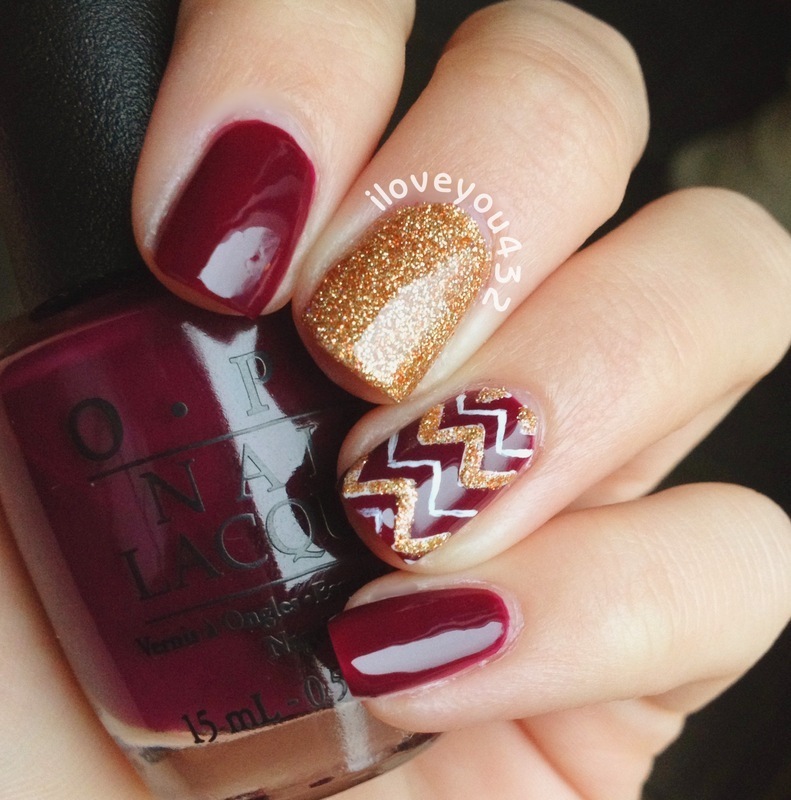 This bold look is done with a lovely red wine polish color from OPI, paired with a sparkly gold hue. A small white chevron alternates with the gold for a bit of contrast. Mix up the chevron with solid red on two nails, and solid gold on another. Found here.
17. Glitter Nails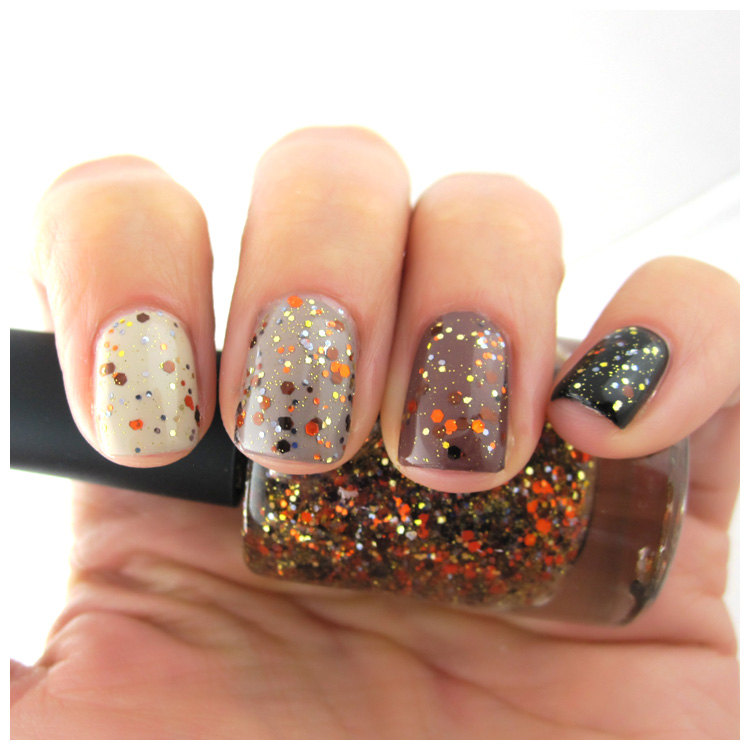 While each of these nails looks completely different, they are actually topped with the same glitter polish – just the color underneath is different. Paint each nail in a different neutral hue, then finish with an autumnal sparkle polish like the one shown here. Found on Etsy.
18. Graphic Thanksgiving Mani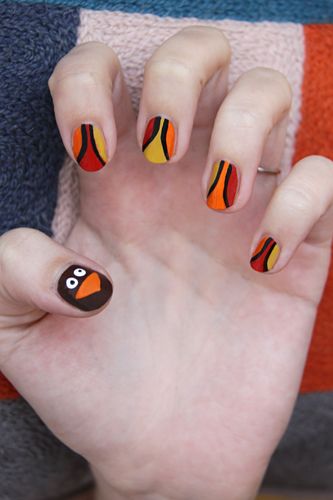 This colorful Thanksgiving mani has a very graphic look, with bold reds, oranges and yellows. Black lines separate each color, lending a very unique look. And don't forget to paint the cute little turkey face on the thumb! Found over here.
19. Turkey Nail Art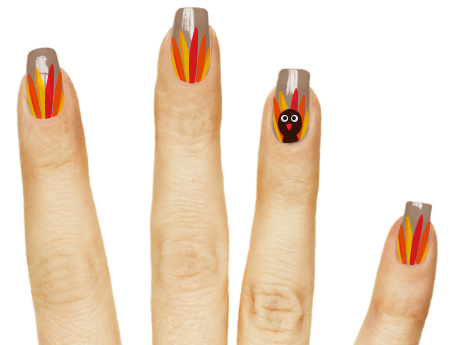 Here's another fun look that includes a turkey. The base color is a lovely mauve color, which is the perfect backdrop for the colorful red, orange and yellow feathers – along with the adorable turkey on the ring finger. Get the full tutorial over at Buzzle.
20. Purple and Gold Leafy Mani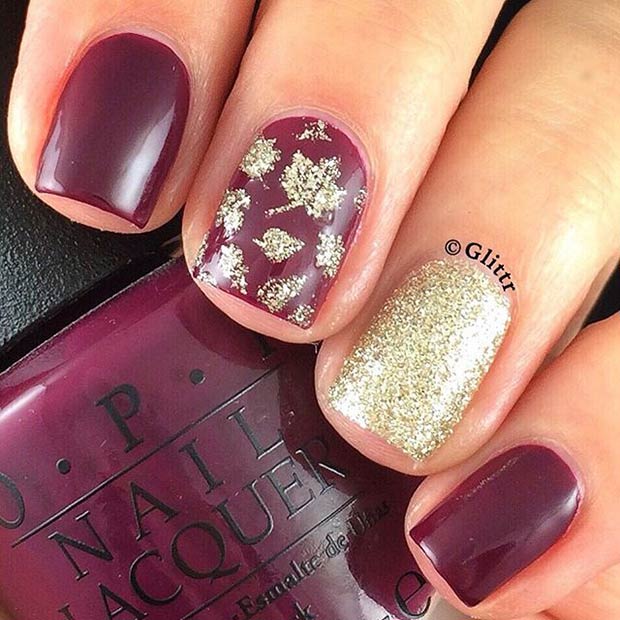 This manicure is a fresh take on the more traditional red, orange and gold mani that many people choose during the Thanksgiving holiday. Instead of red, a purple with red undertones is combined with a sparkly metallic gold hue. Found here.
21. Red and White Patterned Nails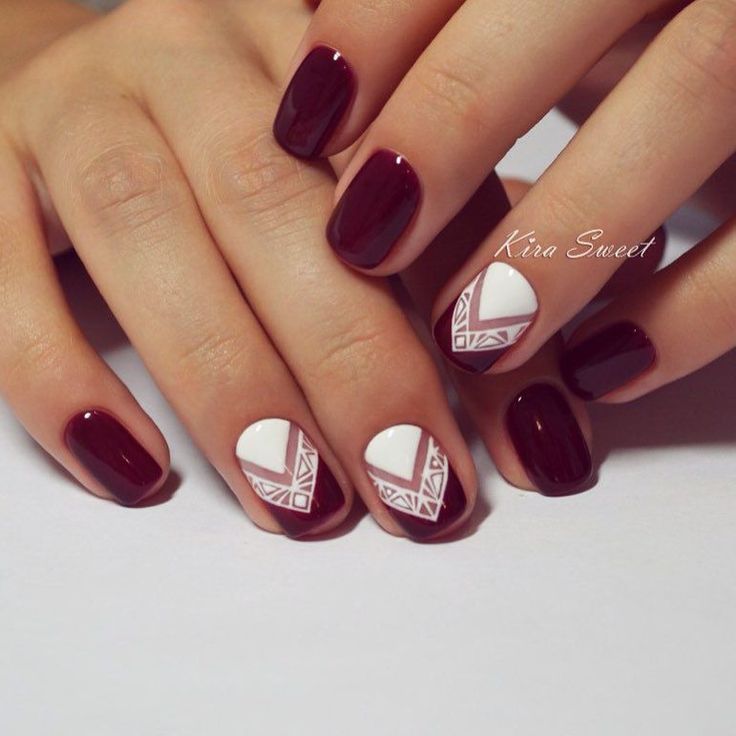 If you prefer abstract patterns to literal ones, then this might be the perfect manicure for you. This is a combination of dark merlot red polish along with bright white, creating a high-contrast mix perfect for creating this intricate pattern. Check it out over here.
22. Bold Gold Stamping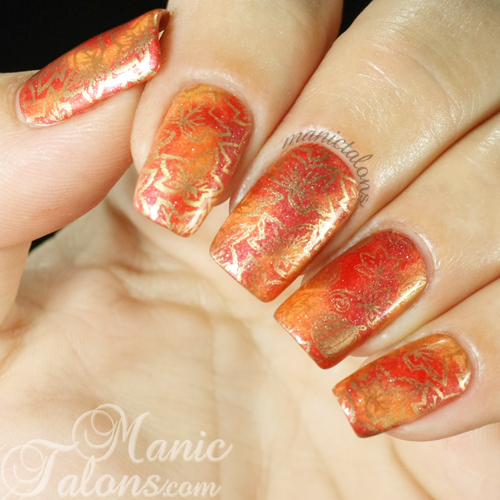 Stamping patterns over a mix of colors creates another great effect, shown above. Begin with a base of burnished red and orange, and then stamp the beautiful gold leaves over the top. Make your way over to Manic Talons to check out the full tutorial.
23. Cartoon Style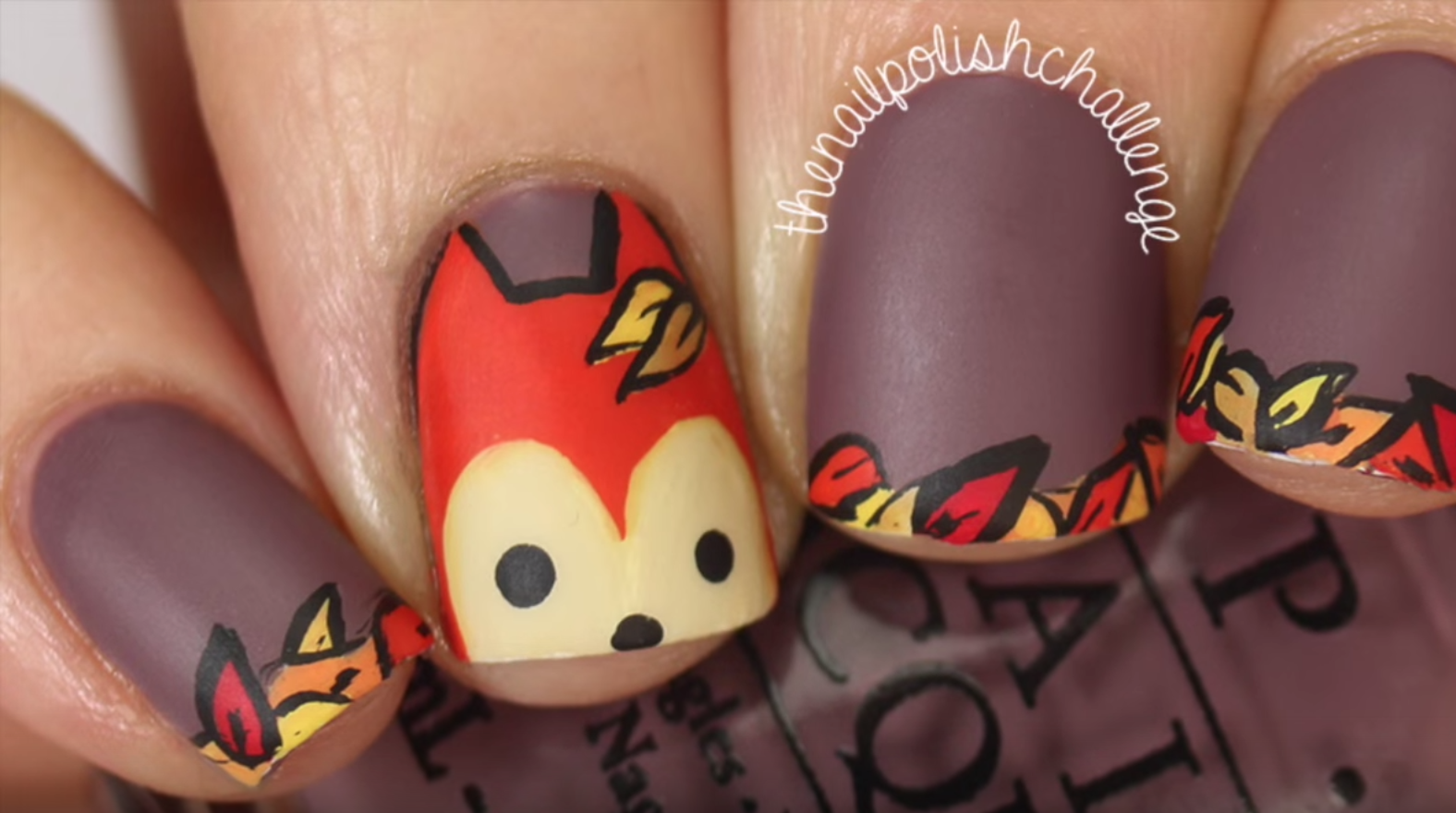 If you err on the side of playful with your manicure style, then you might enjoy this fun cartoon-style design. Fall leaves outlined in black don the tops, while a cute little cartoon character is painted onto the ring finger. Get the full how-to over on YouTube.
24. Brown and Silver Swirls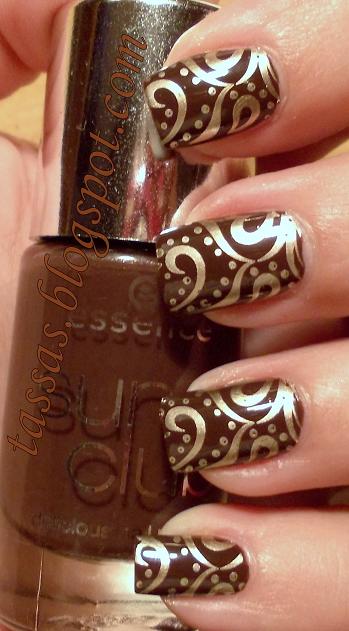 For a super unique Thanksgiving mani, give this beautiful swirly design a try. Begin with a deep chocolate brown polish, then add the silver swirls over the top. The last step is to add the tiny silver dots using a toothpick. Found over at Tassa's Blog.
25. Warm Fall Leaf Nail Art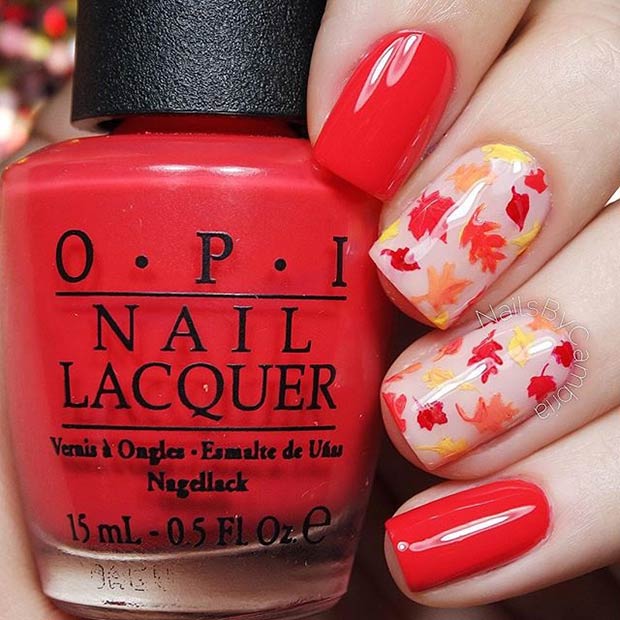 If you enjoy the colors of fall, but you're not quite ready to let go of your favorite bright red summer polish… don't! Simply use it on a couple of fingers as shown above, then combine it with some oranges and yellows to give it that Thanksgiving feel. Found here.