Black hair color is saturated and chic by itself. But with the right hue, it turns into something magical, something that words can't describe. We're going to show what we mean with the help of blue-black hair color and its variations.
Truth to be told, picking the right hair color is quite a tricky business. One has to take into account lots of factors from one's skin tone to the color of one's eyes. Besides, you are unlikely to get the hue which is shown on a tube with hair dye. Every person on this planet has got a unique hair color which, in its turn, gives a unique result when hair gets colored. And we're not going to lie to you saying that blue black hair suits everyone. No, it doesn't. It is safe to say that black blue hair looks awesome on brunettes with dark skin tones and brown eyes. However it is possible that fair skin will look awesome too, Here's when the contrast between dark hair and fair skin enters the game. Okay, it's only up to you to decide whether or not you should get your hair dyed in blue-black hair color. All we can do now is to inspire you by the collection of the best hairstyles with this charming hue. Let's dive in!
Awesome black and blue hair styles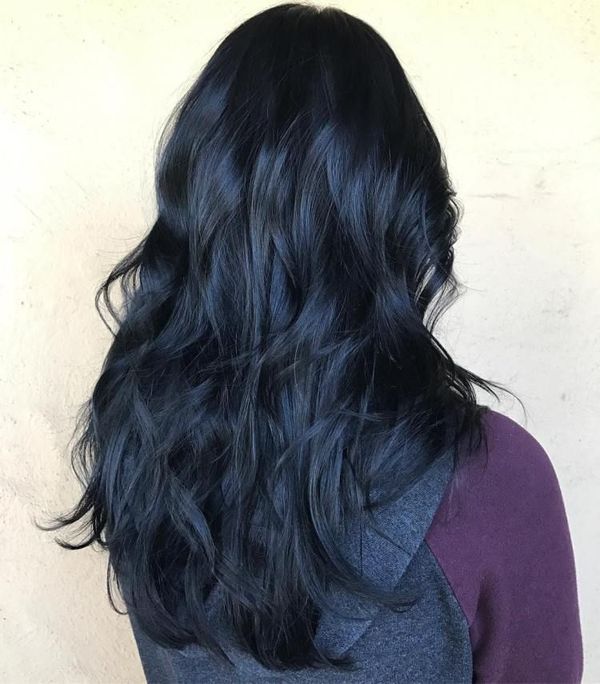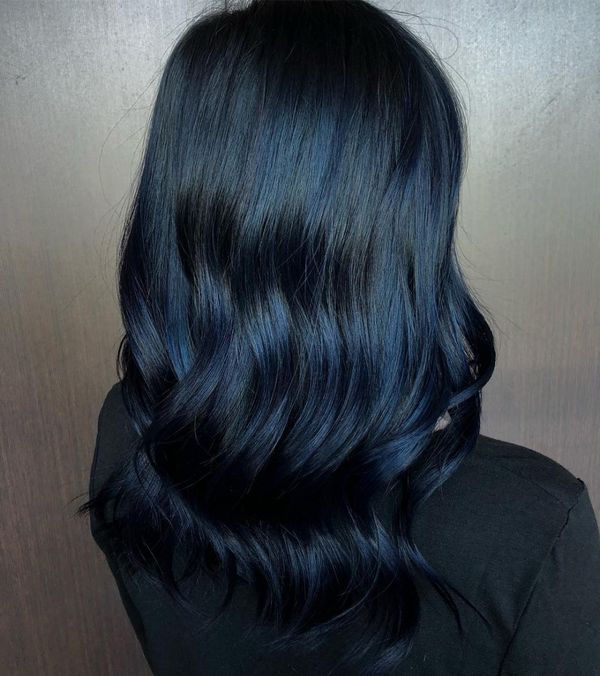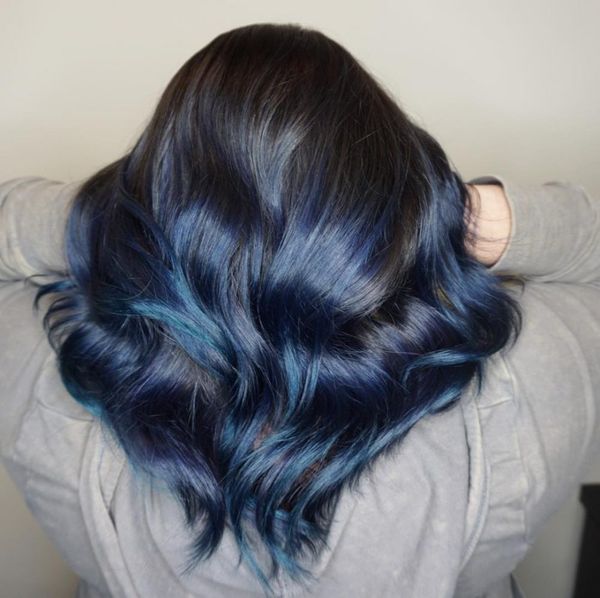 While some girls prefer hair colors that pop as much as it is possible, other ladies like tones and shades that are barely visible. The good news is, there are quite a few hues when it comes to blue black hair color. The task is to find the one that suits you in the best way. This is exactly when black and blue hair styles featured here will come in handy.
How to get blue black hair?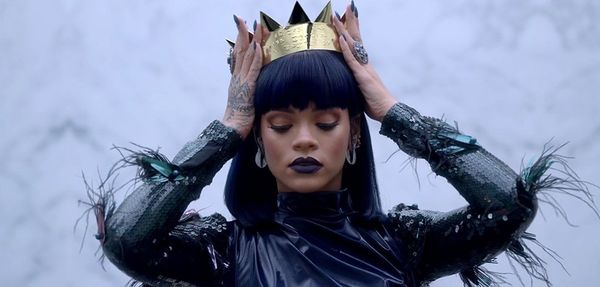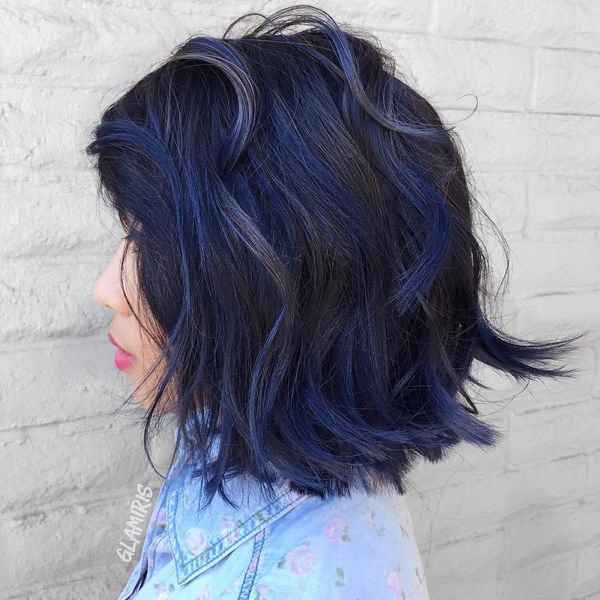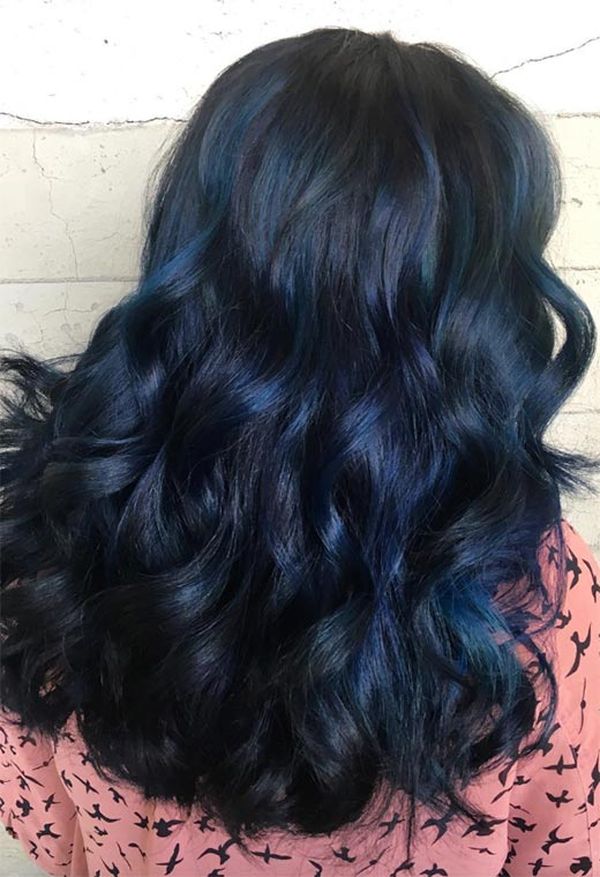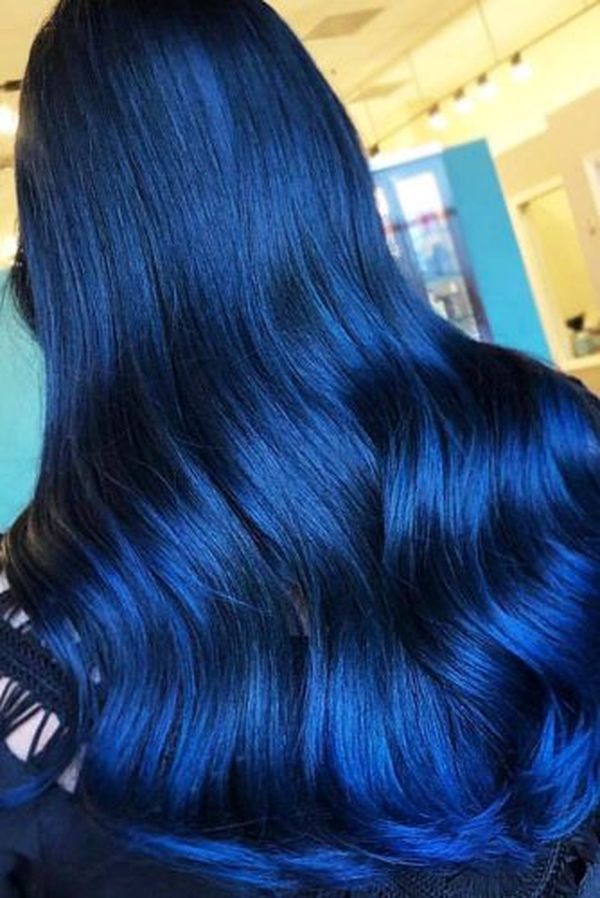 Perhaps such celebrities like Rihanna and Katy Perry have inspired you to go for a blue black color? These girls looked so cool with their hair dyed in such a vivid shade. So how exactly you can get blue black hair? First of all, decide which tone you want to go for. Do you want it to be eye-catching or more calm and work-friendly? Keep in mind that more often than not blue black color is pretty intense, so make sure you mix the right proportions to get the exact color you want.
When it comes to dyeing your hair blue-black at home, you just need to follow the instructions written on the hair dye:
Mix the A, B, C ingredients in one bottle.
Make sure you put on some gloves before you start dyeing.
Detangle the hair, split it into the necessary amount of parts (the number depends on the thickness of the hair, but usually 4 or 5 will be enough).
Clip up the sections which you don't need for now and separate the hair you are going to color.
Focus on the root part first, start applying the hair dye on the roots and move all way down to the tips. Basically, you need to make sure every piece of hair has the hair dye on it.
Mix it all together and clip the ready section up.
Move to another chunk of the hair and follow the same steps. It might look messy but don't worry the edges will be cleaned up from hair dye stains later.
When all the hair is covered in hair dye, clean up the skin from stains. Use oil if needed. The dye will completely come off.
Read the instruction to find out how much time you need to keep the hair dye on your hair and then wash it off. Don't forget to use the conditioner.
Then dry the hair and enjoy your new rich and bright black blue hair color.
There are some cases when you need to bleach (decolorize) your hair first before dyeing hair blue-black. Actually, we would highly recommend you not to do this by yourself, but rather go to a professional colorist.
Black blue hair color ideas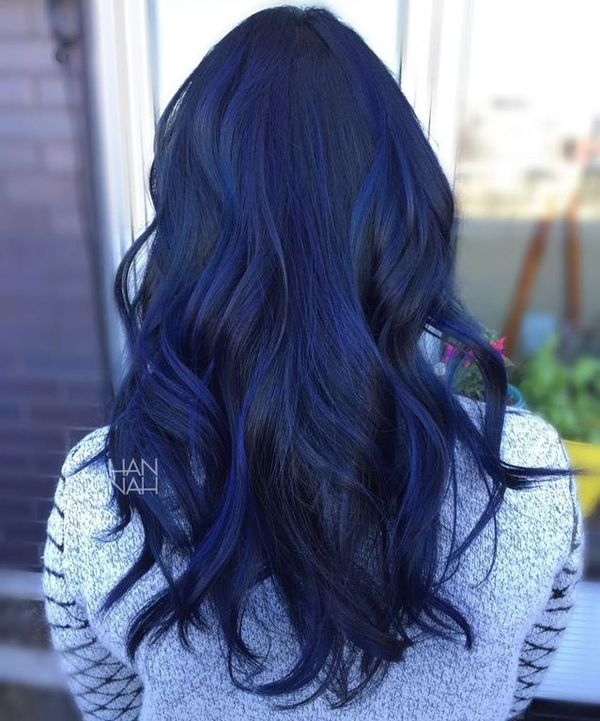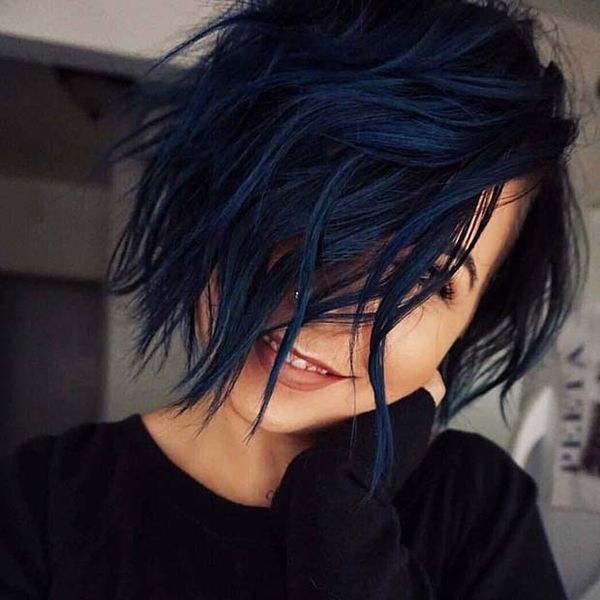 Let's say you firmly know that you want to get blue black hair. You know that, your mom knows that, even uncle Jim knows that. But once you open the browser to look up the Internet for the shade of this awesome color-mix, you face the problem of the choice. And it's not the problem of the limited choice. It's quite the opposite. The variety of blue black hair colors is impressive. It's easy to get lost while picking the one that would suit you. To help you out, we have done our own search and singled out the best blue black color ideas for your future fantastic hairstyle.
How about black hair with blue highlights?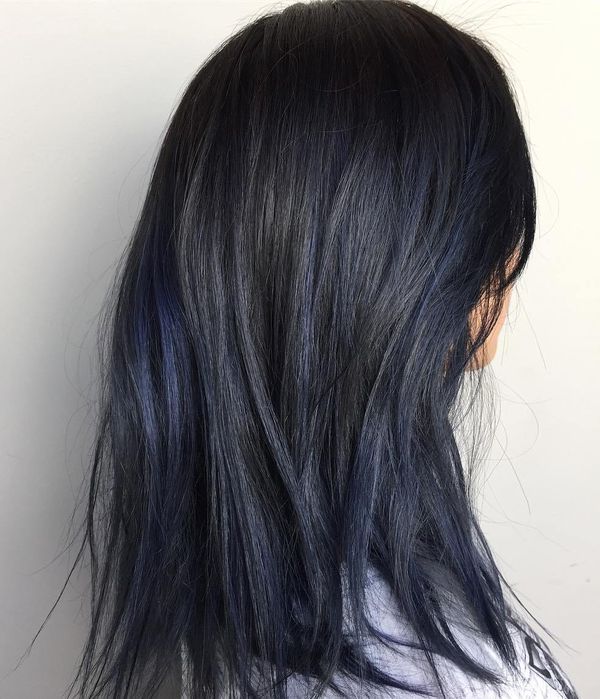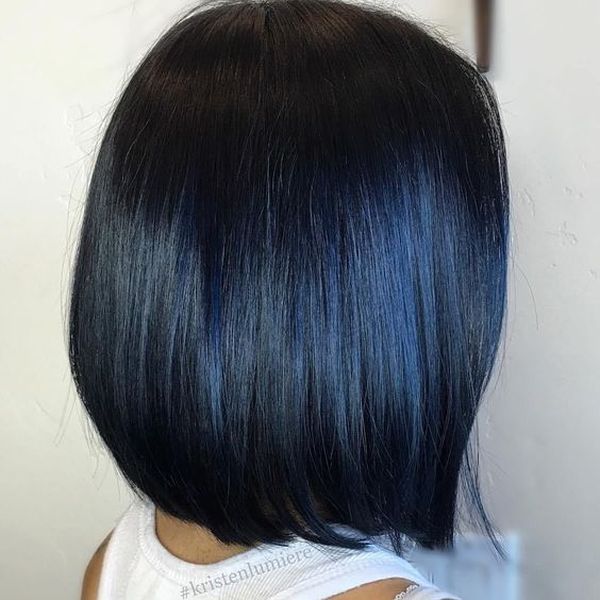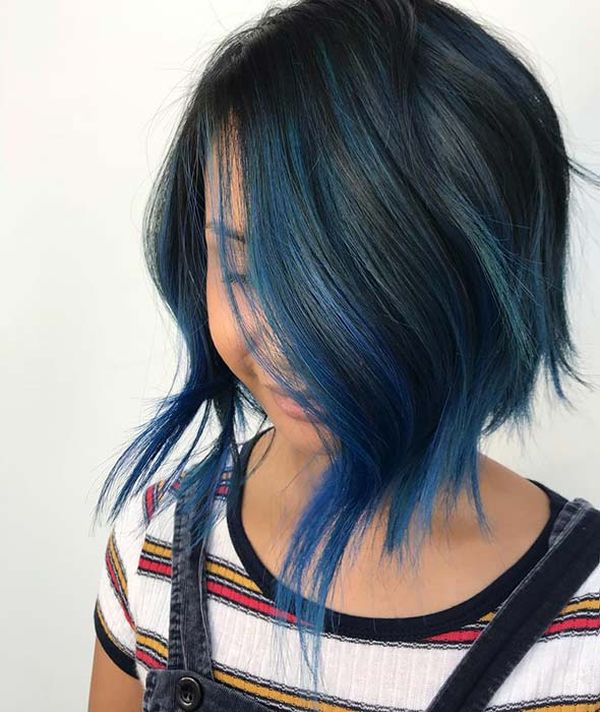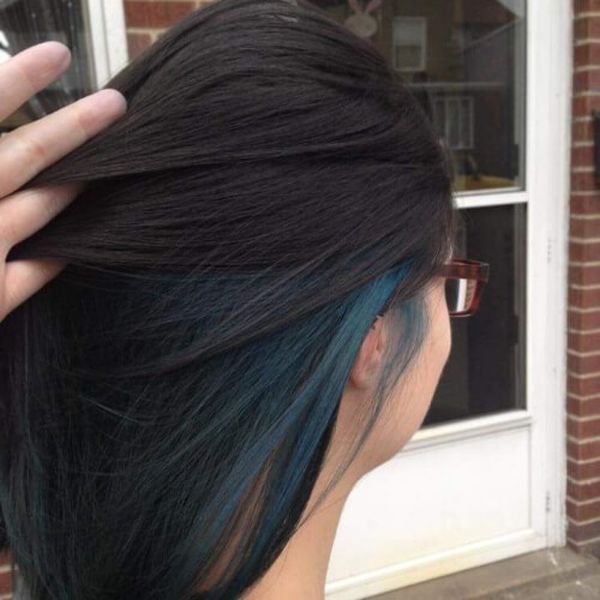 When it comes to blue highlights on black hair, you have a wide choice of coloring options. For instance, you can have the base dyed in dark blue black color and opt to lighter and brighter blue highlights here and there. Or you can make barely visible blue highlights in black hair. Either way, you will get a beautiful play of colors. To give you a better understanding of what we're talking about here, we have picked out the most awesome ideas of blue black highlights.
Cool ideas of black to blue hair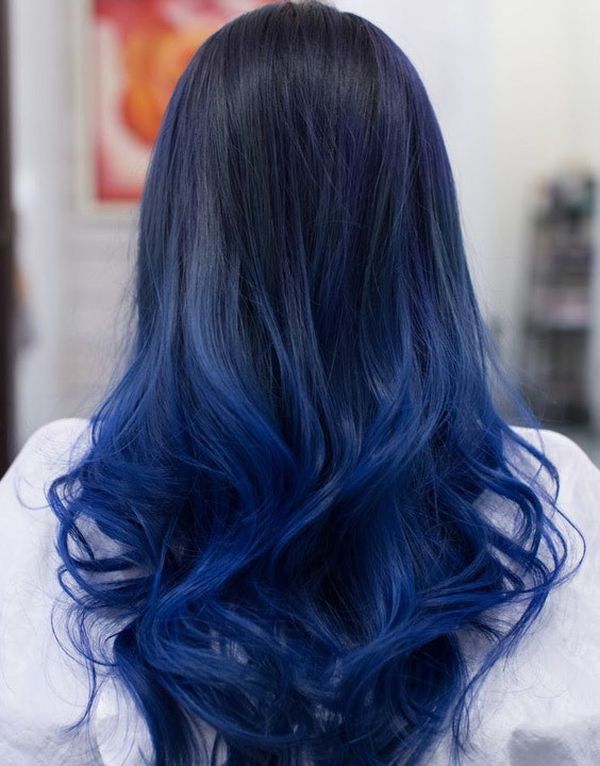 If you prefer more complex coloring techniques, go for black to blue ombre. These two colors complement each other and gradation from black roots to blue tips is smooth. Besides, this is when you can experiment with different shades of blue to get the needed result. Use these pictures as the source of your inspiration.
In the case, you have always wanted to have blue black hair but been afraid of actually going for it, choose hair extensions with color. There are literally tons of variants to get the hair color of your dream without actually having your hair dyed. Synthetic hair, colorful crochet braids, and twists. You decide. In fact, maybe wearing hair extensions for some period of time will give you the needed push for dyeing your own hair in this deep color.
Beautiful black hair with blue tint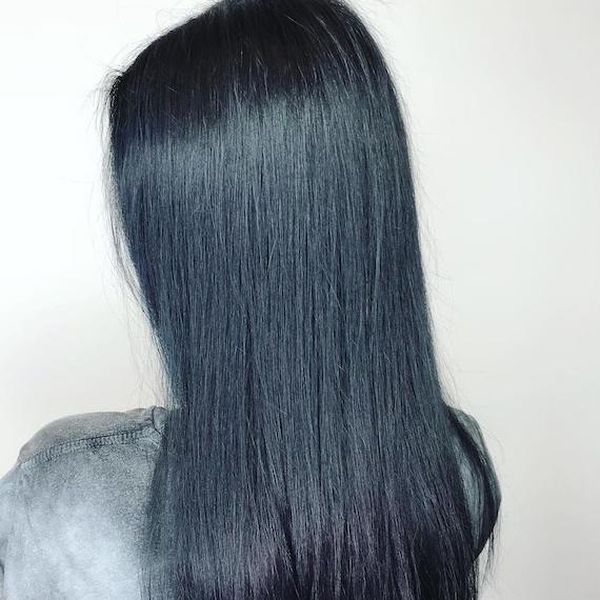 What we love about blue black hair is that you can make the color as intense as you want. Would you like it to pop out and attract everyone's attention? Pick something like midnight blue-black hair dye and get ready to catch the amazed glances of all the passers-by. Want your color shade to be barely visible? Opt to black hair dye with blue tint. Such a combination of colors will be better seen outside shimmering under the sunlight.
Hairstyles with slightly bluish black hair color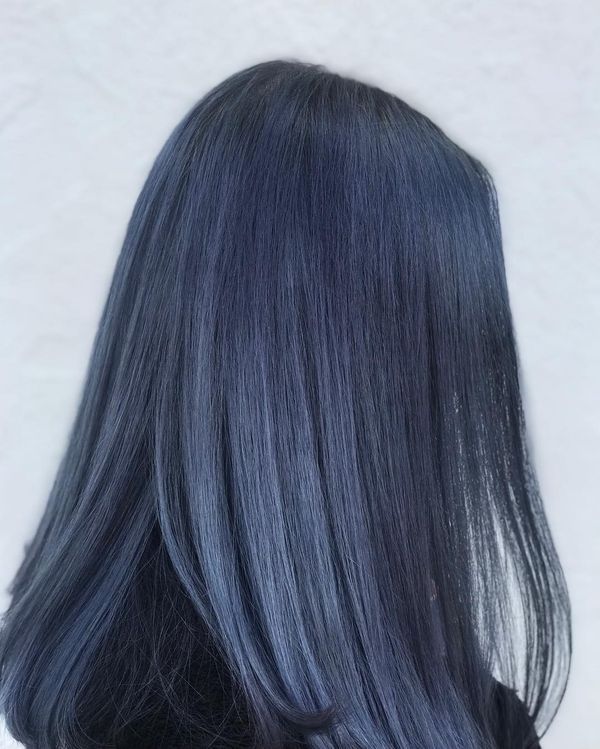 When we say that your black hair will be just slightly bluish, we mean that people around you won't even notice the bluish shade at first. To see it, they actually have to take a closer look. It is one of those hair colors that only you know it is there. After all, not all of us like too bright hair colors like acid pink, blue or green. Some ladies prefer more calm color shades. If you are one of such ladies, make sure you look through the pictures with the best hairstyles of bluish-black hair color.
Black hair with blue streaks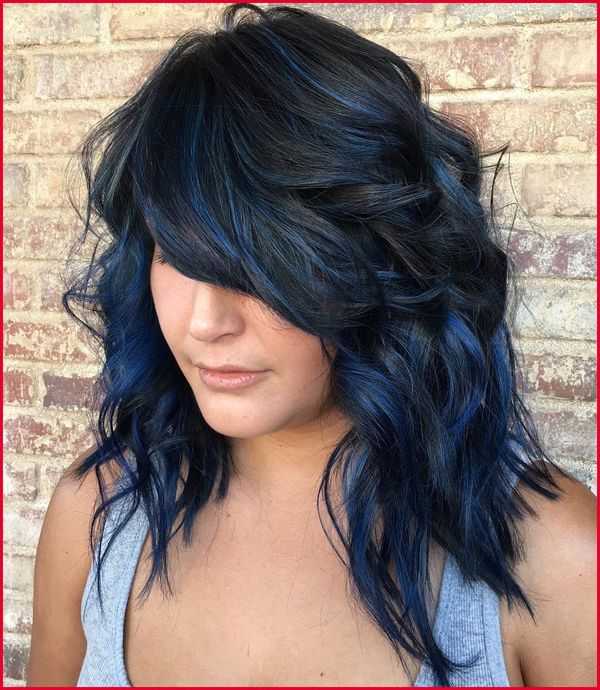 If you choose balayage over ombre, then these awesome images depicting girls with black hair and blue streaks are for you. Unlike ombre, balayage technique is about dyeing only separate strands of hair. This is especially great if you have a strict work dress-code. Having your whole head dyed into deep black-blue color won't be a good idea in such a case. Black blue balayage, on the other hand, won't be so attention-grabbing and so will help you to get the color of your dream without the worry of getting the sack.