We're not entirely sure what it is about spring that makes us want to shake up our look and try something new, but it happens every single year and it's one of our very part parts about the seasons changing! There's just something so refreshing about the flowers blooming, the weather warming up, and the birds chirping and it makes us want to dress in bright colours from head to toe. That's why we go through so much nail polish in the spring; we just can't stop painting our fingers and toes! This spring, we'll fully admit that we've been really obsessed with giving ourselves just about as many adorable spring themed manicures as we can possibly think of, swapping the colours and designs out weekly to keep things interesting. After a while, however, we started feeling adventurous and wondering whether there might be new techniques and shapes out there we were missing out on, so we took to the Internet to find some inspiration.
That's how we found these 15 fantastic tutorials for creating festive spring nails and cheerful spring manicures that will keep you feeling great all week!
1. Sideways French spring manicure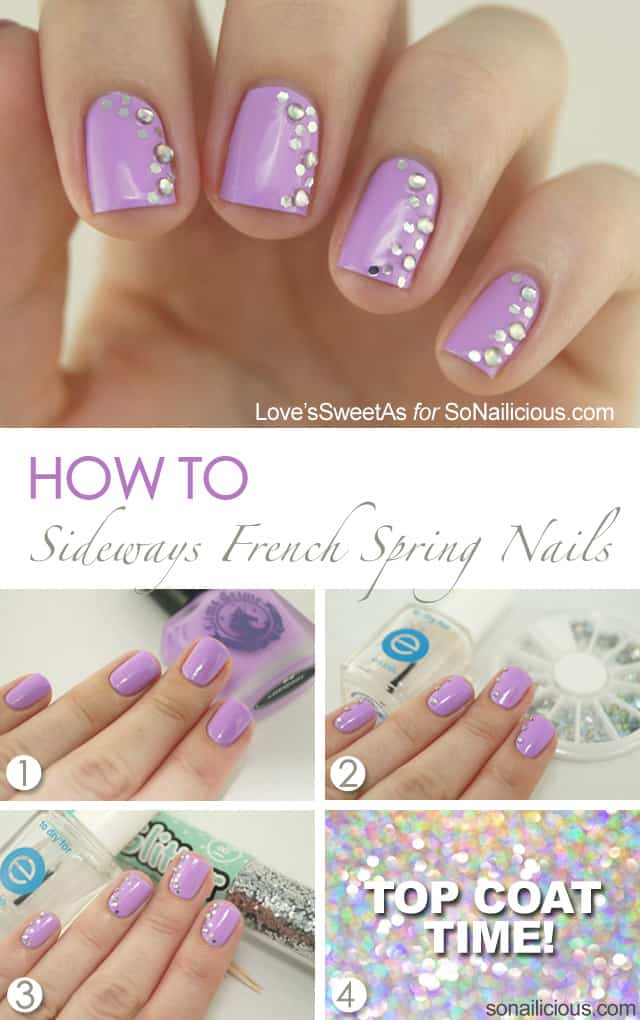 Like we did, are you thinking that you've certainly never heard of a sideways French manicure before? Well, as you can see from the photos, it's pretty simple, really! Rather than the contrast colour being at the tip of the nail, it's along the side of each from tip to nail bed. This particular spring manicure (which we've done twice this spring in different colours) uses glitter rather than polish to make the contrasting moon shape, just for some extra pizazz. Get the details on So Nailicious.
2. Tropical fingertips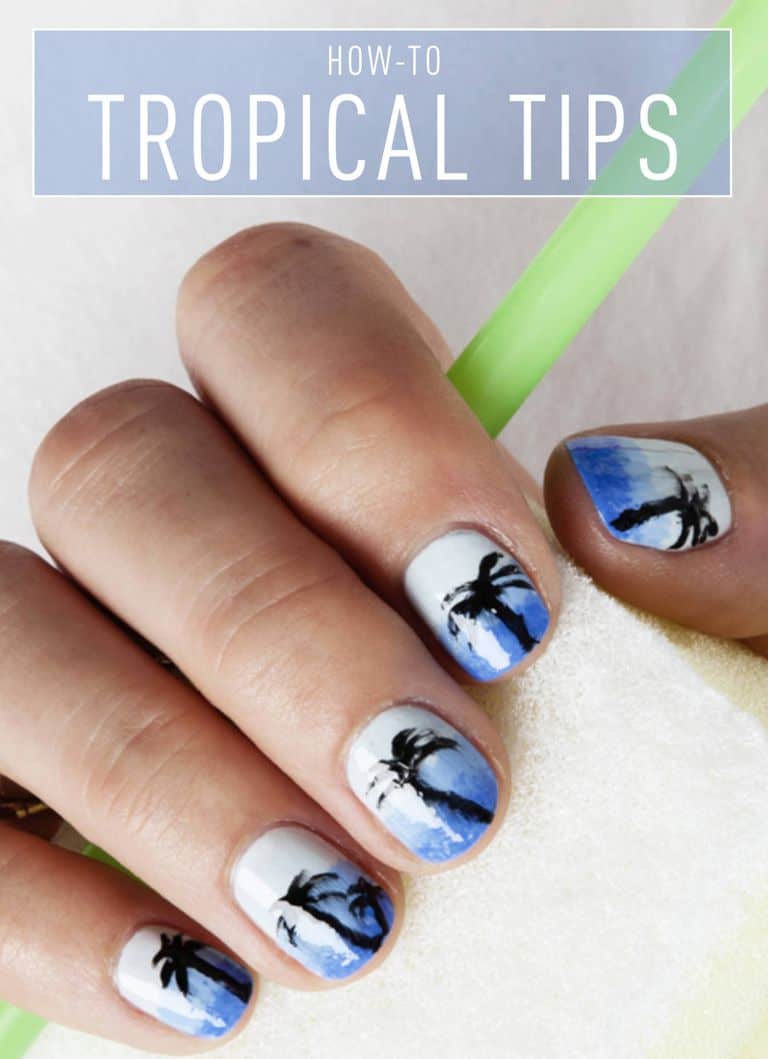 Okay, so we know that this particular idea is actually a little more summer than it is spring, per se, but there's nothing wrong with gearing up for your big summer vacation a little in advance the moment the sun comes out, right? It might look a little bit intimidating to make silhouetted plan trees in such a small space, but Cosmopolitan is here to show you how to paint the shape and get the faded sky to sea effect underneath as well.
3. Pink and teal floral fever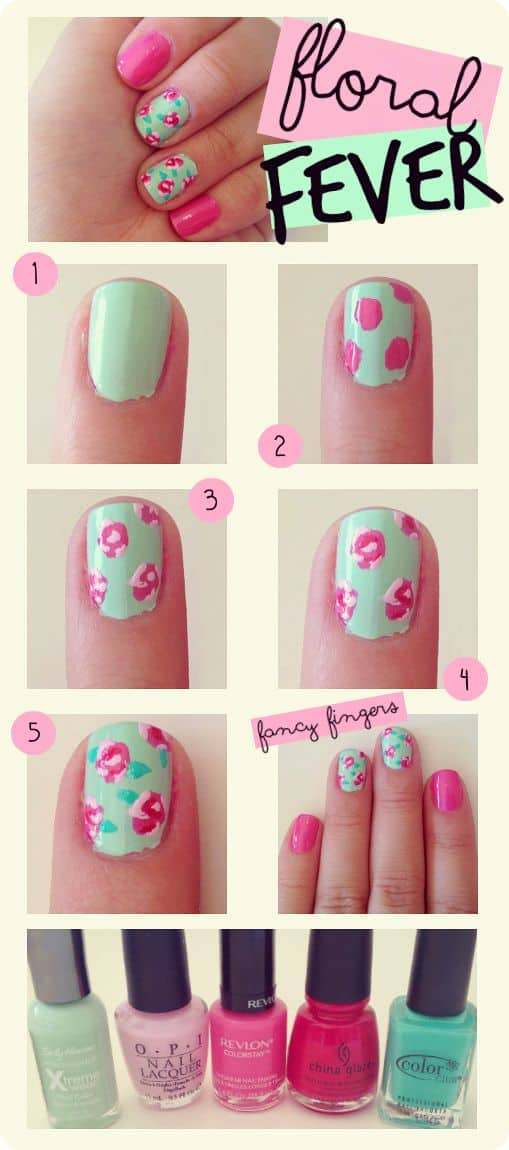 Besides digging back into bright colours after a long winter, our other very favourite thing about spring is definitely the flowers that are suddenly everywhere, waving their coloured petals in the wind! So, why not merge the two things we love about the season most in one place? There are plenty of ways to create floral springtime manicures in all different shapes and designs, but we liked this particular pink and teal idea from The Daily Lust because these colours are very trendy this season.
4. Precious spring coloured gems

When you're reading for your brightly coloured clothing, as you put your winter neutrals away, do you often look down to realized that you seem to have a thing for rich, deep jewel tones? Then here's a manicure that will match your personal style perfectly, no matter which outfit you pick out to wear! Check out how Pampadour not only shaded each colour through a series of its own gorgeous tones and created an awesome geometric shape that actually looks like a gemstone on each finger.
5. Soft spring ombre nails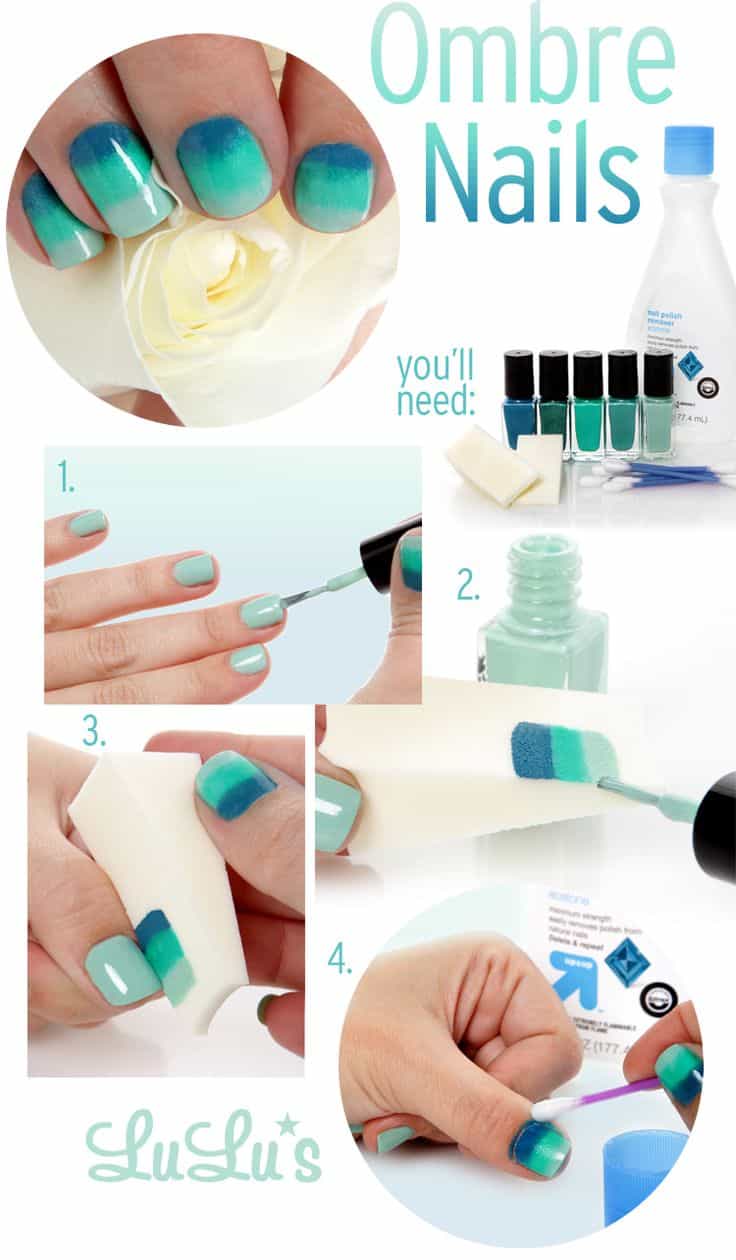 What is it about spring that makes ombre effects and gorgeous fades suddenly seem even prettier than they already are the rest of the year? Well, we're not sure, but we give into the trend each year completely because we think they're lovely no matter the colour way. Because teals and blues are so trendy this spring, however, we're particular fond of this particular sponge ombre tutorial featured on Lulu's. You could choose any combination of colours, of course, but we did ours just like you see here!
6. Spring bunny nail art

Easter might be over for the year, but that doesn't mean there aren't still spring bunnies all around in the flower bushes, wiggling their little noses and their cotton tails. We love seeing them dart across our lawns with their families, so we were more than happy to give this adorable spring bunny manicure outlined on Fab DIY! They show you how to make the right shapes to get the bunnies' ears, facial features, and even a few complementary flowers.
7. Simple spring neons rainbow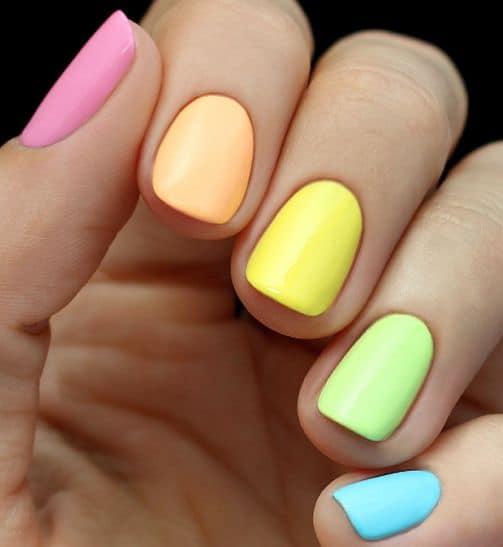 Are you actually the kind of simple colour enthusiast who would prefer to enjoy your favourite shades as they are, rather than adding a bunch of complicated detail or patterning? Then perhaps this week you should let the colours speak for themselves! We're actually completely obsessed with the way that Lulu's combined a few colours with a particular tone that's bright enough to be nearly neon but also soft enough to border on pastel as well. It's the perfect description of spring; full of light but still awakening after winter!
8. Little ladybugs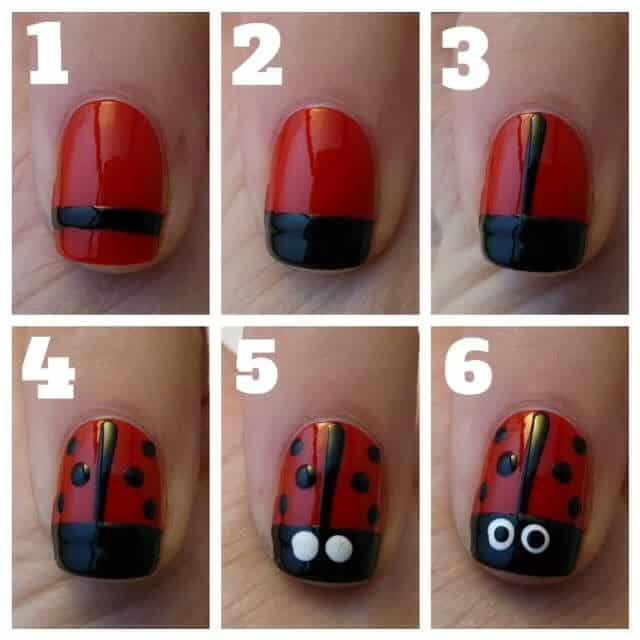 Bunnies aren't the only little spring friends you'll see running around your yard in the next few weeks! We're not necessarily big insect fans, but there are a few lovely looking exceptions that we actually adore seeing in the spring. Lady bugs are the perfect example of what we mean! As you can probably guess by now, we'll paint just about anything we like onto our finger nails, so we're sure it'll come as no surprise that we gave this cute ladybug manicure tutorial outlined by Casa de Polish a try.
9. Stunning detailed floral manicure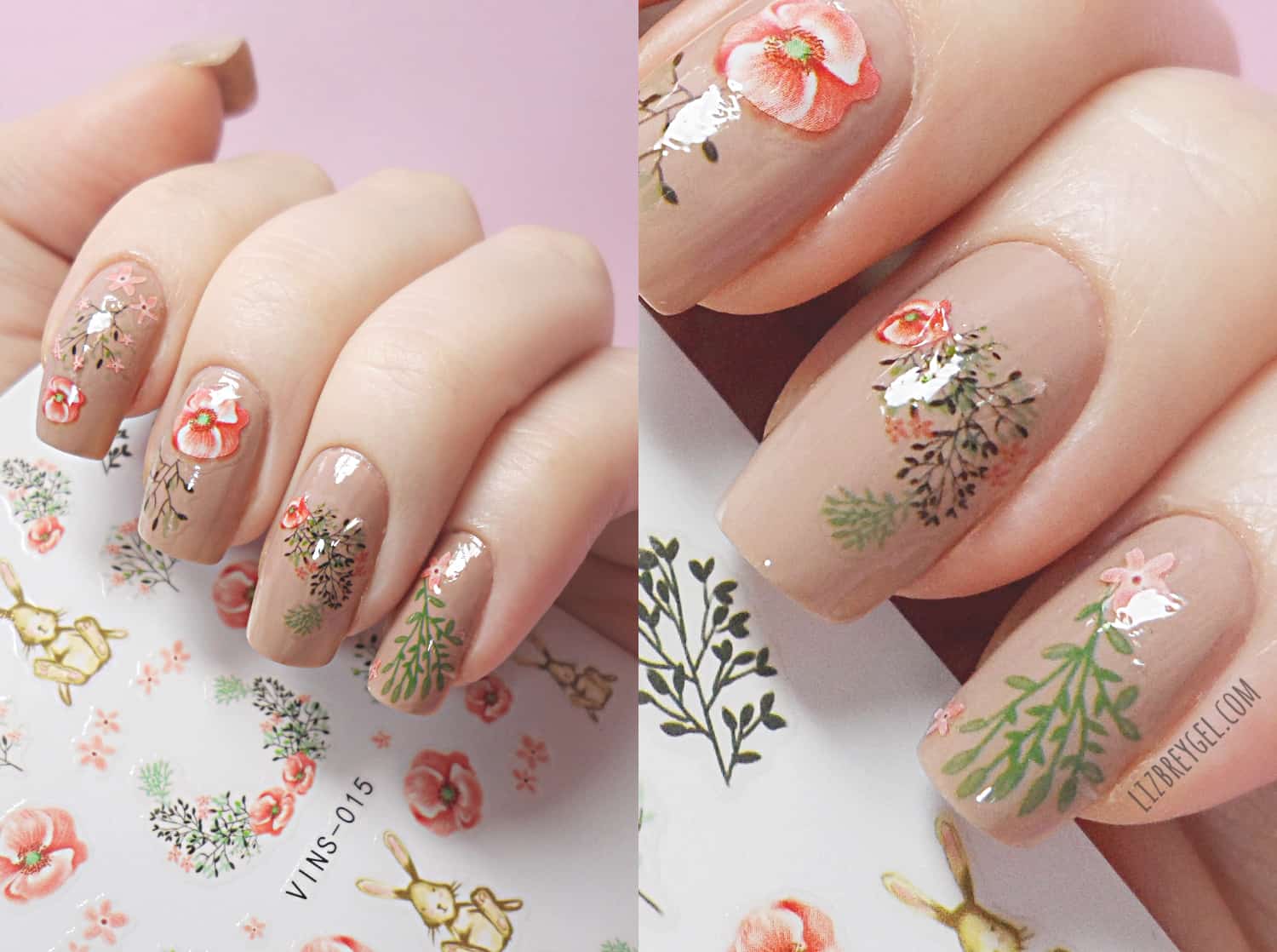 Are you still enamoured with the idea of giving yourself a stunning floral manicure but you'd rather try to make yourself a look that's a little more detailed than the painted on ones we've shown you? In that case, we'd suggest considering using decals, just like January Girl did here! Their tutorial gives you plenty of tips and advice for making sure your decals sit straight and your edges are all perfectly sealed down for a seamless look.
10.  Negative space flower tips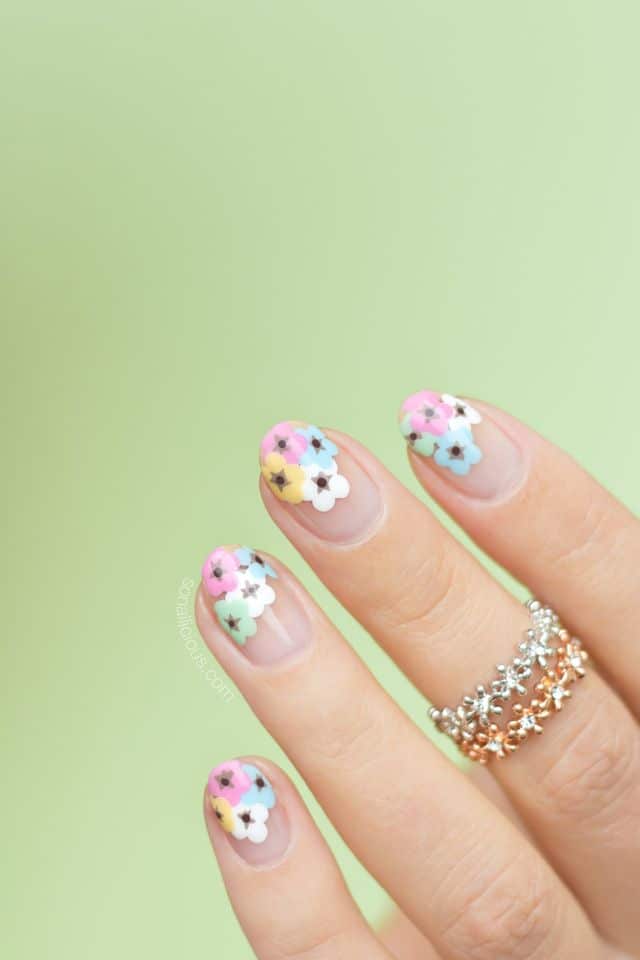 Have you tried a few different manicure designs that involved painting little spring flowers on top of a base colour polish but no matter which colour you choose for the base, you can't help but feel that the flowers don't show up as well or pop as much as you want them to? Well, have you ever considered painting them right onto your nail so they have nothing underneath but the natural colour of your skin? Take a look at this awesome negative space flower tutorial featured on So Nailicious to see what we mean.
11. Spring kitty nails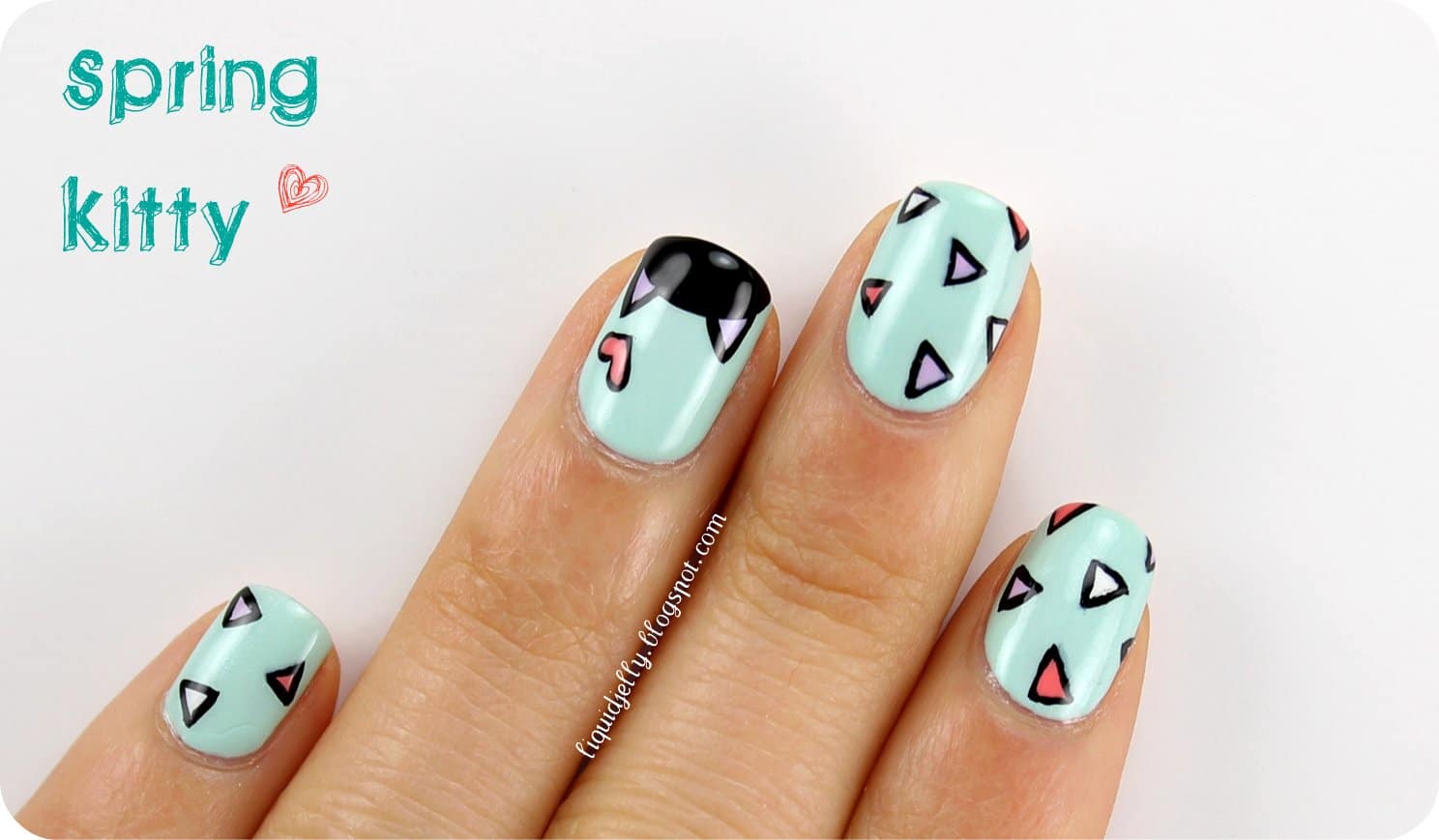 Are you the kind of animal lover who imagines adorable baby animals of all kinds frolicking in the spring air besides just bunnies? Well, if you're a cat lover just like we are, we have a feeling you're going to love this adorable geometric kitty design outlined on Liquid Jelly just as much as we did! We did one of our hands just like this and one hand with a pink background and orange kitty ears.
12. Tiny pressed spring flower manicure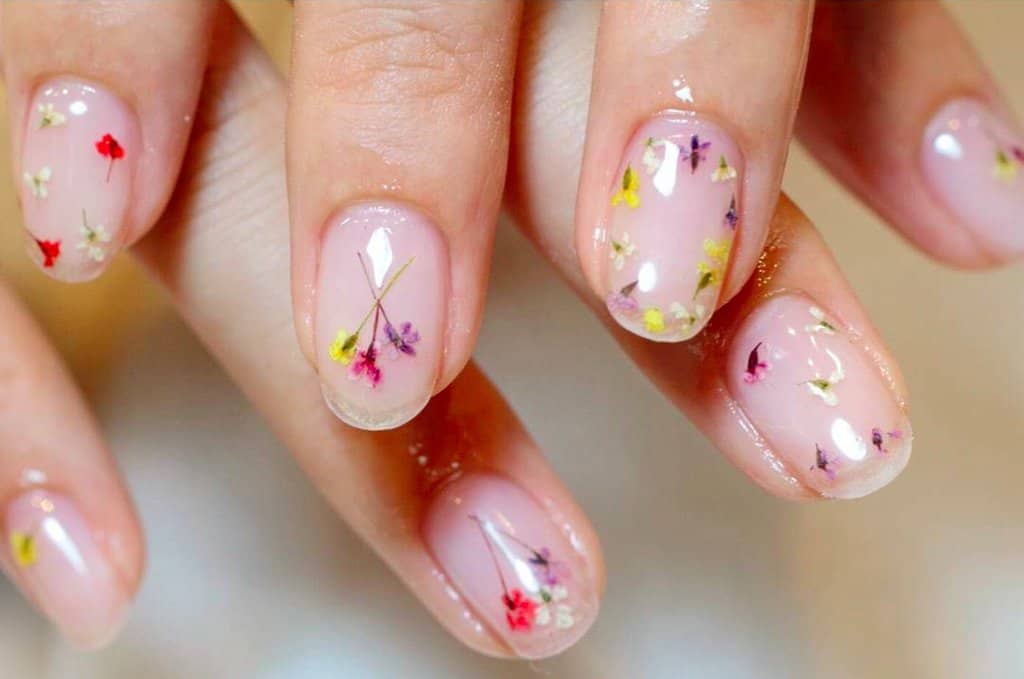 Were you very impressed with the floral decals manicure we showed you earlier on our list because it looked so detailed that it almost looked real, but you can't help but wonder if creating a spring nail look actually using real flowers is possible? Well, we're pleased to report that, thanks you this stunning tutorial from Pop Sugar, it really is! We can't get over how stunning the look of these teeny, tiny pressed blossoms perfectly places and sealed with shining clear polish is.
13. Spring rainbow drops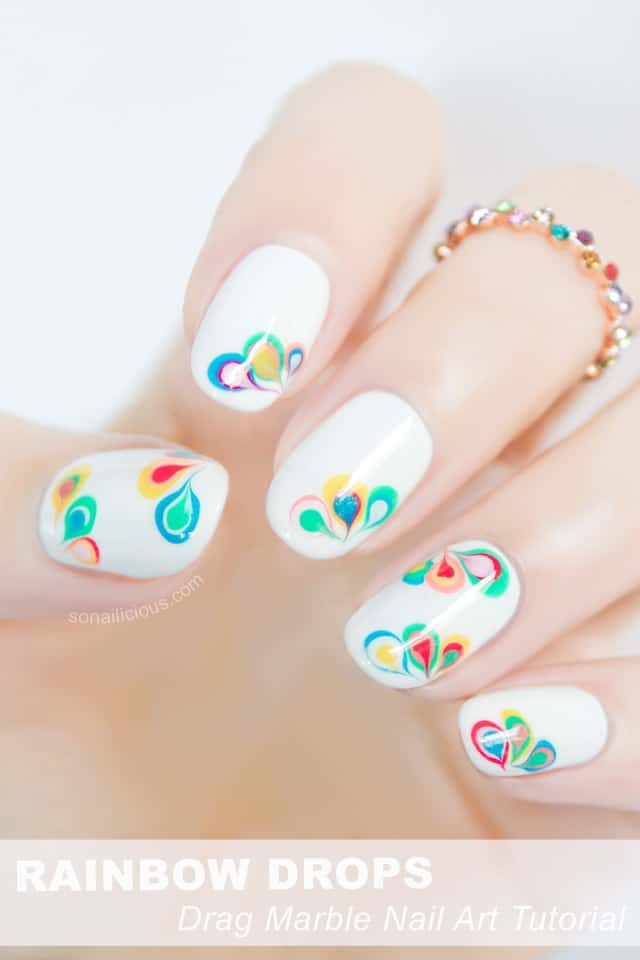 Were you a big fan of the spring neon rainbow we showed you earlier but your favourite kind of rainbow is really the kind where you can see all the colours up against each other in one place, so the contrast is really evident? In that case, we have a feeling you're really going to enjoy these awesome looking rainbow drops featured on So Nailicious! We particularly like the way they dropped the colours on top of a white base coat so they really pop and look even brighter than they already are.
14. Pastel marble nails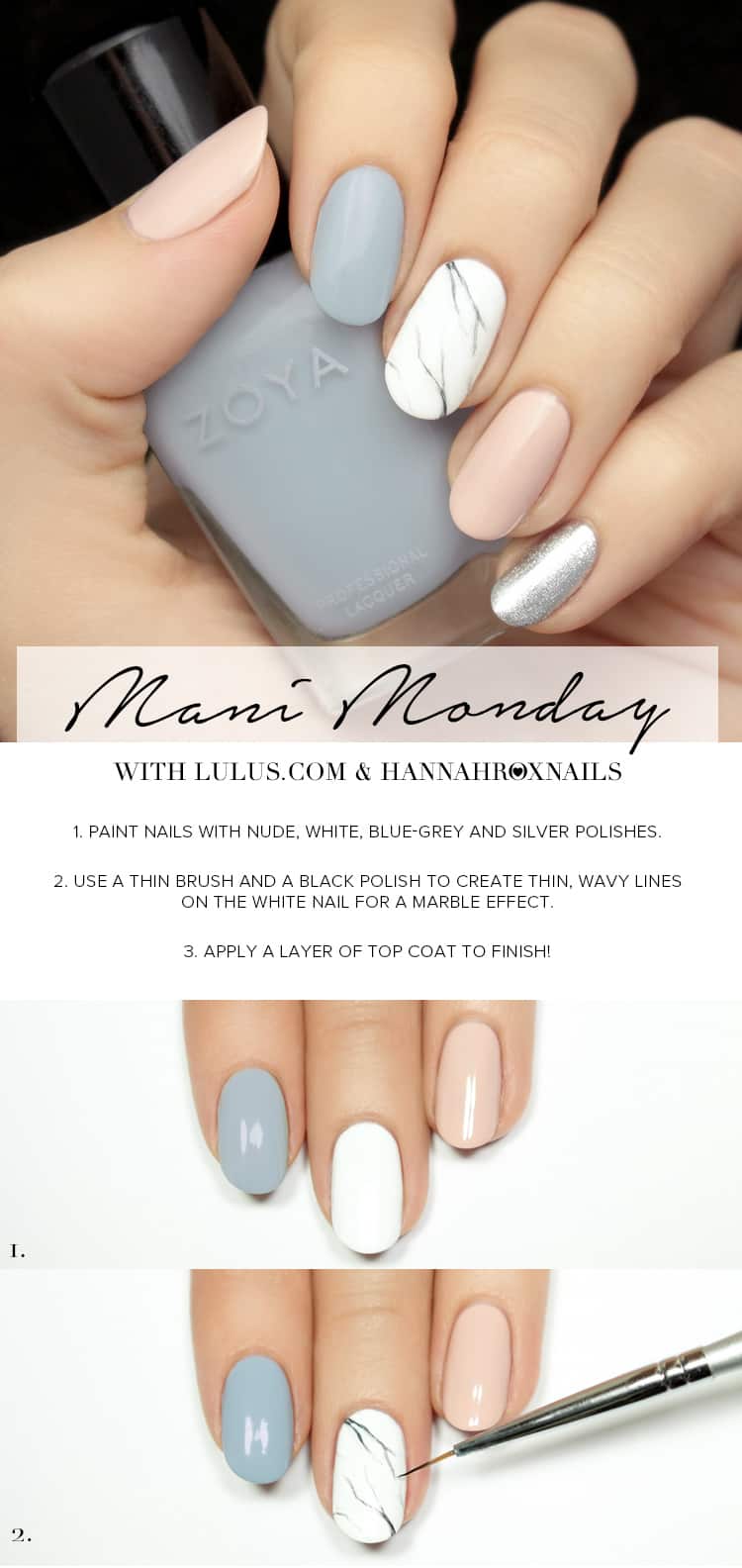 Bright colours in the spring are all well and good and well fully admit that they're our favourites, but have you ever had a week where the rain has fallen for several days and, instead of feeling gloomy, you've actually quite enjoyed the fresh smell, the cool air, and the soothing sound? Well, maybe on a week like that you'd rather match your nails to the darker tones you see outside and keep things a little more neutral and calm? We had a week like that recently, so we tried out hand at recreating this stunning soft marble manicure outlined on Lulu's.
15. Springtime colour blocking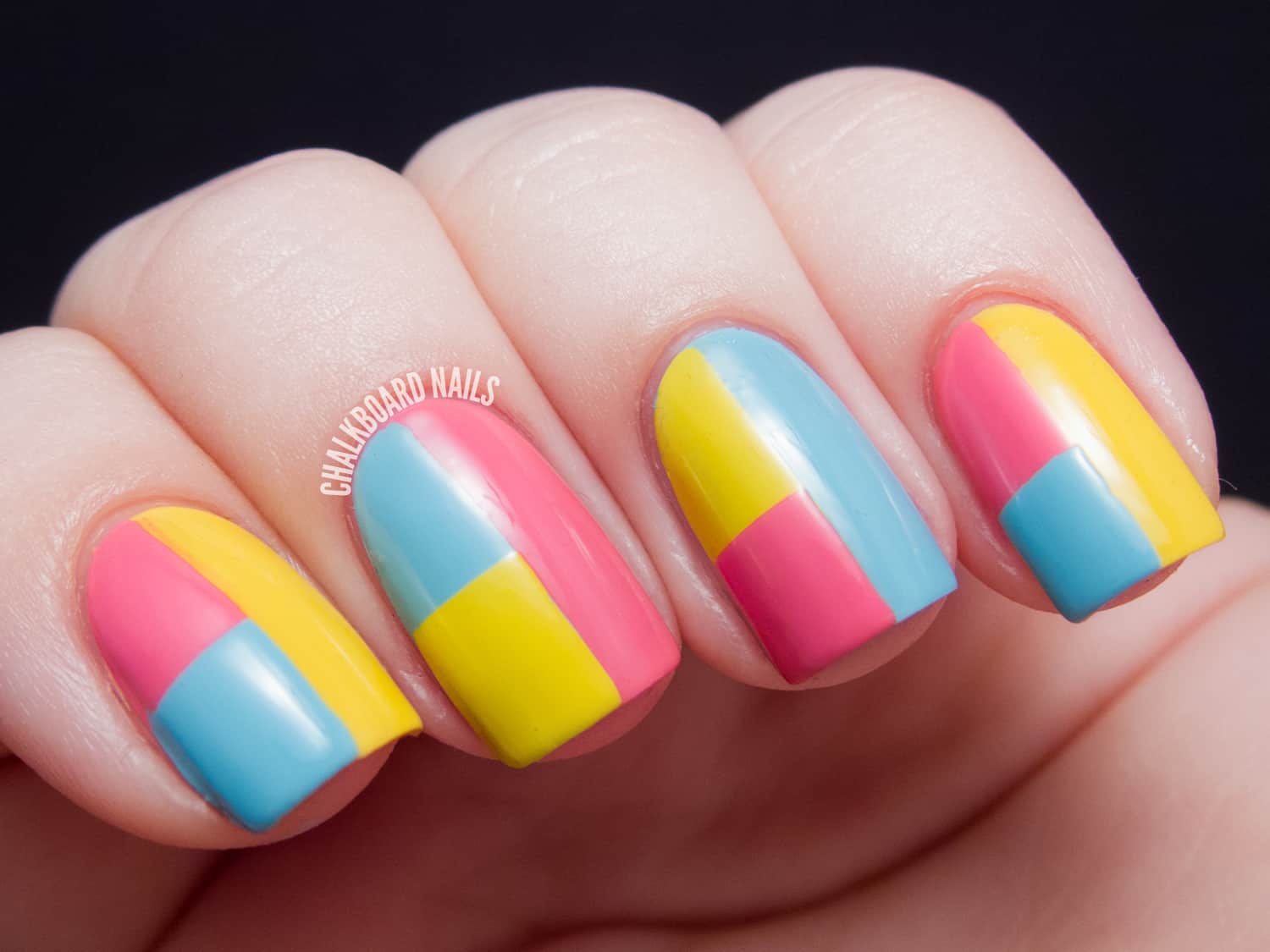 We've shown you a few geometric ideas thus far on our list but none of them have actually let that kind of straight line and clear colour effect actually take centre stage in the design itself. That's why we couldn't resist including one last manicure and making sure it was clear cut and colourful! Take a look at this tutorial from Chalkboard Nail to see how they created this fantastically bright colour blocking effect in a way that kept it neat and clean, with tidy straight edges on each finger.
Do you know a fellow DIY and beauty enthusiast who loves doing nail art and always changes their style over for the season? Share this post with them to give them a whole bunch of new inspiration this spring!