As soon as Thanksgiving is over. If Christmas is your thing, you're the type of person who switches to full-on Santa mode. It's not long now till Christmas. We can't wait! There are so many things we need to get it ready before Christmas and that includes our look. We have 14 red Christmas nails that'll make your manicure stand out this season. These nails design ideas includes; mismatched red nails, gold glitter for glam look, white sweater, reindeer, red Santa Claus, Snowman, Bauble Christmas decoration and many pretty designs. If you fancy more than red Christmas nails. Take a look at the previous post 16 Cute Christmas Nail Designs 2020 : Holiday Nail Art Ideas
Red Christmas Nails That'll Make Your Manicure Stand Out This Season that includes;
Mismatched Red Christmas Nails
Santa and Holly Red Christmas Nails
White Tartan and Red Christmas Nails
White Christmas Tree on Red Tartan Christmas Nails
White Sweater, Penguin and Shimmery Red Christmas Nails
Festive Shades of Red Nails
Winter in London Postcard Inspired Nails Design
Gold and Red Festive Nails
Mismatched red and white sweater Christmas Nails
Shades of Red Christmas Nails
Red Christmas Nails
Mismatched red, silver and ombre pink Christmas Nails
Glam Christmas Nails
Fun Christmas Nails Design
14 Red Christmas Nails
1. Mismatched Red Christmas Nails
Winter Red, Red tartan, Reindeer and snowflake nails. Looking for funky winter nail ideas that will wow? Then this featured nails design is for you. This manicure features mismatched red nail polish, red tartan and pink matte nails. The nails have cute design on top of the nails such as white snowflake and cute Reindeer. This nail designs cute enough to wear through this holiday season.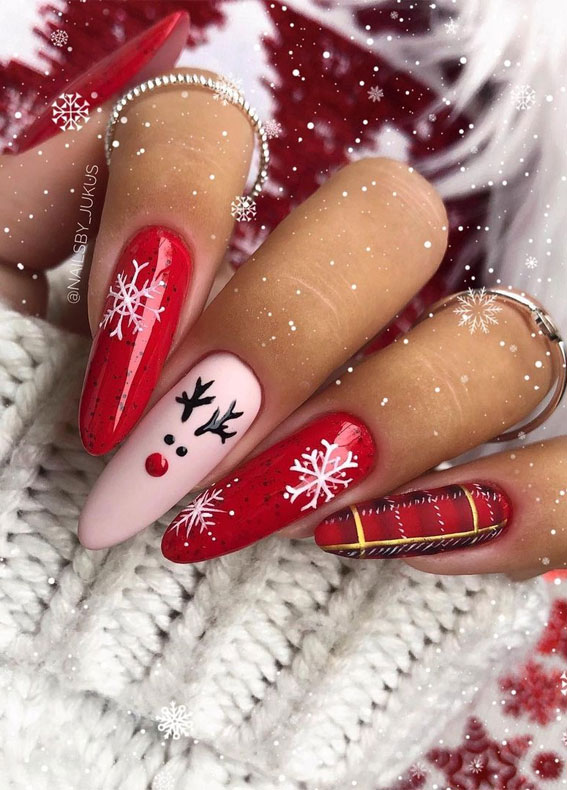 2. Santa and Holly Red Christmas Nails
Easy, fun, and festive red christmas nail art that captures the holiday spirit, featuring red and white iconic Christmas designs like Santa Claus and Holly. This looks easy wear and super cute to wear during Christmas time.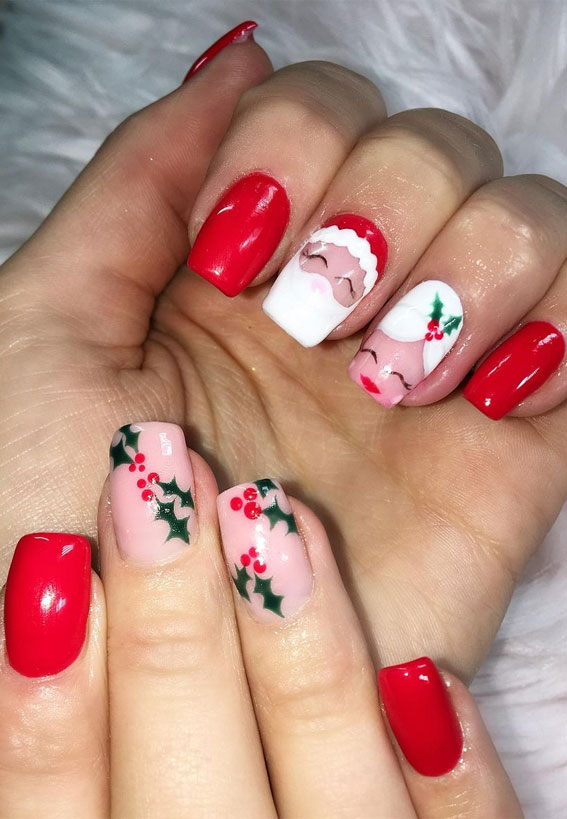 3. White Tartan and Red Christmas Nails
Another unique Christmas nails for those who love tartan but this one is white tartan instead of red tartan and has holly accent nails. And the red of the nail are red base, one nail has gold stripped across in the middle of the nail.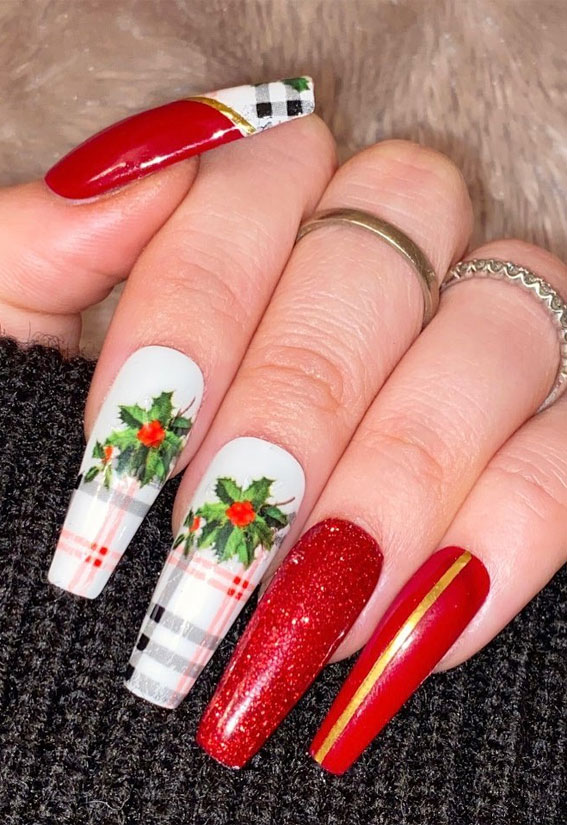 4. White Christmas Tree on Red Tartan Christmas Nails
These red Christmas nails idea for those who love tartan. The nails feature red base color with black and gold tartan design, and some nails have white Christmas tress and white stars. This nail looks easy to wear and perfect for winter nail look.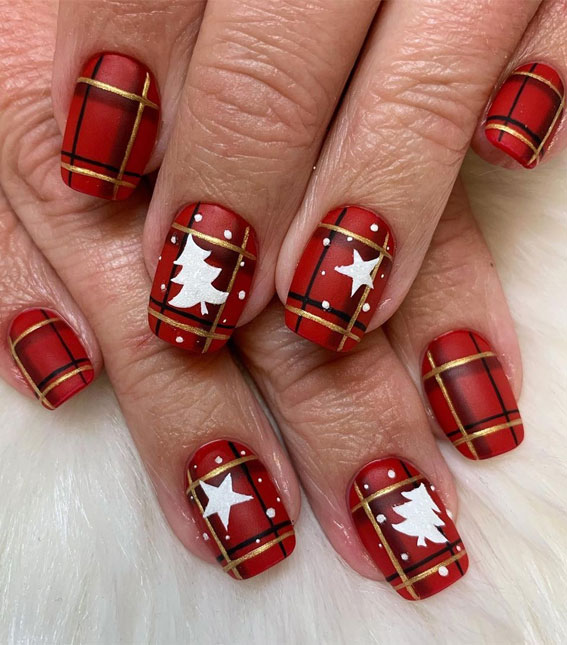 5. White Sweater, Penguin and Shimmery Red Christmas Nails
Looking for fun and cozy Christmas nails design? This mismatched white sweater, Penguin, and shimmery red will look a little festive so will be perfect for Christmas. Don't forget to grab your warm spice drink and capture your pretty nails and show on your instagram.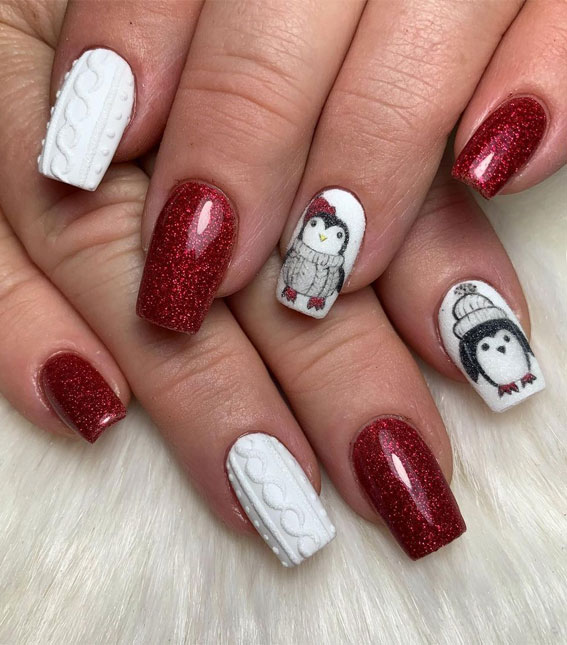 6. Festive Shades of Red Nails
These nails feature a festive red polish in different shades with a white accent nail with red snowflakes, silver and white ribbon on red nail. The color combo and design are perfect for Christmas. Would you wear this nail look?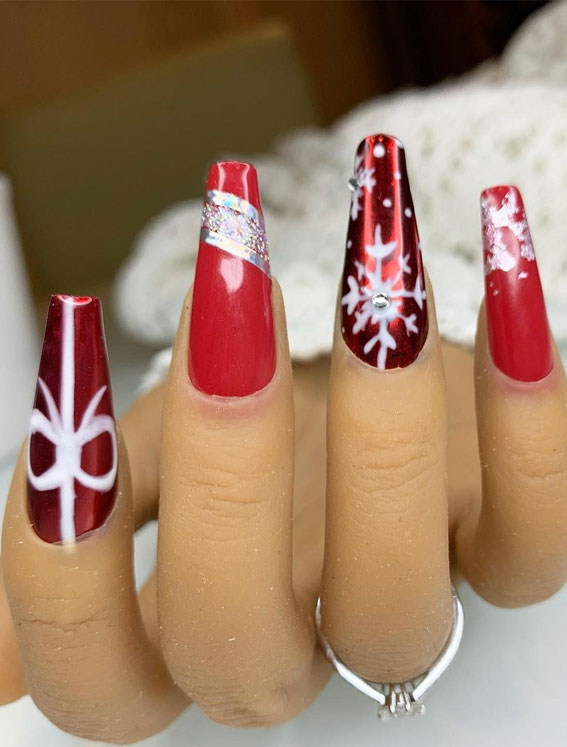 7. Winter in London Postcard Inspired Nails Design
As the pandemic spreads across the world it would be hard to travel to celebrate a Christmas in London this year. So bring London to your look with this cute winter in London postcard inspired nail design.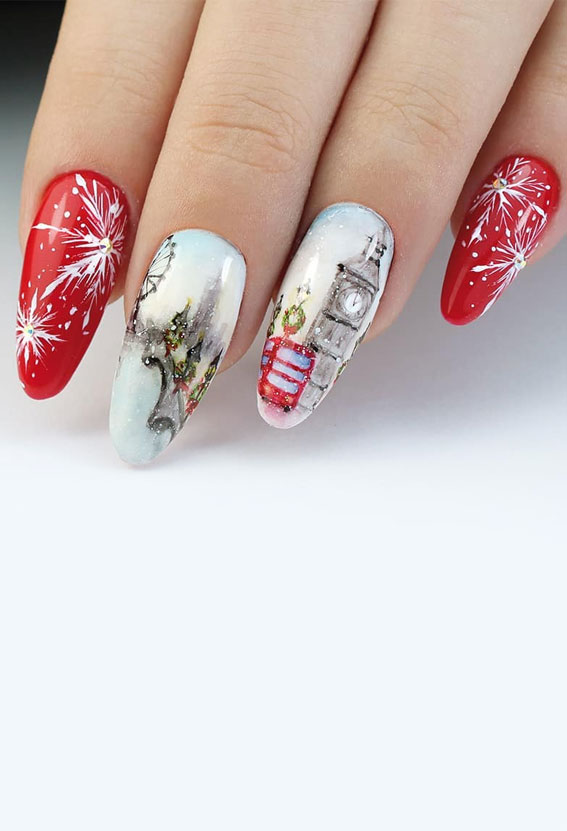 8. Gold and Red Festive Nails
Looking for cute red and gold Christmas nails? Then this next pick is for you. Most of the nails are red and one nail is covered with gold glitter and one nail is gold glitter bauble and one with gold and white stars.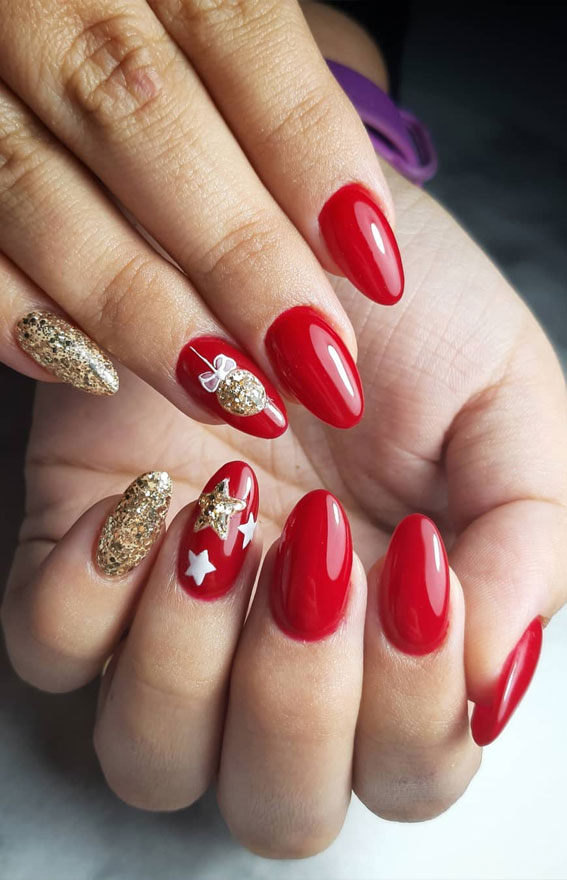 9. Mismatched red and white sweater Christmas Nails
The red colour if I may notice is represented Christmas all the time, and all time festive favor. Decorated with adequate details it is not at all too red and boring actually it is interesting like this manicure in photo.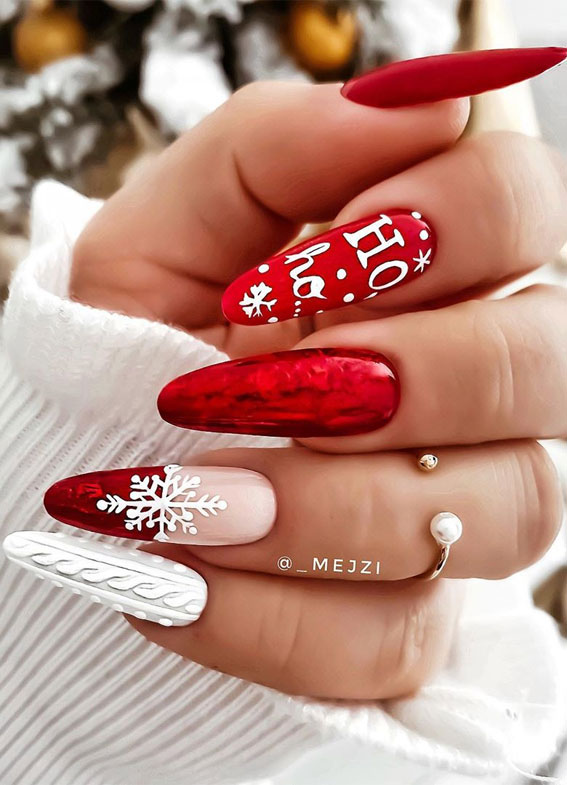 10. Red Christmas Nails
These nail designs are all featured Christmas symbols, like snowflakes, baubles Christmas decoration, red & white striped and the traditional color of white and red nails.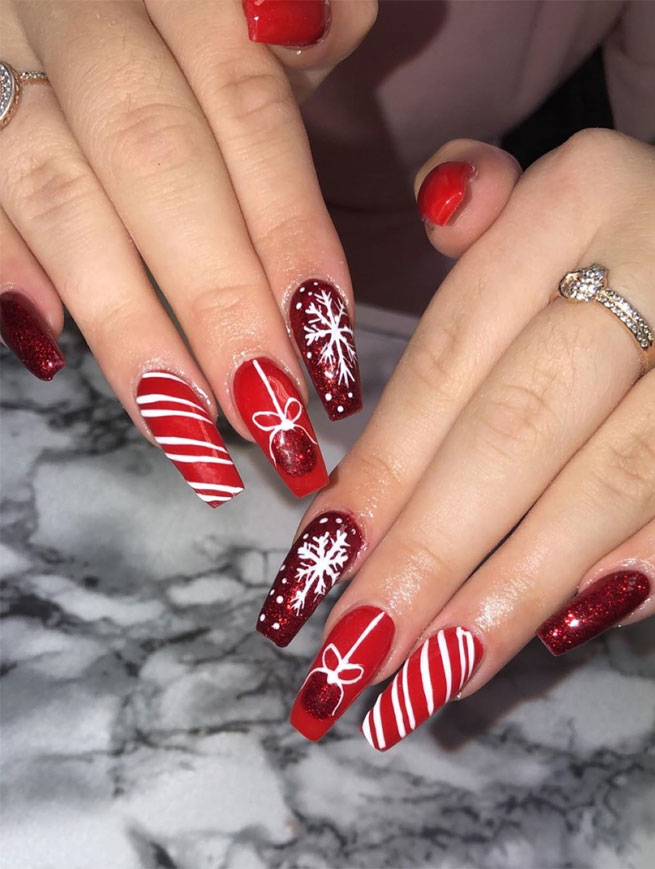 11. White, Red and Sweater Christmas Nails
Cute Christmas nail art ideas to make your manicure stand out this season with red shimmery glitter designs, white snowflake on deep red nails and white embossed sweater.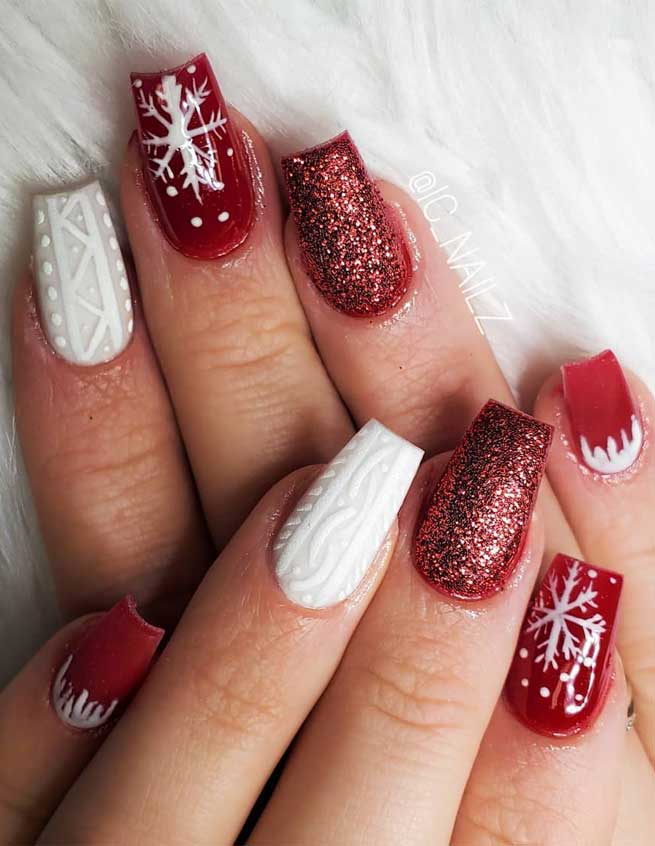 12. Mismatched red, silver and ombre pink Christmas Nails
Christmas is in the winter season so snowflakes are popular designs at that time of year. These nails feature a festive red shiny polish with a silver accent nail, one nail is ombre pink with white snowflake and red nail with crystal embellishment. The color combo and design are perfect for Christmas. You can also jazz the nails up by adding a glitter accent nail just like this one.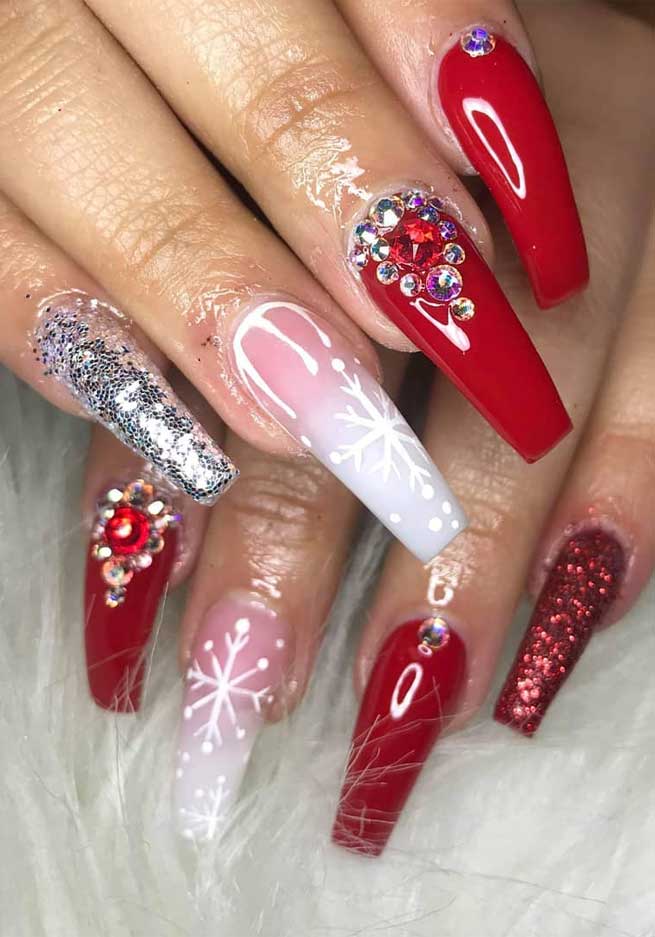 13. Glam Christmas Nails
Red Glam Christmas Nails. If you want a manicure that celebrates the festive season but still look glamour then this design is for you. The nails feature red and clear nails with glitter, white snowflakes and crystal accent nails. Christmas nail art like this would sure to make your nails stand out at the Christmas party.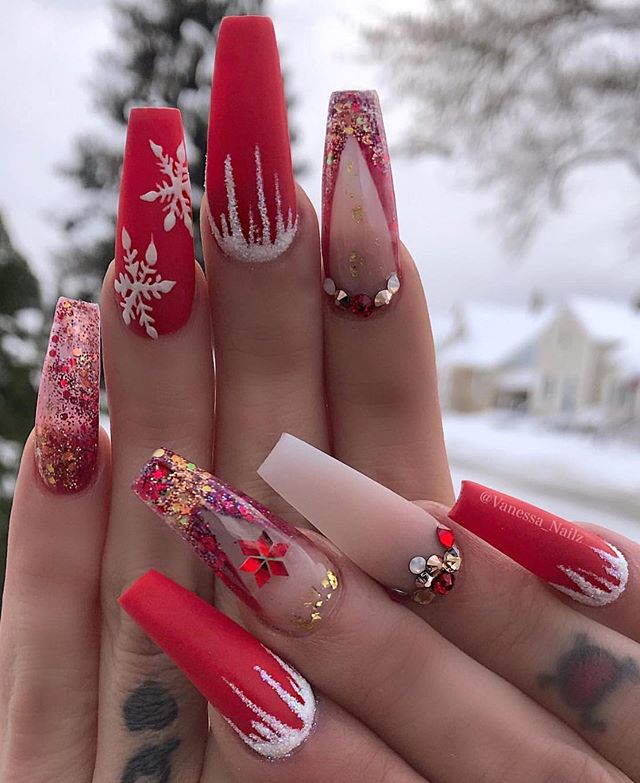 14. Fun Christmas Nails Design
If you want a manicure that celebrates the festive season then try this featured nails below. The nails feature red nail with white snowflakes, red nail with bauble Christmas decoration, candy canes, gold glitter nail, and blue base nails with red bauble and one with reindeer design.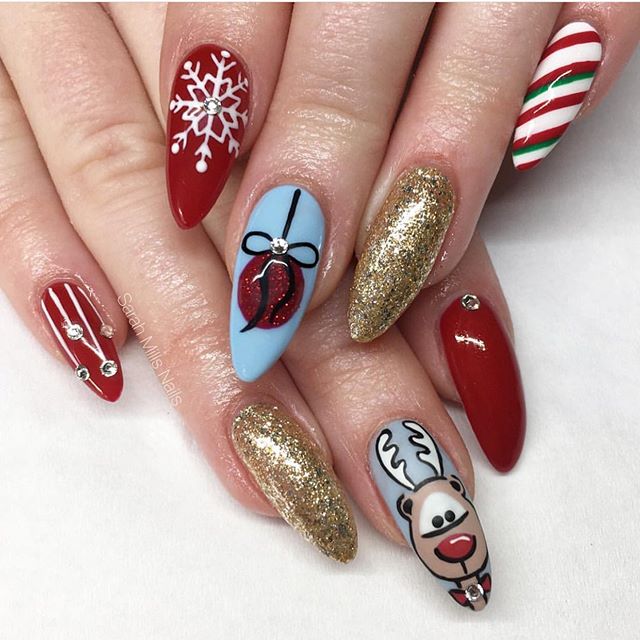 Have you found your favorite red Christmas nail design yet? If so, why not express your insider Van Gogh on your nail. Make this Christmas nail design looks like a work of art on your fingers. If you can recreate one of these cute nails on your nails by yourself.